Frances McDormand's Actions At The Oscars Has Everyone Talking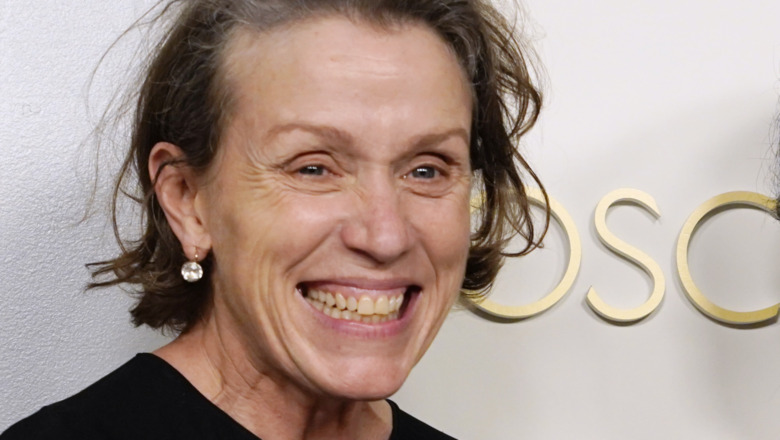 Pool/Getty Images
The 93rd Oscars was a howling success for Frances McDormand in the most literal sense. The critically-acclaimed actor not only won Best Actress for the third time but also Best Picture (for which she was also a producer) for her film "Nomadland." The film's director, Chloe Zhao, also became the second woman ever to win Best Director. But McDormand raised a few eyebrows when it came to accepting both accolades, as she emphasized her excitement for Best Picture but almost played down her Best Actress win. "Nomadland," which blends documentary and fiction, sees McDormand go on a solo expedition across the United States, meeting real-life nomads, and was considered a favorite coming into awards season.
After Zhao announced her as "the one and only Frances McDormand," McDormand brushed off the compliment and instead introduced herself as "Fran" — supposedly a nod to her "Nomadland" character "Fern". She then poignantly urged people to "please watch our movie on the biggest screen possible" someday before thanking the film's late sound mixer Michael Wolf Synder ... in perhaps the weirdest — but most fitting — way possible. "We give this one to our wolf," McDormand said before wildly howling on stage. Funnily enough, her husband Joel Coen was seen looking totally unfazed by the unusual dedication. Naturally, the howl went viral on Twitter with one person writing: "I'm honestly surprised Frances McDormand hadn't howled in an award show until now."
When it came to her Best Actress speech, McDormand quoted "Macbeth" (per Variety) and said she simply "likes work" in perhaps one of the shortest acceptance speeches. 
Frances McDormand seemed completely unfazed throughout the Oscars ceremony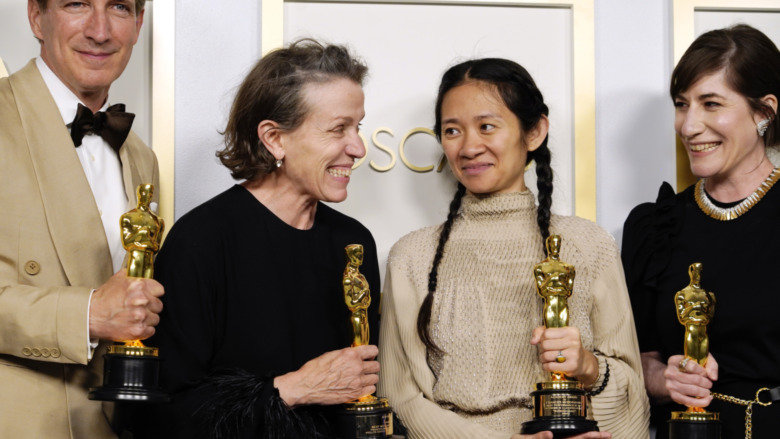 Pool/Getty Images
When you're a longtime Hollywood heavyweight like Frances McDormand, perhaps the same old awards shows get a little tiring. Upon accepting her Best Actress Oscar award, she said she wished there was a "karaoke bar" at the ceremony — I think we all do — and bluntly said that she has "no words: my voice is in my sword" quoting Shakespeare's play "Macbeth." "We know the sword is our work, and I like work. Thank you for knowing that, and thanks for this," McDormand said in her short but sweet speech. After this, Justin McElroy on Twitter wrote: "Frances mcdormand gives acceptance speeches like she's pretty sure she'll be giving another one soon." 
Throughout the evening, however, McDormand seemed to mirror her on-stage sentiments, as she not only dressed comfortably but exuded nonchalance in the audience. People on Twitter were quick to point this out, sharing screenshots of her wearing her mask on, looking totally detached from the event. "#FrancesMcDormand and I have the same feelings about the #Oscars situation," one person wrote. McDormand appeared to be the only person wearing her mask the whole time, aside from going up-stage, despite masks not being mandatory. 
It seems after a few Oscar wins and numerous nominations, the event has lost its glamor and appeal for McDormand, perhaps heightened also given the events over the past year. Nevertheless, we certainly hope the Academy takes up McDormand's appeal for karaoke machines next year. Leo DiCaprio and Kate Winslet singing "My Heart Will Go On" would be epic.