The Most Expensive Jewelry Worn At The Oscars Cost Over $10 Million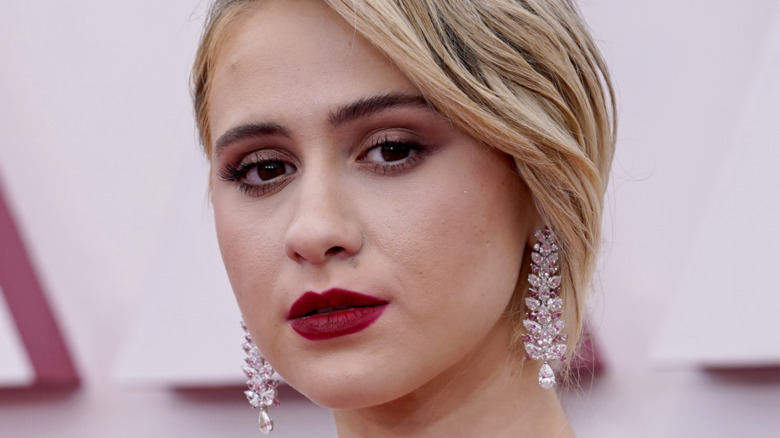 Pool/Getty Images
The 93rd Academy Awards on April 25, 2021 had a different feel than most years. Once again, the show went host-less, per Deadline, and there was a more subdued feel to the telecast while attendees made a point of social distancing due to COVID-19. The show had an anti-climactic finish as it ended with handing out the award for Best Actor, which Anthony Hopkins won even though he was not present. 
Although the ceremony was dialed down, in some instances, there was plenty of eye-catching pageantry on display. Several stars stole the spotlight with their gorgeous looks, included accessorizing with insanely expensive jewelry. Andra Day, who was nominated for Best Actress, looked stunning in a gold metallic gown while she rocked a pair of 12 carat Tiffany & Co earrings, as per Town & Country. Regina King kept her jewelry understated but sported a Louis Vuitton dress that was draped in "the most Swarovski crystals the brand has ever used within a single garment," per Vogue.
Zendaya was on hand to present at the ceremony and looked gorgeous in a cutout yellow Valentino gown, but her outfit was centered around her multi-million dollar jewelry. "We had a whole gamut of these incredible, incredible pieces from Bulgari, and the jewelry just literally became the star of the show," her stylist Law Roach told Harper's Bazaar. The "Euphoria" star's Bulgari collection was valued at around $6 million, per the outlet. But it wasn't the most expensive jewelry worn that night.
Expert weighs in on Maria Bakalova's pricey jewels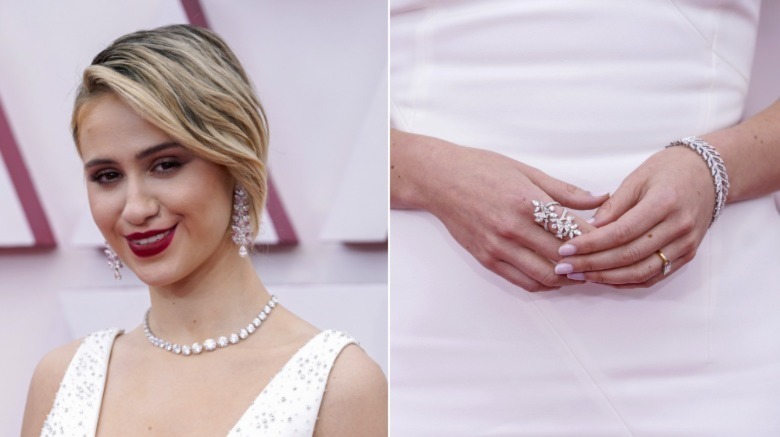 Pool/Getty Images
Maria Bakalova seemed like she was plucked out of relative obscurity to star alongside Sasha Baron Cohen in "Borat Subsequent Movie Film" which helped nab her a Best Supporting Actress nomination. The Bulgarian beauty wanted fans to realize she was different than Borat's wild daughter. "So with me, separating me from screen to Maria in real life, we wanted it to be something softer ... something romantic, something that is going to be timeless," Bakalova told WWD about choosing her Louis Vuitton dress.
The star of the "Borat" sequel showcased her crystal-encrusted white dress in an Instagram post just before the awards show aired. "I still cannot believe this is happening to me. This has been a dream come true," she captioned the image. Bakalova looked breathtaking in her elegant dress, which was aided by her jaw-dropping jewelry. "Usually a single line necklace can be boring, but the sheer size of the diamonds in this one and earrings make it a multi-million dollar set," Apeksha Kothari, 5th generation diamond expert and COO of Rare Carat exclusively told Nicki Swift. Kothari identified the set as coming from Moussaieff Jewellers. "I'd say the retail value is above $10 million here," the diamond expert revealed. "Insurance would definitely be keeping an eye on this one, and definitely the most expensive jewelry on the red carpet!" Kothari added. 
Newcomer Bakalova managed to (literally) outshine all the other celebrities on Hollywood's biggest night!