Here's How Much Jaime Pressly Is Really Worth
Shutterstock
Jaime Pressly is one of those actors who has seemingly been in everything. From "Joe Dirt" and "My Name Is Earl" to "Mom" and "BoJack Horseman," the actor has over 70 credits, per her IMDB profile. In addition to acting, she's also a mom Dezi James, whom she had with her ex Eric Calvo in 2008, and twins Leo and Lenon, with her boyfriend Hamzi Hijazi, who were born in 2017. (Pressly was also once married to Simran Singh, but they divorced in 2011.)
Pressly's kids are everything to her, and are even the reason that she stopped doing film and stuck with multi-cam shows, which tend to have an easier filming schedule and are usually done on studio lots in Los Angeles, where she lives. The actor told Raise Magazine, "I will never, ever, ever sit back later in life and say, 'I wish that I would have spent less time with my kids and taken that job.'" Still, she noted that "I'm somebody who needs to work. I need to be creative and productive because it makes me a better mother, and I need to work because I have to support my family." Read on to see what Pressly has made for herself — and her family. 
Jaime Pressly started out with a $10 bill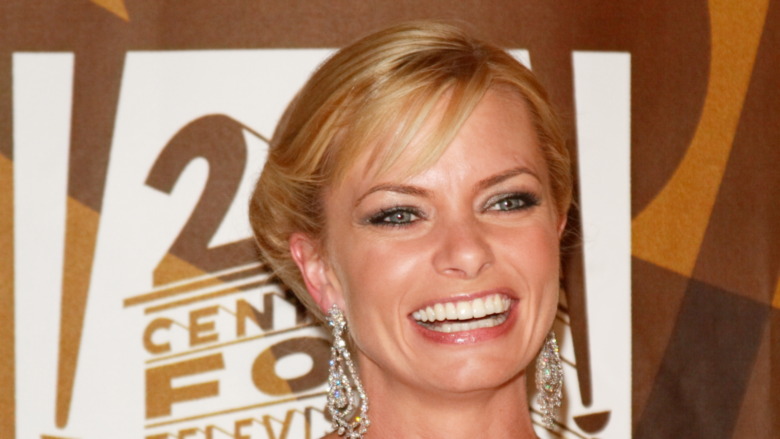 Shutterstock
Jaime Pressly has never shied away from taking any job that pays. She told Redbook that she doesn't regret taking some random, not-exactly quality movies like "Poison Ivy: The New Seduction," "Ringmaster," or doing two Playboy covers. "Hey, they paid the bills," she told the outlet with a reported shrug. "Everything I did and continue to do happens for a reason, and honestly, I don't regret much in my life," Pressly said. That working mentality has put her net worth at $7 million, per Celebrity Net Worth, with her making $75,000 an episode for the long-running CBS comedy, "Mom." 
It hasn't been easy, though. She started off by modeling at just 15 and eventually trying her hand at acting. She told Bella magazine that she borrowed a $10 bill from her dad to exchange for singles in the name of applying to the model searches that used to be plastered in the back of teen mags. "With my best friend's help, we sent photos to 10 different model searches. I just didn't tell my parents what I was up to," she remembered. 
While Pressly has hit some financial snags — Celebrity Net Worth reports that she once sued her accountant for making very poor financial choices on her behalf — she seems to be sitting pretty on a pile of cash now. And if Pressly has it her way, she likely has many new career chapters in her future.