The Truth About Tobey Maguire And Kirsten Dunst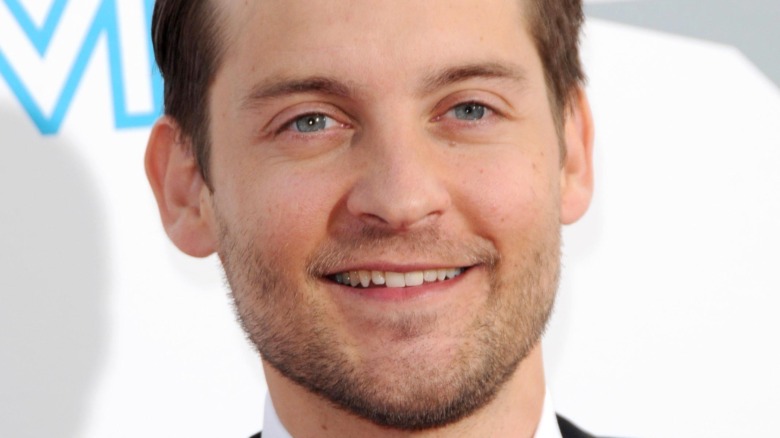 Shutterstock
For a few lucky actors, starring in a version of "Spider-Man" not only boosted their careers, but even led to an off-camera romance. From Tobey Maguire and Kirsten Dunst, to Andrew Garfield and Emma Stone, and Tom Holland and Zendaya, each of these relationships appeared to have begun with their roles in those films. 
In particular, it was Maguire and Dunst who not only starred in the first modern live-action version of "Spider-Man" in 2001 but also brought us the famous upside movie kiss. Maguire recalled shooting that scene (via Deseret News ) saying, "There was rain pouring up or down my nose...but in the midst of that, I was sneaking some pleasure out of it." While the chemistry between the two was obvious on screen, the actors quietly dated when the cameras weren't rolling. But the couple was so secretive that even director Sam Raimi had no idea. He told The Sydney Morning Herald, "They apparently began dating with each other, I think, in the middle of the first movie ... although I didn't know it at the time."
However, it wasn't just the "Pleasantville" actor who had eyes for Dunst, fellow cast member James Franco admitted that he too was into the "Bring It On" star, which led to some tension on set with Maguire. Franco revealed (via People), "I had a crush on Kirsten...Tobey was mad at me for a while. By the second film, we were cool." It appears that by the second film, a lot more had changed.
Tobey Maguire and Kirsten Dunst were broken up by Spider-Man 2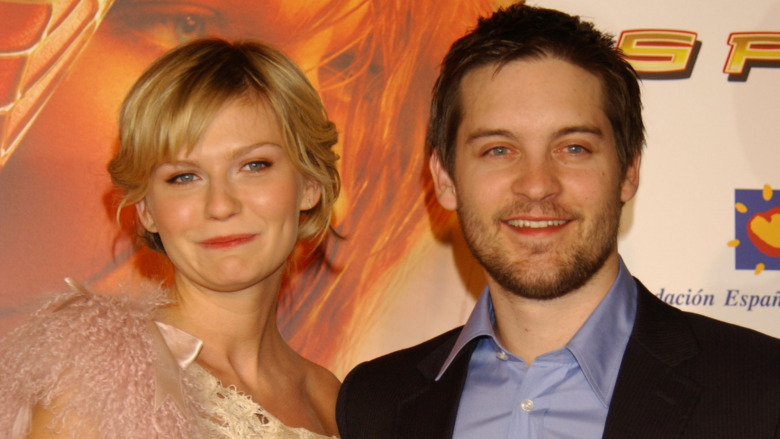 Carlos Alvarez/Getty Images
The romance between "Spider-Man" stars Tobey Maguire and Kirsten Dunst was short lived, ending after about a year of dating. Of course the two remained friends, or at the very least professional, and went on to shoot two more movies for the franchise as Peter Parker and Mary Jane Watson for 2004's "Spider-Man 2" and 2007's "Spider-Man 3."
The films' director Sam Raimi reflected on that time with the former couple, telling The Sydney Morning Herald that he "actually had some worries about that." He added, "they eventually broke up before the second movie. I was concerned they wouldn't get the same chemistry back, but it was just me worrying." However Raimi revealed that their relationship may have actually helped their performances instead. He explained, "They really like each other, I think, very much. And that relationship probably just added to their ability to trust each other."
Dunst went on to date a slew of other famous actors including Jake Gyllenhaal and Garrett Hedlund. She settled down with "Fargo" costar Jesse Plemons in 2016, with whom she has two children. Maguire is dating model Tatiana Dieteman and also has two kids with ex-wife jewelry designer Jennifer Meyer. 
You may see Maguire and Dunst back together, though, but only on screen! The two are rumored to appear in another "Spider-Man" movie although that has yet to be confirmed.