Justin Bieber, Drake, Kanye West Skipping The Grammys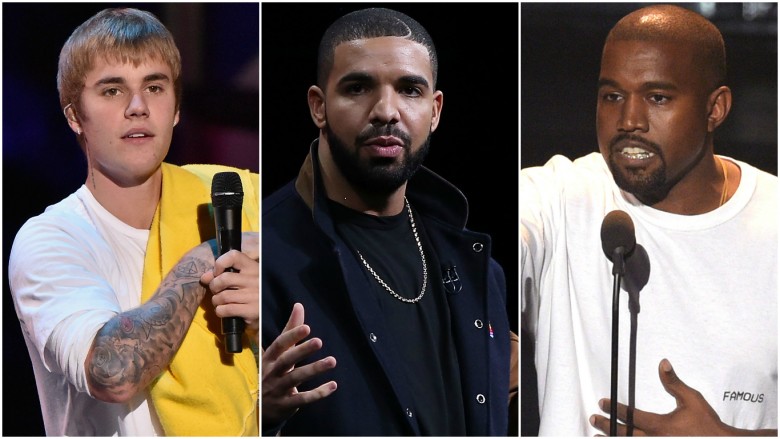 Getty Images
The Grammys are supposed to be "Music's Biggest Night," but they're not for everyone: Drake, Kanye West, and Justin Bieber are all sitting out the awards show, which is scheduled to air Feb. 12, 2017.
TMZ reported that Drake, 30, has eight nods but will be on tour in Europe during the ceremonies. Despite being nominated for four trophies, Bieber, 22, reportedly thinks the show isn't that relevant or representative for young artists and their audiences. Sources noted that there's no real anger behind the artists' skipping out, just ultimately indifference.
But Biebs may also be avoiding the ceremonies for another reason: TMZ reported that his ex, Selena Gomez, will be attending the show with new boyfriend The Weeknd, who is one of the show's headline performers and a previous winner.
Yeezy's reasons for sitting this one out are a bit more numerous and complicated. West, 39, is up for eight awards—and has previously won 21 Grammys—but he reportedly has no interest in attending, allegedly because he's never won when going up against a white artist. Some insiders claim Frank Ocean, who didn't even submit his two eligible albums for consideration, may have started the Grammy-skipping trend. Us Weekly reported that during an onstage rant in October 2016, West fumed, "The album I listened to the most this year is Frank Ocean's album. I'll tell you this right now: If his album is not nominated in no categories [sic], I'm not showing up to the Grammys. As artists, we've got to come together to fight the bulls**t." There's another likely motive for West taking the night off. He's still recovering from a breakdown in November 2016. "He is taking some personal time at the top of this year to just chill and decompress," a source told Us Weekly.
Despite the absences, the Grammy Awards will have a stellar lineup. Comedian James Corden will host the show, and Adele, Metallica, John Legend, Carrie Underwood, Bruno Mars, and Keith Urban are among the scheduled performers.