Here's How Much Eddie Vedder Is Really Worth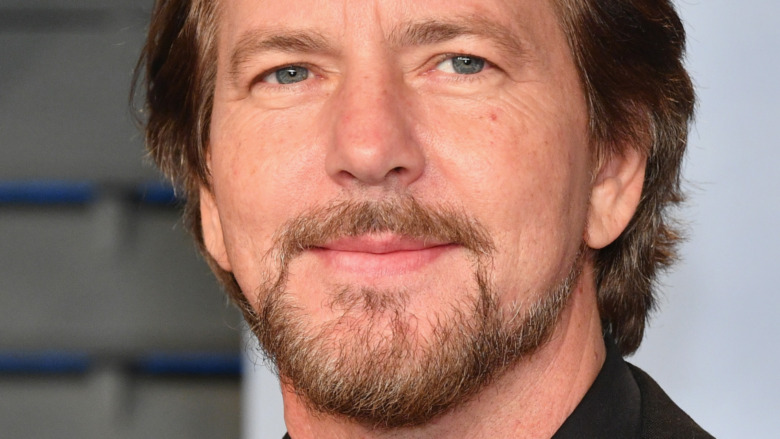 Dia Dipasupil/Getty Images
Pearl Jam's Eddie Vedder is in the news for a good cause. The musician is teaming up with the likes of Foo Fighters, Jennifer Lopez, H.E.R., and J Balvin for VAX LIVE: The Concert to Reunite the World. The event, hosted by Selena Gomez, seeks to call "on world leaders to step up to make sure vaccines are accessible for all so we can end the pandemic for everyone, everywhere," per the event website. 
It was a long road to that point, though. Vedder started in San Diego in the mid-1980s, joining the band Indian Style with Rage Against the Machine drummer Brad Wilk. Vedder also became friendly with Jack Irons Red Hot Chili Peppers fame. Irons gave Vedder a demo tape by a band out of Seattle called Temple of the Dog. Vedder wrote some lyrics for one of the songs and sent them to Seattle, per Rolling Stone. Long story short, Vedder ended up recording "Hunger Strike" with them and it became the band's breakout hit.
Today, Vedder is best known as the singer, guitar player, and main lyricist of Pearl Jam, and was even voted the seventh-best lead singer of all time by Rolling Stone. Though Pearl Jam is generally thought of as Vedder's band, it was formed by Jeff Ament, Mike McCready, and Stone Gossard in 1990. They hired Vedder, and their debut album, "Ten," was released in 1991, becoming one of the best-selling alternative rock albums of the 1990s, per Celebrity Net Worth.
With 30 years of success, what's Vedder's net worth?
Eddie Vedder lost a big fight against Ticketmaster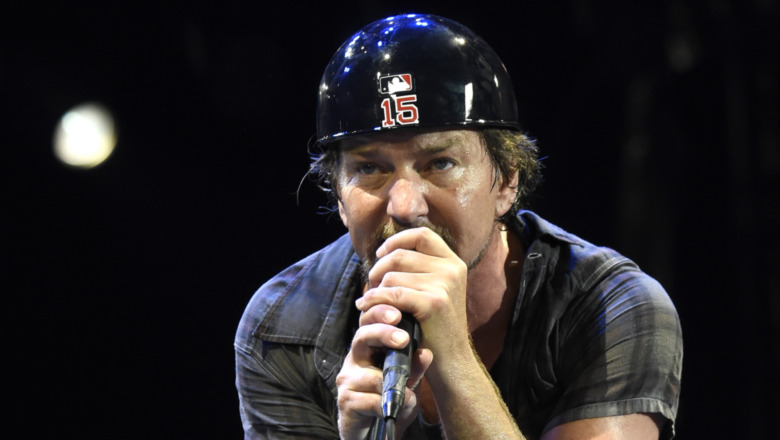 Kevin Mazur/Getty Images
Eddie Vedder is a musician who has always stood by his principles. In the mid-1990s, Pearl Jam's third album, "Vitalogy" sold nearly 900,000 albums in its first week of sales, making them the biggest rock group in the world at the time. However, Vedder had issues with the fees Ticketmaster tacked onto tickets and launched a very public campaign against them. 
Vedder and the band vowed to not perform at any venue controlled by Ticketmaster in North America. The problem was, Ticketmaster had 90% of the venues in the U.S. in its network. To make a very long story short, Vedder lost his fight against Ticketmaster, but not without a valiant effort. "We were having week-long meetings about chain-link fences and porta-potties," Vedder recalled of negotiating with venues, per the Independent. Alas, it was a battle that not even the biggest band in rock at the time could win.
The fight doesn't seem to have hurt Vedder's bank account too much, though. Per Celebrity Net Worth, Vedder is estimated to be worth $100 million today. Pearl Jam has released 11 studio albums, 38 singles, and more than 300 official bootlegs, and Vedder has also done the soundtracks for a number of films including "Dead Man Walking" and "Into the Wild."