Body Language Expert Makes Bold Claims About Biden's Address To Congress - Exclusive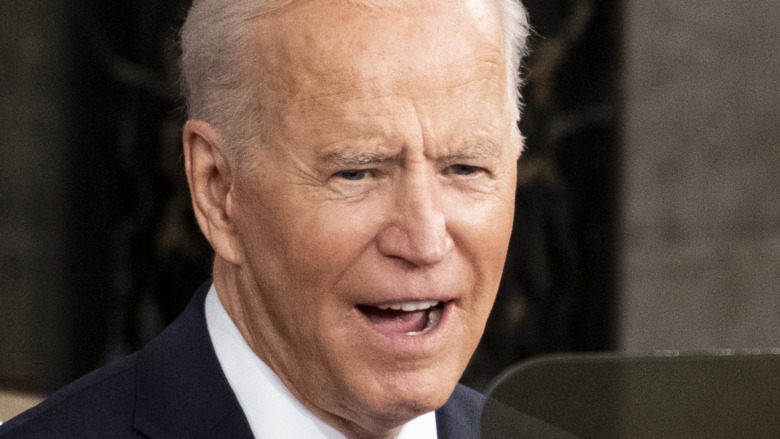 Bloomberg/Getty Images
President Joe Biden chose to mark April 28 as his first address to Congress. With Vice President Kamala Harris and Speaker of the House Nancy Pelosi standing behind him, President Biden laid out his plans for his presidency. After 100 days in office, Biden promised that "America is rising anew" in the midst of higher vaccination rates and on the heels of his proposed $1.8 trillion investment "in children, families and education that would fundamentally transform roles the government plays in American life," as reported by the Associated Press.
"America is ready for takeoff. We are working again. Dreaming again. Discovering again. Leading the world again," Biden stated. "We have shown each other and the world: There is no quit in America. 100 days ago, America's house was on fire. We had to act...I can report to the nation: America is on the move again," Biden said. "Turning peril into possibility. Crisis into opportunity. Setback into strength." 
Body language expert and former professional poker player Jason Lee exclusively shared with Nicki Swift his take on Biden's speech. Keep scrolling to find out what the relationship science and data analyst with Healthy Framework had to say!
Does President Biden have beef with this politician?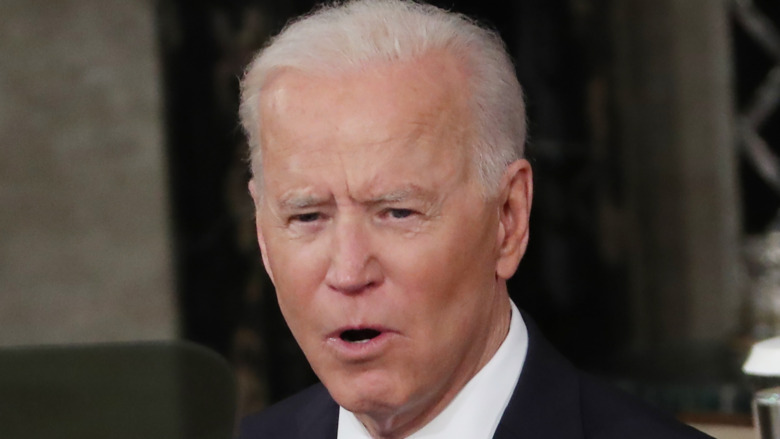 Bloomberg/Getty Images
President Joe Biden achieved his goal of being relatable to the American people with his congressional address. According to body language expert Jason Lee, President Biden was poised with solid eye contact, personable moments, and even hugging Vermont Sen. Bernie Sanders. However, Lee pointed out a possibly tense moment between Biden and Majority Leader Chuck Schumer, noting there was "an obligatory fist bump without a hint of eye contact." Schumer's posture during the speech also raised Lee's eyebrows — "He looked like a man kicked back, legs out, and ready to take a nap. Was this a snub, disrespect, or another sign of something bigger?"
Lee also wanted to highlight the moment when Biden discussed "an olive branch across the aisle with praise for the Republicans," yet Lee read some slight tells in Biden's physical movements that hint Biden was holding back. "When the President finished his comments about the Republicans, he dropped his brow and pushed his jaw out and to the side, pretty tell-tale signs of anger," Lee explained. 
Finally, Lee compared Biden's urging of the American public to get vaccinated being akin to "a teacher scolding a pupil" with his hand gestures towards the podium. "Regardless of where you stand on the issue, it was clear the President was no longer asking," Lee concluded. Do you agree with Lee's analysis, and more importantly, does Biden? Only time — and more insights — will tell!