Why The Words Biden Just Said At His Address Has Twitter Emotional
Shutterstock
President Joe Biden paid tribute to the "shattered" glass ceiling when he introduced Vice President Kamala Harris and House Speaker Nancy Pelosi during his first address to Congress on April 28. That's because for the first time in history — two women sat behind a U.S. president during the speech. Biden referenced the pivotal moment, stating to overwhelming applause, "Madame Speaker, Madame Vice President. No President has ever said those words from this podium." So yeah, the annual event was a little different this year — and it wasn't just because of social distancing requirements, per ABC. 
"It's pretty exciting, and it's wonderful to make history," Pelosi shared with MSNBC on the subject. "It's about time. I made history when I was the first Speaker to be standing behind President Bush, and he made note of that. Now, this is just, just so exciting."
Those on Twitter seemed to agree that now is time to celebrate the feat, with many calling Biden's first address a moment they "won't forget." Here's what viewers at home had to say.
Both women and men felt moved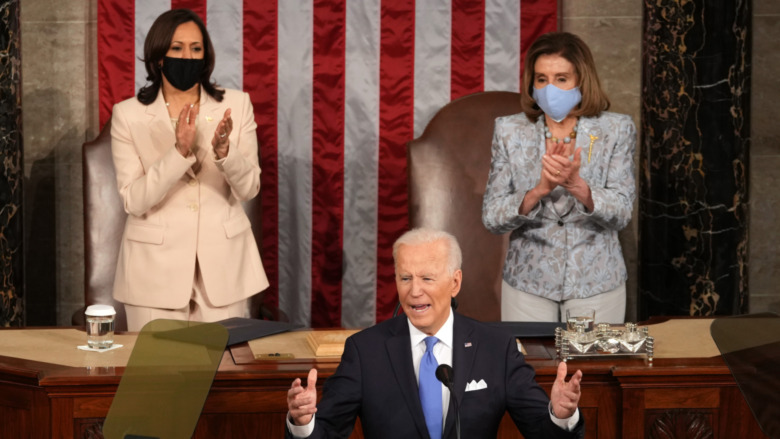 Bloomberg/Getty Images
Vice President Kamala Harris and House Speaker Nancy Pelosi enthusiastically greeted one another with an elbow bump before Biden's arrival in the House chamber — and people on Twitter seemed equally as ecstatic to see them, especially given the historic nature of the moment. "I admit, when President Biden addressed Madam Secretary and Madam Vice President as the first president to be able to do that, I got a little emotional. #Historical #WomenInPower," one person wrote. Others shared powerful images of the trio, saying, "The two most powerful women in the United States have Joe Biden's back," while someone else chimed in, "America, watch out for the shards. That was the glass ceiling we just shattered."
But it wasn't just women who applauded the momentous occasion, one man touchingly took to Twitter to say he won't forget Harris and Pelosi's introduction, penning, "Witnessing it with my wife and daughter is a gift all of us will hold near and dear to heart forever."
Female politicians themselves also explained how much "representation matters," with Sen. Jeanne Shaneen telling USA Today she hopes Biden's first congress address will "encourage more women to run." She said, "We've seen these numbers increase over the years, and I hope that visual Wednesday night reaffirms to the women and girls who are watching that no job is off limits."