The Truth About Nev Schulman's Wife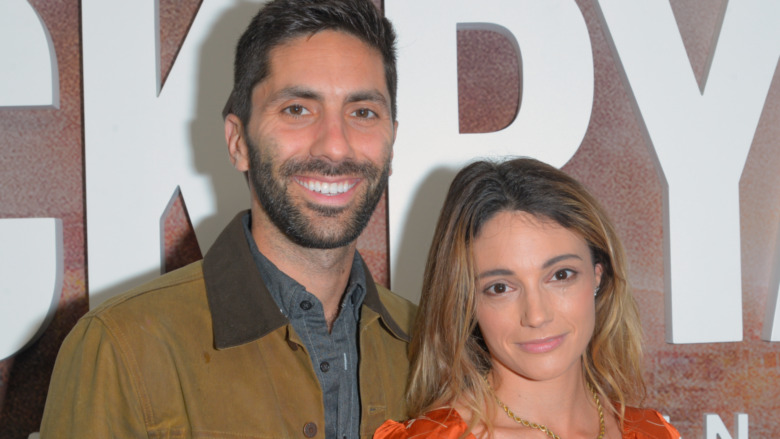 Shutterstock
Nev Schulman's life changed when he became a viral phenomenon for his 2010 documentary, "Catfish." The film captivated so many people, that it later became a popular TV show, which features Schulman as a host helping others meet their online lovers. In most cases, a web of deceit is usually revealed, followed by a stunning revelation: some people's online lovers aren't who they say they are. The disappointment of hopeful lovers is often awkward and equally entertaining for viewers. 
Considering the amount of time it takes for Schulman to research for these hopeful guests, you may be curious about his own love life. As we've seen from his documentary, Schulman was a catfish victim himself. Since then, his love life has improved. Schulman is not only madly in love — he's married! The "Catfish" host married his now-wife Laura Perlongo in 2017. Here's everything we know about his marriage to Laura Perlongo.
It was love at first click
As a host on "Catfish," Nev Schulman spends a lot of time helping others meet their e-lovers in person. Ironically, Schulman is no stranger to finding love on the internet. Thanks to social media, the MTV star found his own happy ending with his wife, Laura Perlongo. The couple met on Instagram in 2015, according to Newsweek. After sliding in her DMs to ask her on a dinner date, Schulman met Perlongo outside of her workplace with his motorcycle.
Perlongo recalled the moment to Us Weekly in January 2018. "It was the first time I was picked up by a stranger on a motorcycle. I was a little nervous to be honest," she said. "I was like, 'Are we gonna die? Is this worth dying?'" From then on, it was history.
Like any other couple, Schulman and Perlongo's love story did face a few obstacles along the way. The pair revealed they broke up shortly before Perlongo's pregnancy. According to Shulman, it was because he was "too in love with her."
"I just got out of a thing, and I had been damaged by that, and I felt that maybe I was all messed up, and I wasn't ready," Schulman explained to Us. "I screwed it up and then I had to win her back." Fortunately, Schulman and Perlongo's love prevailed. The two married in 2017 and share two children, daughter Cleo James Schulman and son Beau Bobby Bruce Schulman.
This is what Laura Perlongo does for a living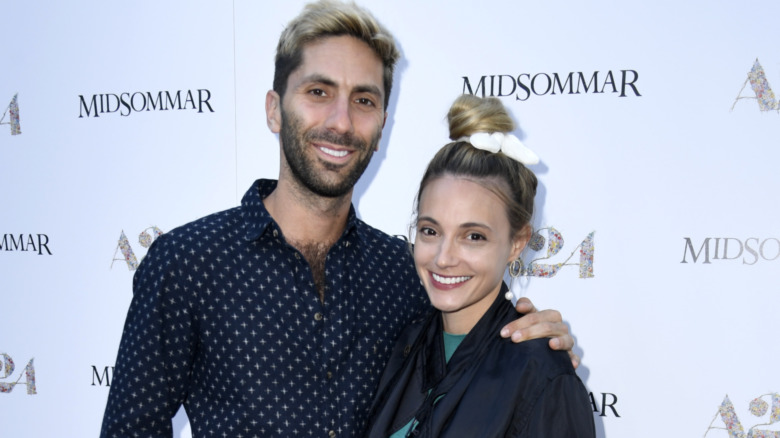 Frazer Harrison/Getty Images
Nev Schulman's wife, Laura Perlongo, has a pretty impressive resume. Per Showbiz Cheat Sheet, Perlongo is a freelance writer and photographer with over 267,000 followers on Instagram. In 2017, she launched her Facebook series, "We Need To Talk," where she and Schulman help couples resolve their relationship woes. In an interview with Good American, Perlongo discussed her experience creating the show: "[I]t's a blast because Nev and I go through the same stuff and get into the same fights as everyone else. It's fun to talk about it alongside other couples."
When the Boston University alum isn't creating content of her own, she appears on "Catfish" as a co-host alongside her husband. Perlongo told the publication that she enjoys working with him. "It's fun (and EXHAUSTING!) to see what he does every day. The emotional lift is substantial," she said. Nev Schulman and Laura Perlongo's love story continues to provide hope to several e-lovers that they will marry the love of their lives they haven't met yet. Who knows? The love of your life may be in your DMs.