How Much Is Tim Scott Actually Worth?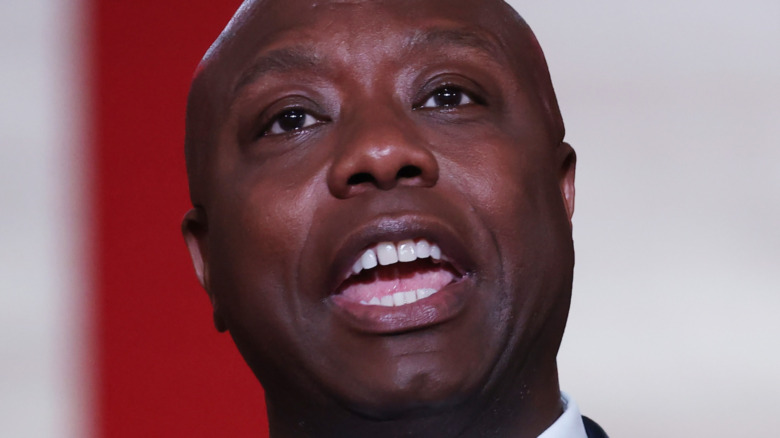 Chip Somodevilla/Getty Images
President Joe Biden's first address to Congress on April 28 was generally well-received. It brimmed with warm and confident affirmations as, among other things, vaccination rates rise in the United States. Biden also inspired emotional reactions when he acknowledged that the two women sitting behind him, Vice President Kamala Harris and Speaker of the House Nancy Pelosi, shattered an important glass ceiling. "Madame Speaker, Madame Vice President. No President has ever said those words from this podium," Biden addressed them at the beginning of the speech, per The New York Times. But South Carolina Sen. Tim Scott, a Republican, has made it clear he was not so moved.
In the official Republican response to the address, Scott called out the emphasis by the media and lawmakers on the persistence of racism in America. "America is not a racist country," Scott boldly proclaimed, per NPR. "It's wrong to try to use our painful past to dishonestly shut down debates in the present," he added. In an April 30 "TODAY" appearance, Biden was (perhaps inevitably) asked to comment on Scott's remarks. "I don't think America is racist, but I think the overhang from all of the Jim Crow and before that, slavery, have had a cost and we have to deal with it," the president stated.
By making headlines with this staunch stance, Scott has also raised his profile in the public eye. Let's take a look at how much the politician is worth in 2021.
Tim Scott's net worth took a dip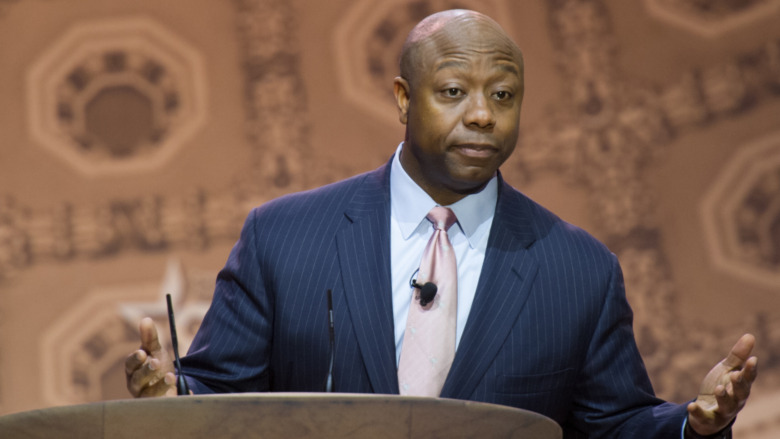 Shutterstock
Sen. Tim Scott, the only Black Republican senator as of this writing, per NPR, was a comparatively high earner for a U.S. senator ... until unclear events caused his net worth to plummet to $200,000 in 2021, Celebrity Net Worth reported. 
According to Open Secrets (every senator has to disclose their financials), Scott earned a total of nearly $8 million between 2011 and 2016. However, per the outlet, his 2018 financial disclosure indicated his net worth dropped (to put it lightly) to somewhere between -$1,862,988 and -$245,007. As Celebrity Net Worth noted, "something happened between 2012 and 2013" that caused the drop, and by 2017, his net worth reached an all-time low of an estimated negative -$3.7 million. Scott gradually worked his way out of the red, though his 2018 estimate was still reported at -$1 million by Celebrity Net Worth.
Scott's 2021 net worth of $200,000 is still roughly within the ballpark for the average congressional representative, according to USA Today, who estimated that that would be $500,000 ("five times" the median U.S. household net worth). As USA Today continued, U.S. senators earn annual salaries of $174,000. As the outlet further pointed out, politicians tend to have their financial irons in the private sector, which explains Scott's past real estate worth. And, perhaps, his troubles. Hmm.