What You Need To Know About Tim Scott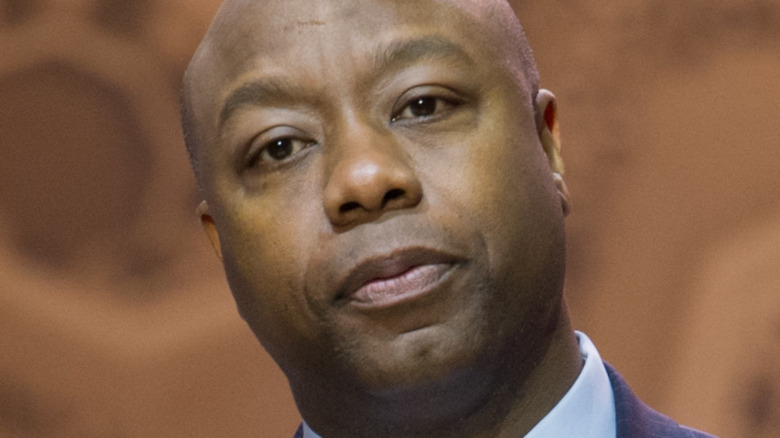 Shutterstock
The spotlight has been on South Carolina Sen. Tim Scott since he was handpicked to deliver the GOP's official rebuttal speech after Joe Biden's first address to Congress on April 28. But who exactly is the lone Black Republican in the US Senate? 
Scott grew up "in a single-parent household mired in poverty," as he once shared on Twitter. In his biography, Scott credits his mom as a source of support, and also notes she was a nursing assistant who worked long hours. After climbing the ladders of county politics in South Carolina, the politician got elected to the House of Representatives in 2010. Fellow Republican Nikki Haley appointed him to the senate in 2013, when he became the first Black senator to win in the South since the Reconstruction era, noted USA Today. He has held onto that position for almost a decade as of this writing.
Scott has been open about the racism he's faced in politics, including being stopped by Capitol police who didn't believe he was a senator, per Politico. In 2017, he criticized Donald Trump's response after the Charlottesville rally, calling the then-president's comments "unsettling," according to USA Today. The two men later had a meeting at the White House to discuss their opposing perspectives, which Scott described the talk as "very productive."
So what else do we know about Scott? Keep on reading to find out.
Tim Scott is a rumored presidential hopeful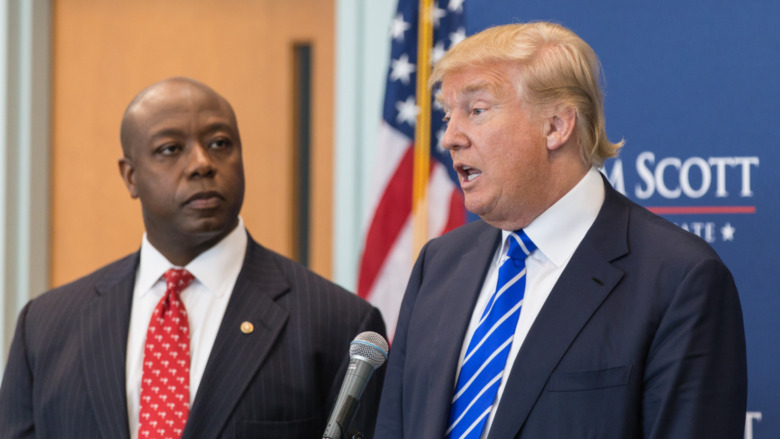 Shutterstock
Tim Scott has publicly supported Donald Trump, saying in January 2020 that the former president was the "one person" he doesn't "blame" for the deadly Capitol building riots. That support seemingly paid off, as Trump recently endorsed Scott for re-election in 2022, calling him an "outstanding senator and a person who works tirelessly for the people of his great state and the USA," per The Hill.
As Politico observed, the South Carolina politician looks increasingly likely to run for president in 2024, given that he was selected by the GOP to counter Joe Biden's first address. Joni Ernst, a Republican senator for Iowa, stated that she "of course" sees Scott as a potential candidate in the next presidential election. "I have so many phenomenal colleagues in the Senate right now and I think any number of them would just be really wonderful for 2024 and he most certainly is among that group," she said before his rebuttal speech on April 28.
Scott, who Politico called a "well-liked" member of the Republican party, has already been trusted with leading efforts to reform police forces. 
Tim Scott criticized Biden's address to Congress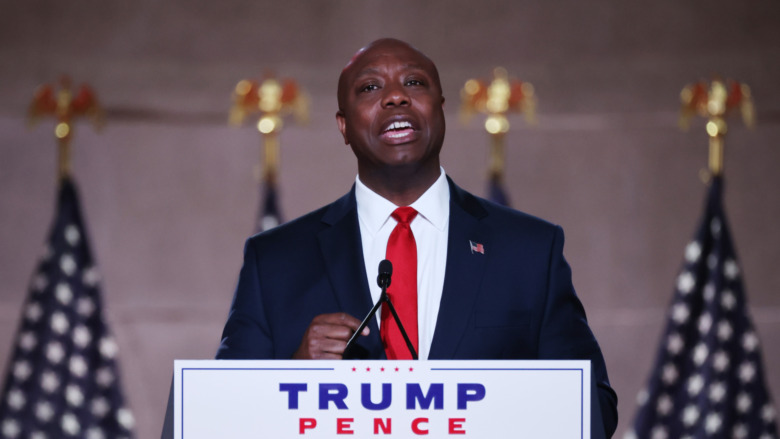 Chip Somodevilla/Getty Images
Tim Scott delivered the GOP response to Joe Biden's first presidential address to Congress, praising Donald Trump and slamming the left's "socialist dreams."
Scott credited the Trump administration with delivering COVID-19 vaccinations, rather than Biden's efforts over the last 100 days. "This administration inherited a tide that had already turned. The coronavirus is on the run," Scott declared, despite the fact that the US hit a record-breaking number of new COVID-19 cases and deaths during December, the last full month of Trump's presidency. Scott also drew on his own life to criticize Biden's comments on racism. "I have experienced the pain of discrimination. I know what it feels like to be pulled over for no reason, to be followed around a store while I'm shopping," the politician said. But he also argued the US "is not a racist country," insisting that race "is not a political weapon to settle every issue the way one side wants." The senator added, "It's wrong to try to use our painful past to dishonestly shut down debates in the present." 
Biden responded to Scott's comments on the Today show, clarifying, "I don't think America is racist, but I think the overhang from all of the Jim Crow and before that, slavery, have had a cost and we have to deal with it."