Did Annie Murphy Just Hint At A Schitt's Creek Spinoff?
Shutterstock
"Schitt's Creek" came to a close after six incredible seasons, leaving fans with all the feels. While most viewers would agree that the show ended on a high note, many have been craving some catch-up time with the Roses — Johnny, Moira, Alexis, and David. In a 2020 interview with Variety, co-creator and executive producer Dan Levy, who plays David Rose on the show, explained why he decided to wrap things up when he did. "I at no point wanted to compromise on quality or storytelling. It just didn't feel like it was worth the risk to take it any further," he told the outlet, adding that the goal of the show was for the Rose family to "realize the value of love." Once that was achieved, Levy knew that it was time to say goodbye.
The finale of "Schitt's Creek" was released on April 7, 2020. However, thousands of viewers fell in love with the series in the months that followed. In fact, in November 2020, seven months after the finale originally aired, "Schitt's Creek" was ranked number one on the Nielsen U.S. Streaming Rankings, according to Deadline. For months, fans have been bummed out about having to say their own goodbyes to the Roses, and many have found themselves wondering if a surprise update episode — or even a spinoff — would ever happen. In an April 2021 interview, actress Annie Murphy, who plays Alexis Rose, hinted at that possibility. Read on to find out what she said.
Annie Murphy has 'hope' that Alexis and Ted will find their way back to each other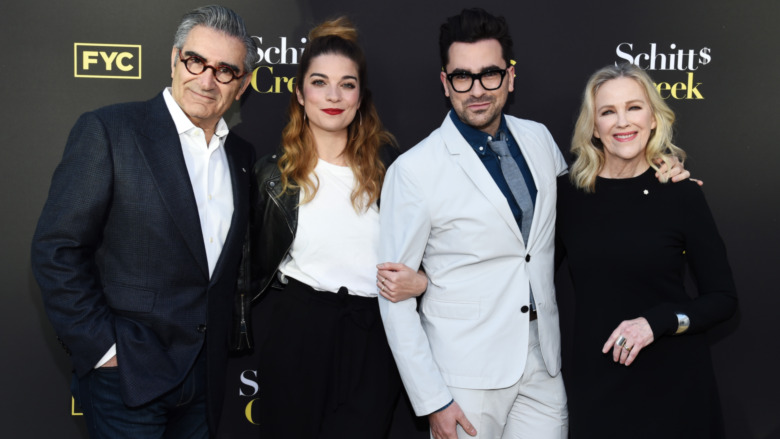 Amanda Edwards/Getty Images
In an interview with Us Weekly, Annie Murphy revealed how she feels about how Alexis Rose and Ted Mullens' relationship ended. "I hold out hope," she told the outlet. "I think that maybe it would be one of those relationships where they let each other go and thought it was final and then maybe drift into each other's worlds down the road," she added. Could this mean that fans will get to see this relationship blossom in the future? While it may be unlikely, it sounds like anything is possible.
Meanwhile, Murphy admits that things ended the way they should; Alexis decided to end things with Ted, and to put less of an emphasis on boys, for the first time in six seasons. "I do think that it was the right ending," Murphy told Us Weekly. "As sad as it was to say goodbye to both Ted and to Dustin, I think it was the right thing for Alexis. I think she was on a pretty exciting trajectory career-wise and I really think no world in which she didn't take, or she won't take the PR world by storm and continue having the most wild and bizarre and celebrity-studded adventures at the same time," she added.