The Truth About Cher And Olympia Dukakis' Relationship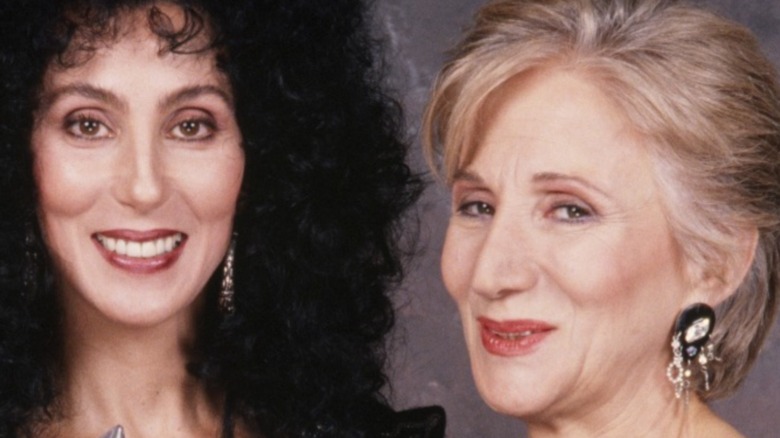 George Rose/Getty Images
"Moonstruck" turned Cher into a global movie star and changed Olympia Dukakis' fortune. Both actors won Oscars for "Moonstruck." The film was a turning point for both actors, but what was Cher and Dukakis' relationship like on and off-screen?
Before "Moonstruck," Cher was most famous for her singing, not for her acting chops. The iconic performer was nominated for an Oscar for her work in 1984's "Silkwood," and she received rave reviews for her work in the 1985 film "Mask." But winning an Oscar for Best Actress for "Moonstruck" took Cher's career to a new level; it brought her even more renown for her acting and for her singing talent.
The 1987 film changed Dukakis' life, too. The actor was an accomplished theater actor until her breakout role in "Moonstruck." During a 2013 interview on Canada's "George Stroumboulopoulos Tonight," Dukakis revealed the impact the Oscar-winning role had on her life: "It was incredible. And then that changed my whole life. My daughter was going to college on credit cards when I did that movie. And after that, we were able to send our children to college with no problems." Keep reading to see what Dukakis and Cher's relationship was like following the movie's success.
Cher and Olympia Dukakis stayed close friends after "Moonstruck"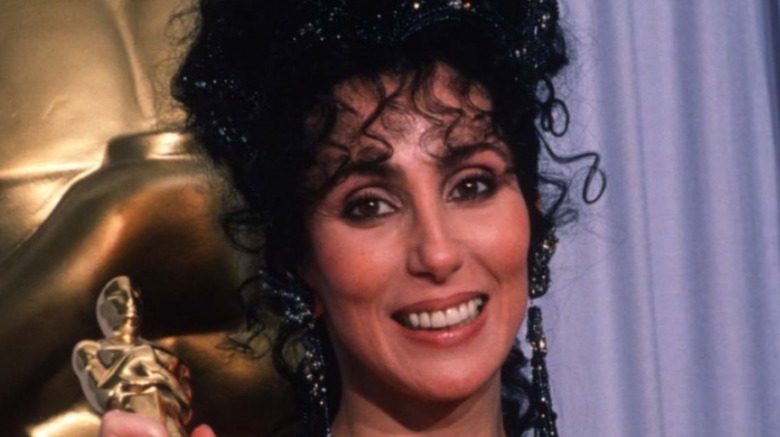 John T. Barr/Getty Images
Cher adored Olympia Dukakis, and the two women remained friends long after "Moonstruck." When the news broke that Dukakis died, Cher paid tribute to her co-star on Twitter. Cher tweeted, "Olympia Dukakis Was an Amazing, Academy Award Winning Actress. Olympia Played My Mom In Moonstruck, & Even Though Her Part was That Of a Suffering Wife, We [laughing emoji] ALL The Time."
The iconic singer and actress also shared how much Dukakis loved her husband, Louis Zorich. Cher finished her tweet, "I Talked To Her 3 Wks Ago. Rip Dear One." Cher continued paying tribute to Dukakis, and you'll need to get a Kleenex. Cher tweeted that she called Dukakis' daughter after learning her co-star was sick, asking if she could speak to her. "I Called In 2 The Receiver 'Olympia It's Cher, I [heart emoji] You.' Remember Moonstruck, She Said 'oh cher, I [heart emoji] you' She Was Weak But Happy. RIP O."
In her final tribute to her friend, Cher tweeted, "You never think about Friends, Loved Ones Leaving, But Thank God We Can See Them." The beloved actor and singer then quoted a famous exchange from "Moonstruck" between the two women. Cher tweeted, "Rose 'DO YOU LOVE HIM LORETTA!?' Loretta 'NO' Rose 'GOOD.' 'CAUSE WHEN YOU LOVE THEM THEY DRIVE YOU CRAZY, BECAUSE THEY KNOW THEY CAN.'" Raise your hand if you're going to rewatch "Moonstruck!"