The Circle: The Truth About Joey And Miranda's Relationship Today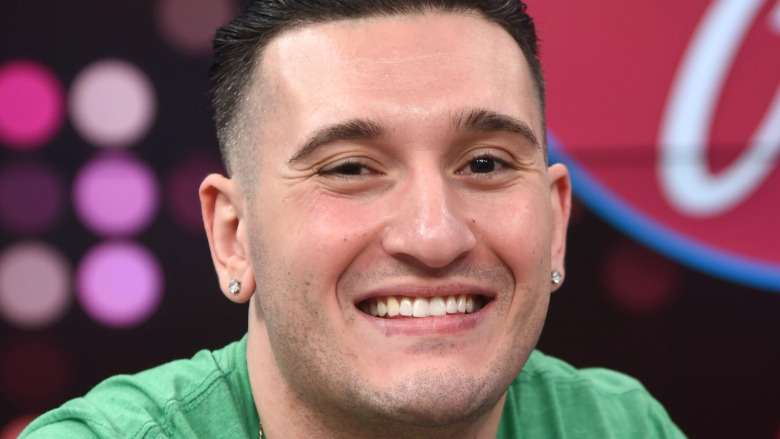 Gary Gershoff/Getty Images
The second season of Netflix's "The Circle" dropped on the streaming platform in April 2021, which is the kind of juicy reality TV that viewers deserve during a pandemic. For anyone unfamiliar with its premise, "The Circle" challenges contestants to communicate solely via a unique social media network. Per Thrillist, no one is allowed face-to-face contact with anyone else apart from what they share on this social media app (appropriately dubbed "The Circle"). There are catfishes, drama, cash prizes — and even a hot tub! 
In a nutshell, "The Circle" is a must-watch for any reality TV lover. And with the second season in full swing, it begs the question: Whatever happened to the contestants from Season 1? Specifically, we're thinking of Joey Sasso, the lovable, friend-to-everyone who (SPOILER) was crowned the first season's winner. Fans may remember that Joey shared a special connection with fellow "Circle" contestant, Miranda Bissonnette. Prior to exiting the show, Miranda and Joey even kissed and planned a romantic date together, according to Refinery29.
But since some time has passed since the pair first made their love connection, what does their relationship look like today?
Joey and Miranda share a special relationship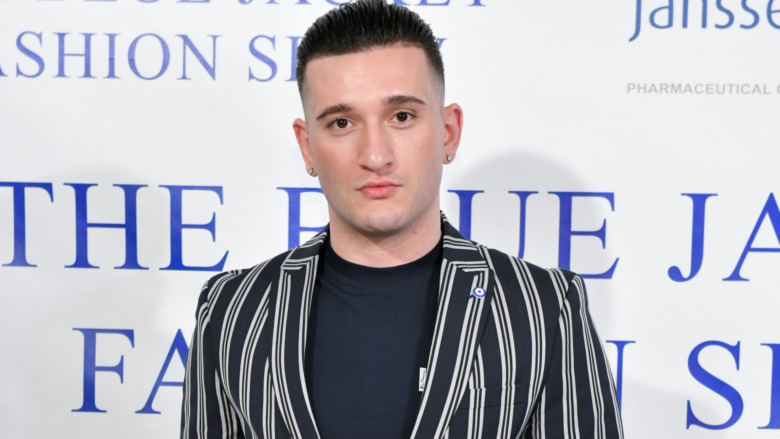 Craig Barritt/Getty Images
Miranda Bissonnette might not have nabbed the $100,000 cash prize on "The Circle," but she did come away from the show with at least a little piece of Joey Sasso's heart. Once filming wrapped however, the pair played it coy on their relationship status. "Me and Miranda have spent time together, and we have hung out a lot, but it's one of those things that everyone wants us to, you know, be married and have kids," Joey told Life & Style in January 2020. "I totally get it because everyone's seeing us meet for the first time and have so much genuine love for each other, but with that situation, it's difficult." 
Though he was wary of confirming or denying a relationship, Joey reiterated the unique role that Miranda has. Telling Life & Style that they "are in each other's lives," he added, "we're so close. We're the best of friends." He continued, "We have so much genuine love for each other. And none of that was fake and none of that was lost after the show, but for everyone who's asked if we are, you know, getting married next week ... I just think that it's something that's between her and I."
Okay, so while wedding bells might not be ringing out anytime soon, are Joey and Miranda now together for real?
Are Joey and Miranda dating?
Though Joey Sasso and Miranda Bissonnette's fans ship them together, it doesn't appear that they are in a relationship as of this writing. "Everyone wants to know, 'are you together, are you not together?'" Joey explained in a January 2020 interview with Esquire. "The truth is that it's kind of neither. ...We are incredibly close. I love that girl to death. We have an amazing friendship that is unlike any relationship I've had with anyone else except my ex-girlfriend, who I've been best friends with since I was a child, so this means so much to me."
It sounds like both Miranda and Joey are wary of ruining their friendship should they ever strike up a romance that doesn't end happily. Furthermore, as Joey told Esquire, "She has a life in Tahoe; I have a life in LA." That said, viewers will be happy to know that Joey and Miranda seem closer than ever.
"You look beautiful! Keep slaying," Joey commented underneath an Instagram photo of Miranda modeling a bandana top in February 2021. In a separate April 2021 post where Miranda posed with Joey and Season 2 contestant Mitchell Eason to plug "The Circle," Joey wrote, "I love both of these people so much, it aint Circle family, it's FAMILY at this point." We get it — there's nothing but love between these two cuties!