Alex Trebek Broke This Record Once Held By Bob Barker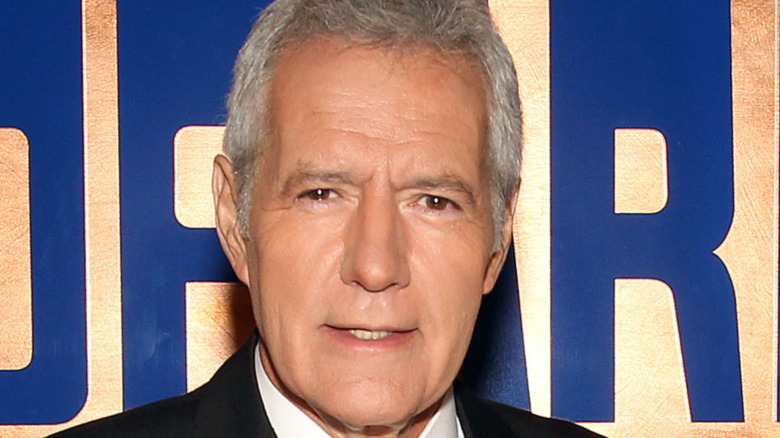 Frederick M. Brown/Getty Images
Bob Barker and the late Alex Trebek will forever be known as two of the most iconic game show hosts in television history. And it's no surprise that their careers had some interesting parallels.
While Barker started his hosting career in the 1950s as host of "Truth or Consequences," according to IMDb, he hit the jackpot when he became the emcee of "The Price of Right" in 1972. Barker's extremely long stint on the production — more on that in a bit! — was known for its Contestants Row, Showcase Showdowns, and Barker's frequent reminders to keep your pets "spayed or neutered."
Around the same time Barker was giving out cash and prizes on "The Price is Right," Trebek was helming the short-lived "The Wizards of Odds" in 1973, per IMDb. While that series didn't pan out (it lasted just one season!), Trebek scored a game-changing gig when he landed the role as host on "Jeopardy!" in 1984.
Both Barker and Trebek served as executive producers on their most famous game shows, and each won multiple Daytime Emmy Awards for their work. Both men were also around 80 years old when they ended their respective long reigns on their TV shows, but Trebek beat Barker out for a world record — by a lot.
Alex Trebek didn't set out to break Bob Barker's game show record
Doug Benc/Getty Images
During his 35-year career on "The Price is Right," Bob Barker logged an impressive 6,718 episodes, per his IMDb page, and was listed in the Guinness Book of World Records for the "most game show episodes hosted by the same presenter." But Alex Trebek, whose question-filled quiz show aired every weeknight for decades, surpassed Barker's episode count by 2014, according to Cheat Sheet. By the time Trebek was forced to retire from "Jeopardy!" after 36 years on the job due to his health while dealing with terminal pancreatic cancer, he had filmed an incredible 8,209 episodes of his famous game show, per IMDb.
In a 2014 interview with The Hollywood Reporter, Trebek revealed that he never set out to surpass Barker's record. "I had lunch with Bob a few months ago, and we've been meaning to get back together for another lunch," he said. "You know, it's funny, when you're hosting a program like 'Jeopardy!' for this long, you don't necessarily think about records."
Trebek admitted he never really thought about the record he was breaking and compared it to athletes who don't set out to beat their predecessors — but just do. The game show icon added that he was just happy to have job as he downplayed his record-breaking. "I like the show, I like the contestants and it pays well," he said.