What Caitlyn Jenner's Relationship With Kylie Jenner Is Like Today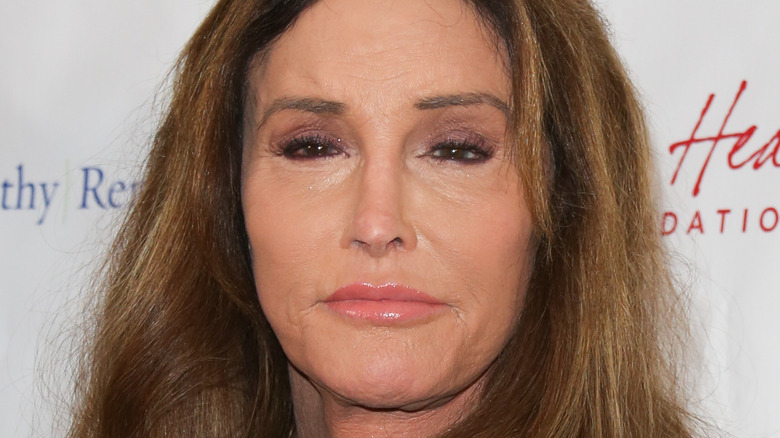 Paul Archuleta/Getty Images
Reality star Caitlyn Jenner may have different kinds of relationships with all 10 of her now grown-up children, but it appears she is currently the closest with her youngest daughter, beauty mogul Kylie Jenner.
The former Olympian even admitted on "The Skinny Confidential Him & Her" podcast (via People) that while she and Kylie's big sister Kendall Jenner "have a lot in common" and "the same attitude towards life," she revealed that "Kylie and I just seem to be closer most of the time." Caitlyn credited that closeness to Kylie making herself available. Caitlyn explained, "Kendall's off kind of doing her thing, and Kylie, like, I had dinner last night at Kylie's house." She continued, "we try to do that once a week, once every two weeks. I go over there and she always has these great meals ... It's better than a restaurant."
It also helps that Kylie and Caitlyn's close friend and frequent companion Sophia Hutchins "get along very well." The former "Keeping Up With the Kardashians" star opened up about how that and Kylie's openness help their relationship, saying, "Sophia, Kylie, and myself, just three of us, nobody around ... just in the house... [We] just have a glass of wine and talk about stuff and this and that. And so from that standpoint, we're a lot closer." Caitlyn brought up how her relationship with her youngest daughters is different in that Kendall is "a little bit more secretive" while "Kylie's more of an open book."
Caitlyn Jenner and Kylie Jenner talk every day
Caitlyn Jenner may have 10 children, but it appears if she had to choose a favorite, it may be her youngest Kylie Jenner. She told "The Skinny Confidential Him & Her" podcast (via People), "Kylie is just the exception to the rule. I mean, she's just — all the stars came together." Yet the gold medalist did add, "all my kids, I'm just very blessed ... all my kids are great." 
The feeling of admiration is mutual for Kylie, especially after Caitlyn came out as transgender. The lip kit queen told People, "my dad has always been an inspiration to me, from winning the gold medal at the Olympics to getting her pilot's license." She added, "However, watching her live out her true self has been the most inspiring of them all." She also raved about Caitlyn to Harper's Bazaar saying, "my dad was the best growing up. Never missed a sports game. Took us to school every day."
These days, Kylie says that she and Caitlyn talk "like, every day." She even recalled to Harper's Bazaar how Caitlyn's stint on the show "I'm a Celebrity...Get Me Out of Here!" was difficult for them, explaining, "I watched clips online. It was hard to be out of touch for that long, but I feel like it was harder for her because she couldn't see us." It's clear that this father daughter duo have a tight relationship that appears to be getting stronger and stronger as Kylie gets older.