Who Is Tyler Joseph's Wife, Jenna Joseph?
Dave Hogan/mtv 2015/Getty Images
To say that Twenty One Pilots — the duo made up of Tyler Joseph and Josh Dunn — is successful would be an understatement. The band, who got together in 2009, recently became the first to have every song on two albums certified gold, platinum, or multi-platinum, per Forbes. Yep; every track from the duo's 2013 album "Vessel" was certified gold or double platinum by the Recording Industry Association of America. In addition to "Vessel", the band's 2015 album, "Stressed Out," was certified diamond by the RIAA in April for selling over ten million units in the United States. These certifications have put the duo in the stratosphere of success. What band doesn't dream of selling millions upon millions of records?
With Twenty One Pilots garnering so much success, one has to wonder ... have they found as much, romantically? The answer for Dunn is yes, as he married actor Debby Ryan in 2019 (in secret!) and they seem happy. But what about his bandmate? Lead vocalist Tyler has been busy with baby duties after welcoming daughter with wife Jenna Joseph in February 2020, per Billboard. So that's a yes as well! But who exactly is Jenna? Find out below.
Tyler and Jenna Joseph's love story isn't the epitome of romance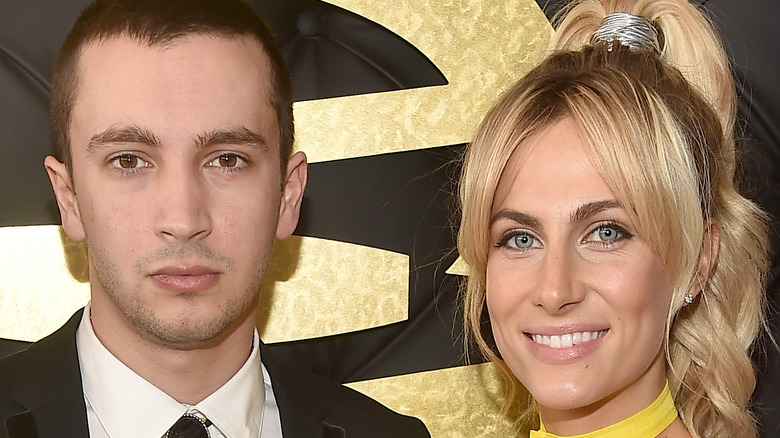 Alberto E. Rodriguez/Getty Images
What should you know about Tyler Joseph's wife, Jenna Joseph (formerly Jenna Black)? The couple got hitched in March 2015, and their meet-cute was more of a meet ... average! As Tyler told Rolling Stone in 2016, "She was the sister-in-law of a guy I went to school with." As he added, it doesn't make for a "great story or anything." Tyler added they're enjoying married life in Columbus, OH. and Jenna enjoys joining him on tour. "It's been fun getting to know each other even better while traveling the world," he told the outlet. "I like the idea [that] she's going to be around for this craziness that's happening. ... It's just that sometimes I have other desires."
Despite Jenna's willingness to be a Twenty One Copilot, she wasn't entirely impressed when they first met. "The thing that attracted me to Jenna most at first was how unimpressed she was with me," Tyler wrote in an AMA with Reddit in 2015. "And for some reason, I couldn't get enough of that. First pickup line, my voice cracked." Aw! 
Beyond their first encounters, there's not much else known about Jenna publicly, other than the fact that she really loves cream-filled donuts (according to her Twitter bio), and showcasing her life as a mom on Instagram. It may not be Disney movie material, but they seem to have a good thing going!