Why Fans Are So Angry With Aaron Rodgers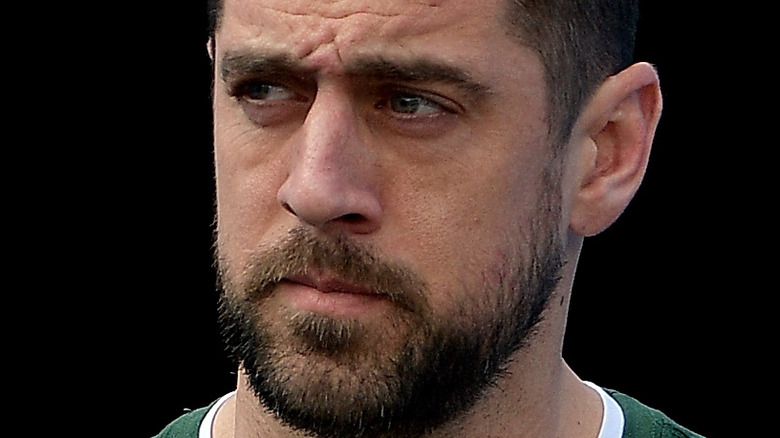 Grant Halverson/Getty Images
Aaron Rodgers tends to create buzz for plenty of reasons. On the personal side, there's his love life, which currently involves "Big Little Lies" actor Shailene Woodley, not to mention the ongoing feud with his family. As for his professional pursuits, he's made headlines thanks to his gig as a "Jeopardy!" guest host. Granted, there's also the fact that he's one of the most notable football players in the NFL.
During his time on the field, Rodgers has given fans a lot to cheer about. For instance, after being a "star player" at the University of California at Berkeley, according to Biography, he went on to be drafted by the Green Bay Packers. With the NFL, the quarterback has broken multiple records, been named MVP more than once, and helped his team win the Super Bowl. Impressive? You bet!
However, now Rodgers has done something that isn't making sports lovers very happy. In fact, he has made some fans downright angry and they're willing to be vocal about the fact that they're upset with the man who was once a popular player.
Fans fully booed Aaron Rodgers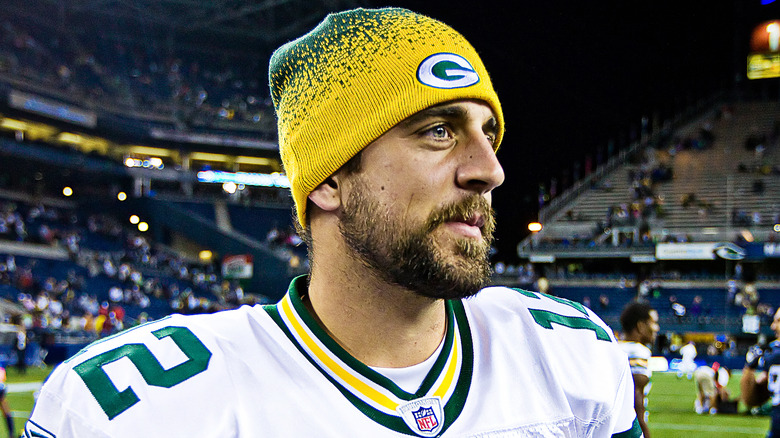 Shutterstock
Aaron Rodgers may play for the NFL's Green Bay Packers. However, it was Wisconsin fans who attended an MLB Milwaukee Brewers game that let the athlete know that they weren't pleased with what he's done — or rather, what he's currently doing and what he might do in the near future.
According to the New York Post, while the Brewers were playing a home game at American Family Field on May 4, a commercial came on the video board and what fans saw in the ad apparently set them off. Milwaukee Journal Sentinel reporter Todd Rosiak tweeted about what went down, writing, "Aaron Rodgers doing a commercial for Bergstrom Autos on the video board between innings, and I'm hearing some audible booing from the crowd." Ouch!
So why were some fans (or ex-fans) so upset? Well, as the New York Post notes, "Rodgers is locked in an ugly staredown with the Green Bay front office, with reports saying the nine-time Pro Bowler has no plans to return to the team and wants to be traded." Beyond that, additional buzz is saying that the top athlete isn't interested in returning unless general manager Brian Gutekunst is let go from the team.
While Rodgers obviously has a big decision ahead of him (and potential drama brewing around him), it seems pretty clear that there are those who aren't thrilled with what's going on.