Carl Lentz's Wife Speaks Out For The First Time Since His Sex Scandal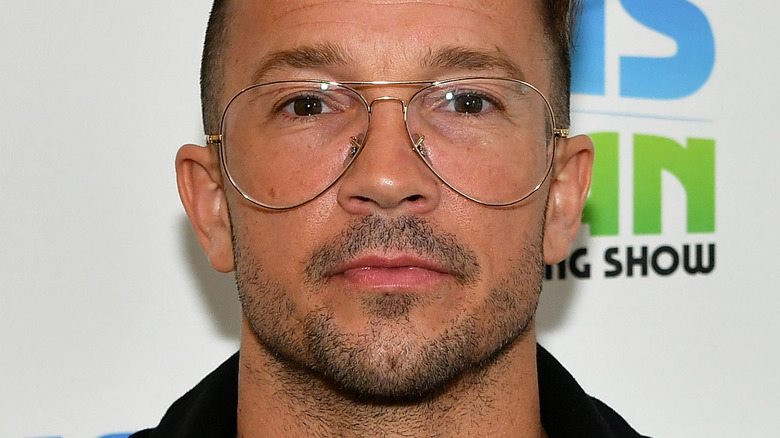 Slaven Vlasic/Getty Images
Former megachurch Hillsong pastor Carl Lentz, also known as Justin Bieber's former hipster glasses-rocking spiritual guide, had a fast fall from grace after his November 2020 firing. Revealing later in an Instagram post that an extramarital affair was to blame, Lentz (who shares three children with wife Laura, per The U.S. Sun) also suffered the public humiliation of being unfollowed on the platform by Bieber and wife Hailey Baldwin, the Daily Mail reported. This is extra salt rubbed into the wound, as Lentz had officiated their 2019 wedding.
Perhaps, though, the signs were already there. By 2019, sources were reporting that Bieber had severed ties with Hillsong, finding a new minister in Judah Smith, the leader of Churchome. A 2018 New York Post profile of Lentz, moreover, questioned if this pastor to the stars was capitalizing on Bieber's and other constituents' fame. In an exclusive interview with The Post, Lentz described his weekly sermons at the esteemed Hammerstein Ballroom in Manhattan as a "good party," adding that "if you're at a certain level of celebrity... the word will get out. And that has happened with our church... with people who are at the apex of their careers."
In a November 2020 report, Page Six described Lentz as "embarrassed and unreachable," with a source telling the paper the pastor was "not returning anyone's phone calls." But in May 2021, one previously silent voice is now being heard: that of Lentz's wife, Laura. Read on for details about her first Instagram post since the scandal broke.
Carl Lentz's wife revealed social media was bad for her mental health
With Carl Lentz still mum since his Nov. 5, 2020 Instagram post, his wife has broken her silence on the social media platform. In her first Instagram post since October 2020, Laura posted a skyward view of several palm trees, writing, "There are many symbolic meanings... a few that have resonated with me during this season of my life: they are strong, can weather the biggest storms, they always grow upwards." With no direct mentions of Carl, Laura's caption still referenced the drama she had faced in the preceding months. 
Laura shared that her retreat from social media was because she realized "it was not good for my soul," adding that she'd blocked a number of people after the cheating scandal. But she ended her post on a gracious note, stating, "I want to be known as a woman who sees the good in people & truly loves people unconditionally."
According to the Daily Mail, daughter Ava was still Team Carl as she posted sweet Instagram photos of her and Dad on his birthday in November 2020, writing, "happy birthday dad [heart emoji] i love you... you've taught me everything i know!!" For his part, Carl's last Instagram post mentioned that he, Laura, and their children plan on "rebuilding trust," with Carl "taking real time to... heal my own life and seek out the help that I need." Based on Laura's new post, it looks like she'll be there to support him.