The Exact Amount Of Money Bill & Melinda Gates Will Leave To Their Children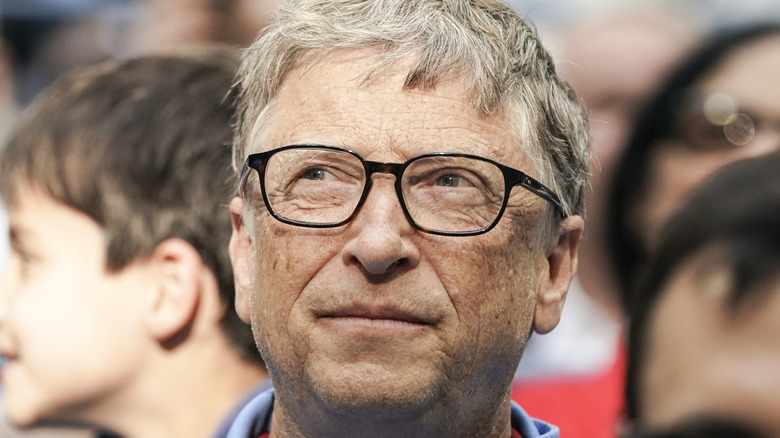 As the British royal family drama has revealed in 2021, issues of inheritance among the immensely wealthy and their offspring can get touchy. When Bill Gates announced his divorce from wife Melinda in May, many understandably wondered, for one, how Bill's wealth — estimated at being between $124 billion and $129 billion by Forbes in May 2021– will be distributed in the settlement (although Melinda could be worth $65 billion herself, as Town & Country reported). Via Entertainment Tonight, the prenup-less ex-couple had a "separation agreement" that will determine how they split assets, dividing "their debts and liabilities, real property and personal property" accordingly.
For another, the former couple has — among their other shared assets — three children: Jennifer, Rory, and Phoebe, per Fox Business. Though the Gates kids' private lives have always been closely guarded, the three are all relatively grown up — with the oldest, Jennifer, announcing her engagement in January 2020 on Instagram and the youngest, Phoebe enrolled in Stanford University's class of 2025 per her own Instagram. Would the divorce affect the three younger Gates' eventual inheritance from their parents? Here is the exact amount of money Bill Gates has said he and Melinda will leave their children. 
Bill Gates is only leaving each child 1/12,000th of his fortune
It pays (literally) to be the child of the fourth-richest person in the world. Bill Gates told a 2013 Reddit Ask Me Anything that he and ex-wife Melinda will only leave $10 million to each of their three kids. Oh, that's all? To be fair, Bill and Melinda's combined worth as of May 2021 was almost $125 billion per Forbes and Town & Country.
"I definitely think leaving kids massive amounts of money is not a favor to them," Bill said on his AMA (via HuffPost), praising an old Warren Buffett quote for inspiring this school of thought. Interestingly, $10 million is the exact figure Prince Harry told Oprah Winfrey in his March interview that the late Princess Diana had bequeathed him, as CBS reported — which had just been enough to allow him and wife Meghan Markle to move from the U.K. post-royal resignation.
Per Melinda's own words in a 2019 Business Insider interview, she and Bill have always raised their children to appreciate a hard work ethic. "There are still things we do in our home that I wanted to make sure we did as parents and that our kids participated in so they would know what it was to grow up and have responsibilities," she divulged. Given the combined and individual successes of their parents, we're sure the three Gates children will carve out fortuitous paths of their own makings.