The Heartfelt Truth Behind Heather Dubrow's Daughter's Coming Out Story - Exclusive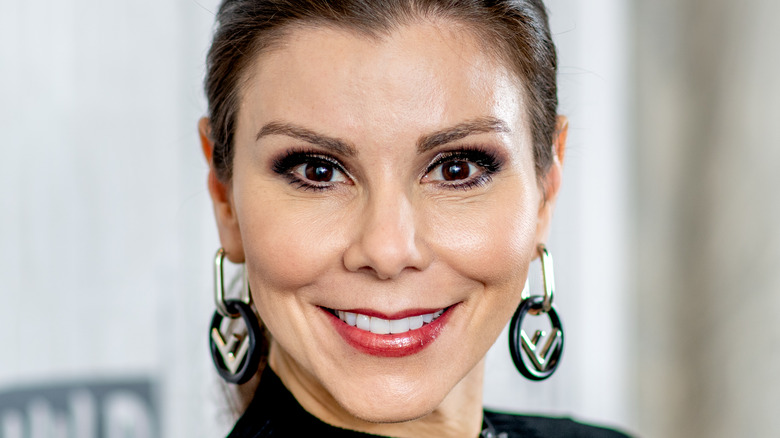 Roy Rochlin/Getty Images
Fans of "The Real Housewives of Orange County" will recall Heather Dubrow from her five seasons on the series before her departure in 2016. Since 2015, she has been hosting her own podcast, in which she shares highlights from her life and welcomes special guests for intimate conversations — and which has received more than 100 million downloads. 
In the summer of 2020, as Heather made the media rounds alongside her teenage daughter Max, whom viewers of "RHOC" had watched grow up on the show, Max came out on social media as bisexual. In her post, Max shared a photo of herself draped in a rainbow flag, writing in the caption, "always knew i was bi, just thought it was bipolar." In an exclusive interview with Nicki Swift, Heather Dubrow opens up about her thoughts on her daughter publicly coming out, and the outpouring of support that both mother and daughter have received.
Heather Dubrow learned her daughter had come out via Instagram
For Heather Dubrow, her podcast isn't just a media venture, but a community that she's created. "I feel like we know each other. We share stuff, and I love when I can share something about my life," she told Nicki Swift. "For example, my daughter, Max, came out as bisexual last year. And I had known before she came out, but it's her story to tell. I'm not going to tell that story for her. But when she made it public, it's something that I could then talk about." 
Sharing that truth with her community was important to Heather. "And I really, really loved being able to share how she shared with me, how we talk about things, how our relationship has evolved," she explained. "And I really feel like I have been able to help other parents, and I've learned so much from them as well. That community has just been amazing."
According to Heather, she learned of her daughter's announcement the same way that everybody else did: on Instagram. Heather then reposted Max's post on her Instagram, but also offered her daughter a warning. "And I go, 'Well, think about it. Because if I repost it...' I mean, I'm not Madonna, but it might get picked up by the media, that kind of thing. And so, she said, 'No, I'm totally fine with that.' I go, 'OK, great.'"
Max coming out opened the door for some amazing opportunities
As Heather Dubrow predicted, Max's post went viral and made headlines. "But I hadn't told my mother, my aunt, my sister, again, because it wasn't their business, until it was her business to tell. And so, they weren't that happy that they had to hear it from People magazine, but oops," Heather told Nicki Swift.
"So she had this moment, and I said to her, I go, 'You've got this moment. People are paying attention. What would you like to do with it?' And she said, 'I'd really like to help other kids.' And I said, 'That's great.' So she started her podcast called 'I'll Give It To You Straightish,'" Heather added. 
"What's interesting about her podcast is that I thought it would be a lot of kids listening, but what it's turned out to be is there's a lot of parents listening," Heather explained. "So I thought it was interesting that she was really resonating with adults. So she's actually writing a book based on her podcast... She gets so many messages from teens, but also from so many adults, saying, 'Thank you. I didn't know how to broach this with my child.'"
New episodes of "Heather Dubrow's World" premiere each Thursday and Friday on Podcast One.