What Heather Dubrow Really Learned From The Real Housewives - Exclusive Interview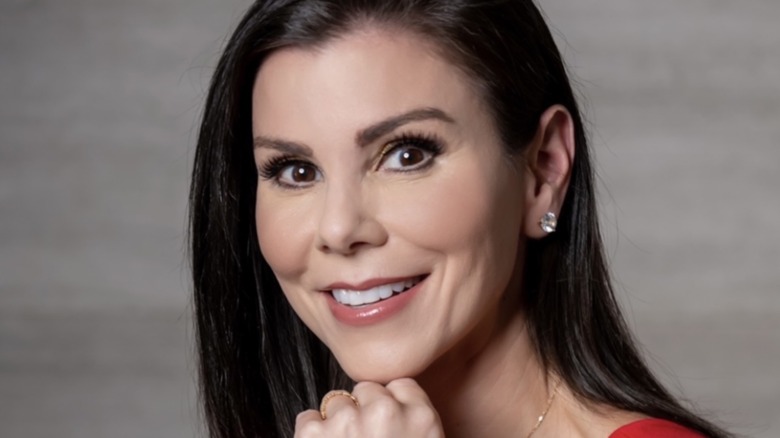 Heather Dubrow
Heather Dubrow never set out to become a reality TV star — it just happened that way. After earning a BFA in musical theater, she headed to Hollywood and embarked on a successful acting career. In fact, Dubrow's extensive roster of screen credits includes being a series regular on "Jenny," "Stark Raving Mad," "That's Life," and "Sequestered," in addition to guest spots on such TV hits as "Hot in Cleveland" and "Hawaii Five-0." Dubrow is also a talented singer, and spent four years touring with a 14-piece big band that opened for artists including Dana Carvey and Mel Torme — and even performed the theme song for her series "That's Life."
In 2012, Dubrow's career took an unexpected turn when she joined the cast of "The Real Housewives of Orange County." Dubrow left "RHOC" in 2016, and then took another unanticipated twist when she launched her hit podcast, "Heather Dubrow's World" for Podcast One. In an exclusive interview with Nicki Swift, Dubrow opened up about what she's been doing since her Housewife days, including what it takes to be a successful podcaster, what she took away from her years as a Real Housewife, and teased an exciting new TV project on the horizon that will partner her with husband Dr. Terry Dubrow, renowned plastic surgeon and star of E! reality hit "Botched."
New episodes of "Heather Dubrow's World" premiere each Thursday and Friday on Podcast One.
Heather Dubrow is no newcomer to the podcast game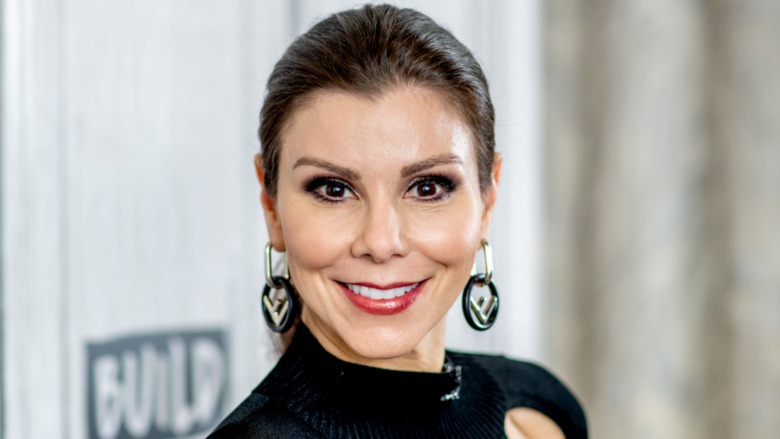 Roy Rochlin/Getty Images
Congratulations on the podcast. I didn't realize you'd been doing it for so long. It seems like everybody's jumping into podcasting now, but you've been doing it since what, 2015?
Yeah. Like six years. It's funny. It's true, because everyone and their daughter, literally, because my daughter has a podcast now, too. Everyone's got a podcast, and I think it's so cool. I mean, some of them are niche podcasts, some of them are short term, some are longer. I just fell into it, and it's been amazing.

How did you first start getting into it? Because back then 2015, I don't think podcasting was nearly as common as it is now. 
Definitely not. I was probably one of the original female podcasters. I mean, Adam Carolla was really big, obviously Dr. Drew and all those guys. But yeah, my agent said to me, he's like, "You should really do a podcast." I go, "That is such a great idea. And what's a podcast?" So it was like, he explained it to me, and I went, "Oh, OK. I get it." And, and I thought, "OK."
I come from television. So I'm thinking of segments and content and all this stuff. And then Drew Pinsky, Dr. Drew, I was having dinner with him one night, and he goes, "That's not really what a podcast is." He was like, "People, they just want to hang out with you for an hour or so." And I'm like, "Really? They do?" And he goes, "Yeah, it's exactly what it is."
And so, I went, "OK." It took me a little bit. Obviously, having the Housewife fame gave me an instant audience, which was amazing. And then over the course of time, I found my flow.
Heather Dubrow's World has evolved a lot since its launch in 2015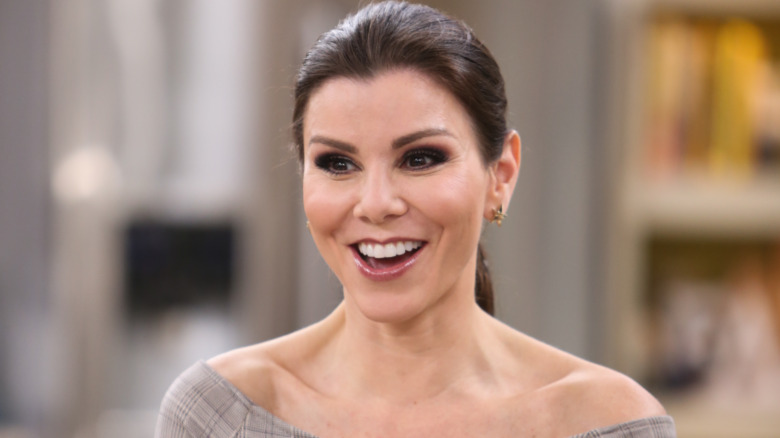 Paul Archuleta/Getty Images
How has the podcast evolved since you first started doing it?
I used to talk a lot about my life, and then I did a lot of guests, and then I sort of married all of the things. You can't please anyone. How do you say, you can't please... You can please some of the people, some of the time, not all the people all the time.
So I have half of my listeners [who] are like, "We hate when there's guests. Don't have any more guests on. We just want to hear about your life." And then the other half of people go, "I love the guests. I learned so much. This is the best show," blah, blah, blah.
So the way it's actually evolved recently is I've been doing a lot of polls and really listening to my audience about what they want. And I brought back segments that I used to do. And I'm sort of doing a 50-50 split now, where I talk about things going on in my life and current events and stuff for half the show, and then have a guest for half the show. So it's like, come for the food, stay for the pie. So everyone gets a little bit of what they love.

In terms of the guests you've had on, who were some that really have stood out to you? Because you've had a lot of people on over the years.
I really have, and the guests have been so varied, in everything, walks of life, stages of life, careers. I loved having Norman Lear on, that was huge for me.

Wow.
Yeah. I've had incredible musicians on the show. And I have a regular cast of characters that come through, like Justin Sylvester [of E!'s "Daily Pop"] and [TV writer] Liz Astrof and my girlfriend, Lindsay [Dickhout]. And then I just had this fabulous girl, Tiffany Aliche, came up for the second time. She's called The Budgetnista, and she's got this New York Times best-selling book about finances and stuff and being practical. And I love when I learn something. When I take away a pearl from someone, it feeds my soul. I love it.
There is a whole community that grew from Heather Dubrow's World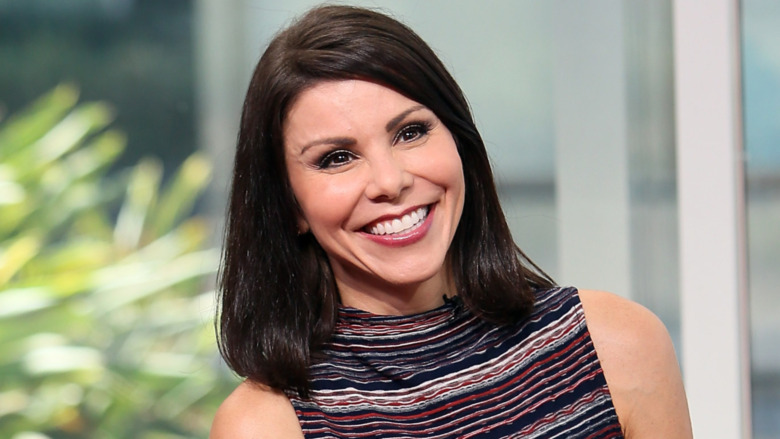 David Livingston/Getty Images
What kind of response have you received from "Heather Dubrow's World?"
The response is great. I mean, like I said, when I started it, I got all of the Housewife audience, and it's really grown so much since then. Used to be that people would stop me in the street and say, "Oh, I loved you on 'Housewives.'" or, "You and your husband," blah, blah, blah. And now it's, "I listen to your show every week."
And I feel like I've created this community that is amazing, and I feel like we know each other. We share stuff, and I love when I can share something about my life. For example, my daughter, Max, came out as bisexual last year. And I had known before she came out, but it's her story to tell. I'm not going to tell that story for her. But when she made it public, it's something that I could then talk about. And I really, really loved being able to share how she shared with me, how we talk about things, how our relationship has evolved. And I really feel like I have been able to help other parents, and I've learned so much from them as well. That community has just been amazing.
When Heather Dubrow's daughter came out, the press noticed
When your daughter Max came out, was there any hesitation about going public?
For me, I have diarrhea of the mouth. I'll talk about absolutely anything. But obviously, when it comes to my children, I have to keep boundaries, because it's their lives, their personal stories. And they have to be able to tell their way and in their time. So when Max went public, I was literally walking — It was in the middle of the pandemic — I was walking in the house from a food run. I had my purse on my shoulder, and she was like, "Hey, did you see my post?" And I said, "No." And she goes, "Well, go look at it."
So I looked at my phone, and I saw it. I was like, "Oh, that's amazing. I love it." I said, "Can I repost that? And she said, "Yeah, sure." And I go, "Well, think about it. Because if I repost it..." I mean, I'm not Madonna, but it might get picked up by the media, that kind of thing.
And so, she said, "No, I'm totally fine with that." I go, "OK, great." So I reposted it, and then the dogs were barking and something happened, and so, I forgot, and I walked away, taking care of business. And then it went viral, and she was literally on the cover of all the digital magazines, like Us Weekly and People and all this stuff. But I hadn't told my mother, my aunt, my sister, again, because it wasn't their business, until it was her business to tell. And so, they weren't that happy that they had to hear it from People magazine, but oops.
Max Dubrow's podcast has been a hit with adults
Well, I guess that's just the nature of social media these days, isn't it? People will go make an announcement on Instagram before they tell someone in-person.
It's so true. I felt bad about that, but you know what, I was just so proud of her. So she had this moment, and I said to her, I go, "You've got this moment. People are paying attention. What would you like to do with it?" And she said, "I'd really like to help other kids." And I said, "That's great." So she started her podcast called "I'll Give It To You Straightish." And her title, her artwork. It's very her.
What's interesting about her podcast is that I thought it would be a lot of kids listening, but what it's turned out to be is there's a lot of parents listening.

Really?
Yeah. Which I thought was interesting. And when I really started thinking back to the past year, year and a half, you hear all these people talking. Over the past year and a half, people have been talking a lot about the kids, the pressures they're under, after the Varsity Blues [college admissions] scandal, going through the pandemic, being at home. And what I realized was it's all adults talking about it, and we're not hearing from any of the kids.
So I thought it was interesting that she was really resonating with adults. So she's actually writing a book based on her podcast. I just love it. I think it's amazing. And she gets so many messages from teens, but also from so many adults, saying, "Thank you. I didn't know how to broach this with my child." And not just coming out, but really anything.
Do you think there is a very different attitude towards sexuality now, where people are more open-minded about everything and the stigmas that used to exist don't really seem to be present much anymore?
No, and I think people are more fluid now, but I think the truth is that society and their generation is just so open to love and experiences that they're in an enviable position to explore. I think it's amazing.
Heather Dubrow's top tip for hosting a successful podcast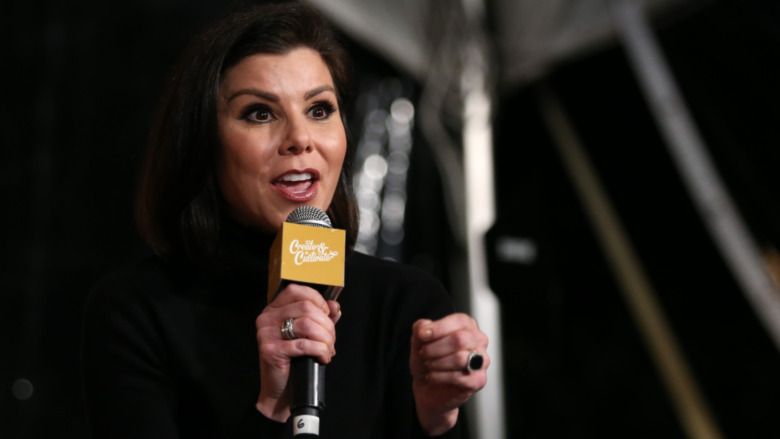 Phillip Faraone/Getty Images
When Max started the podcast, did she come to you for advice? Or was she like my kids, "No, I know what I'm doing. I don't need your help."
Of course, she's 17, so she knows everything, but she's really good about understanding that I have expertise and experience in certain areas and talents. And even though at the end of the day, it's her voice, she knows what she's doing, and she makes her own decisions, she will ask.

I mean, certainly if you're interviewing someone, there are techniques that you learn, and I'm sure you've picked up a lot over the years. Like, whenever I listen to Howard Stern, he does a little thing, where he basically says goodbye to the guests. And then when they feel like the interview is all over and their guard is down, that's when the really juicy stuff comes out. What kind of tips have picked up about interviewing?
That's so true. Well, I'll tell you, my biggest thing is I like to see people, so I was never one that really loved doing my podcast on the phone. I didn't really like phoners, because I feel like the energy is so nice when you're actually with someone. But I'll tell you, Zoom has really fixed that. You can really interview so many people from all over the world now and really feel connected. But my biggest advice that I've given Max is that you need to listen. I mean, I love to talk. We all love to talk. That's why we're all in this business. Right?
But you don't learn anything if you don't listen. And I find that it's good to have prepared questions. And obviously, you need to do your homework and know who you're talking to. But when you really listen, the conversation flows and you realize, you may ask 12 other things you didn't even know you were going to ask, based on what they told you. And I also, when I research someone, I like to listen to interviews they've done already, because if they are saying the same thing in every interview, I don't want to ask those questions.

Yeah. That's a very good point, because you do see these celebrities tell the same anecdotes over and over again. 
The funniest one was Lady Gaga... And I love her. But when she was doing all of her interviews for "A Star Is Born," she kept saying, they made a meme out of it, she kept saying, "Oh, there's 100 people in the room. And one person believes in you, and you walk ... " She said it so many times. It was so funny, but I get it, because it's true. So you can't come up with something new every single time, but you want to find a new avenue in.
Would Heather Dubrow ever return to the Real Housewives of Orange County?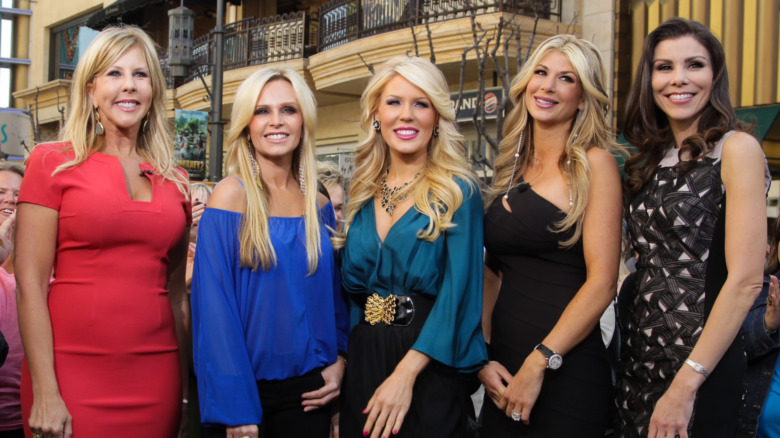 Noel Vasquez/Getty Images
Now, I would be remiss if I didn't ask about your time on "The Real Housewives of Orange County." What's the biggest takeaway from the time that you spent as part of that cast?
Well, I mean, look, I went from scripted television to reality TV, which was so crazy. I never thought I would do something like that, but I have to say, I mean, it opened doors for me that I didn't realize that it would open. It changed the trajectory of not just my career, but honestly, my life. It's kind of cool to be such an interesting part of this pop culture phenomenon. And obviously, my husband, "Botched" was born from the show and my podcast and our product lines and our books. And I mean, just everything, and my kids have really interesting opportunities because of it. I'm really grateful about it. But one of my biggest things, honestly, which might sound so silly is that I never went on girls' trips before I was on that show. So even though the drama and the craziness, I got to experience that sort of thing, which was amazing.
One thing I've noticed about the fans of the "Real Housewives" shows, they're as devoted as "Star Trek" fans are to that show, I mean, there are some hardcore, serious "Housewives" fans. What kind of fan encounters have you experienced because of the show? 
When I was on scripted television, people would come up to me — I mean, this is before social media, mind you, but people would come up to me and say, "Oh, I love your show. I love your character." That kind of thing. Now people know you. So people come up to me, and they're like, "Heather, gosh, how's Coco?" It's really bizarre. But now having done my podcast for so many years, it's like that community too knows me even better, that sometimes I have to remind myself that I might not know the person that's approaching me.

Right. They know you intimately.
Yes, intimately.

Now, you've said, "Never say never" about going back to the franchise, but do you envision ever seeing yourself back for another season?
I mean, I always say, "Never say never," because life is so weird. I never thought I would do it in the first place. I don't know. If you asked me a couple of years ago. I probably would've said no. But at this point, the way I'd have to answer it is the set of circumstances would have to be right. I don't think just going back on the show to go back on the show would make sense. But if there was a reason to go back on, a compelling reason, you never know.
Her new project with husband Dr. Terry Dubrow of Botched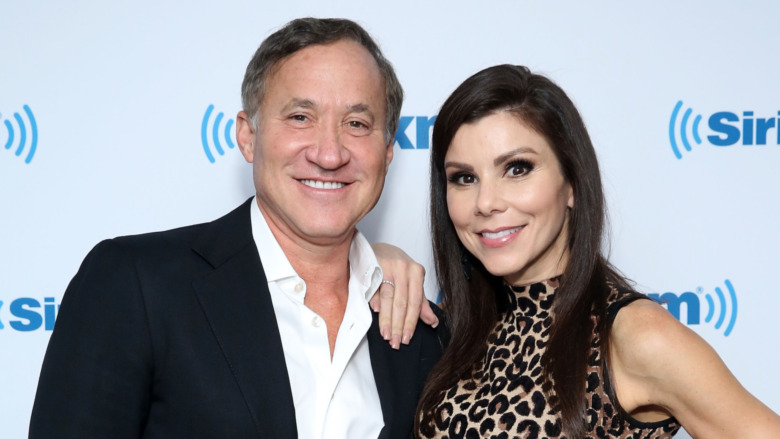 Robin Marchant/Getty Images
I was also reading about the new show that's in development with you and Terry for E!. What's the status of that?
OK. So if it feels like I've been talking about it forever, and this is why I never talk about things, because I hate it to be like, coming soon, and then... But what happened was, it was called "Seven Year Stitch." And we were developing it, and then we had cast it actually, and then COVID hit. And it really is just not the kind of show that can be done in a pandemic. It can't be done over Zoom. It really wouldn't have landed the way it should have. So we've been waiting for the world to open up a little bit. And now we've been given the green light to cast again. And so, it looks like full steam ahead, and we hope to be shooting this summer.

Were you and Terry specifically looking for something that you could work on together?
Well, so we do a lot of stuff together. We've written three books together. We've had a skincare line and a supplement line. We always like doing stuff like that together, but we've been looking for something for the last couple of years, last five years, I would say. And we pitched a bunch of stuff. We've got close on things, but sometimes it has to do with— You know how it is, it's luck, timing, all of that sort of intersecting. You can pitch the right show at the wrong time, the wrong show at the right— You just never know.
So what happened was we had actually pitched a similar show to this a few years ago, but Dave Kaplan, our executive producer pitched this one to us, with this really cool hook. And we went, "Oh, well, that's cool. I like that." And so, he loved it, and here we are.
So what can you tell me about the premise?
Basically, we're taking couples who are in that precarious seven year-ish mark, where life has become routine and things start to not look so bright and shiny, and you start to think, "What did I do? Is this doable, and do I want to be here?" And we're taking those couples, and we're doing internal/external makeovers on them, opening up our Rolodexes and helping them. There's a cool twist, which I can't tell you, at the end of the show, but it's fun. It's funny. It's heartwarming. It's sad. I mean, it's everything you can possibly imagine. And we're really excited about it. I don't know if I'm allowed to say, but I know we have an air date.
Heather Dubrow isn't closing the door on taking on more acting roles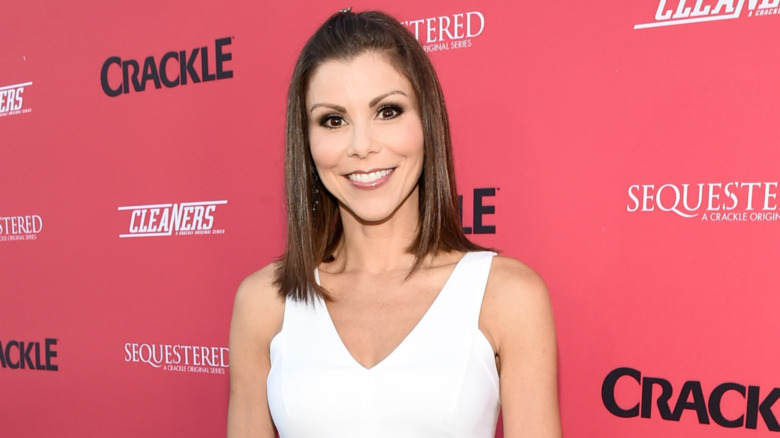 Michael Buckner/Getty Images
So in terms of future projects, beyond that show, and of course the podcast going on, do you have anything else coming up, any more acting roles on the horizon?
I mean, obviously, the last year, everything's been completely shut down. But now that everything's opening up again ... It's such a strange place right now, not bad, but just strange, with the kids and school, and my oldest two are applying to college in the fall. And so, we have a lot of spinning parts. But it's funny that you asked that, because I was just sort of thinking, "Huh, I'm going to have two kids in college and only two at home. And then that one's going to be driving. What do I want to do?"
So I am exploring those options. I mean, one thing I would love to do is — I started off in musical theater, and I was a singer. I had a 14-piece big band I toured with, they sang the theme song to my TV show, "That's Life." I miss live theater. I miss performing like that. I had always intended to go to Broadway. I ended up going to Hollywood instead. That's still on the list for me somewhere. So I don't know, maybe that in the future.

Wow, exciting. Is that just a dream for now, or have any discussions been taking place?
Well, there were a couple of discussions, again, before COVID hit, but I think it's a conversation I'm going to start up again. Because, look, Broadway obviously suffered so much. And I think anyone who has any kind of name or notoriety again, not Madonna, but anyone that has any kind of name that can maybe bring people in, I think it's time everyone goes to the live theater and get people in seats.
New episodes of "Heather Dubrow's World" premiere each Thursday and Friday on Podcast One.