How Did Grimes And Elon Musk Really Meet?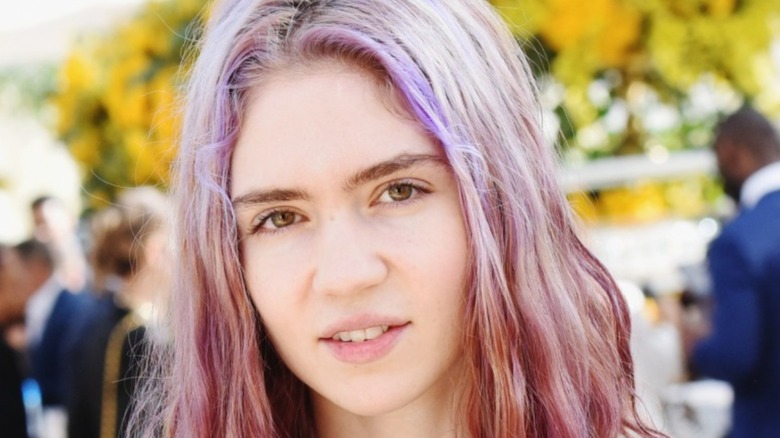 Vivien Killilea/Getty Images
Elon Musk and his partner, Grimes, are known for making headlines. The founder of Tesla and his Canadian singer sweetheart are both free spirits. Musk is a soon-to-be trillionaire, but his luck with love hadn't been great until he met Grimes. The infamous famous couple has made some eyebrow-raising decisions over the years, to say the least.
One of the couple's unusual choices was the name of their son, who was born in May 2020. According to People, Musk and Grimes originally named their child "X Æ A-12 but modified the name to X AE A-Xii" for his birth certificate. But in October 2020, USA Today reported that the baby boy is simply called "X" by his parents. There has been speculation that the baby's name is a nod to Musk's company SpaceX.
One-letter names are all the rage for these two. Grimes' real name is Claire Boucher, but during a 2020 New York Times interview, she revealed that she now goes by "c," a "reference to the speed of light." Whatever floats her boat! Keep reading to find out how Grimes, a.k.a. "c," met the Tesla CEO.
Grimes and Elon Musk met in a techie way
Tesla founder Elon Musk and his partner Grimes are tech-savvy, so it's no surprise that they met on Twitter. According to Insider, Grimes and the Tesla and SpaceX CEO met on Twitter in 2018 after Musk planned to "make a joke about artificial intelligence" and found out Grimes had beat him to it. Insider reported that Musk's joke was about the "Rococo Basilisk character in her 'Flesh Without Blood' video." After connecting on Twitter, the two geeky lovebirds dated on the DL, but the couple went public with their romance in May 2018.
Page Six broke the news that Musk and Grimes were "quietly dating" a few days before the 2018 Met Gala. On the same day Page Six broke the story, Musk tweeted, "Rococo basilisk," a hint about his Met Gala date. After Musk and Grimes made their relationship Instagram official by walking the Met Gala red carpet, the couple was under a microscope. There was a Twitter tsunami with tech reactions and geeky jokes about the new couple.
For example, a developer created a Chrome extension that replaces the name "Elon Musk" with "Grimes's Boyfriend" (via The Verge). But the nerdy jokes died down as their romance grew; Musk and Grimes are now parents as well as partners. And to think, it all started on Twitter.