How Much Of England Does The Royal Family Really Own?
Wpa Pool/Getty Images
From Prince Philip deer-hunting with Princess Diana in a wide field of grass at Balmoral Castle to the glamorous interiors during wedding scenes at Westminster Abbey, Netflix's "The Crown" has revealed the British royal family to have access to a different location for virtually every occasion of their lives. The Prince Harry-approved, semi-biographical series about the royals has covered four seasons through 2020, with each season featuring a plethora of real-life locales the family not only frequents but owns. (Of course, as Vulture reported, scenes shot inside the esteemed Buckingham Palace, for instance, had to be strategically faked). 
With Forbes reporting the royal family's net worth at a collective $88 billion in 2021, Queen Elizabeth II's personal wealth alone consists of $500 million — a lot of which is tied up in the real estate investments of two famous family castles (hint: both featured heavily in "The Crown"). But those aren't the royal family's only holdings; the queen, for instance, owns a McDonald's in the U.K.
With their notorious immense wealth, let's explore how much of their home country of England the royal family really owns.
The British royals own almost 247,000 acres of land in England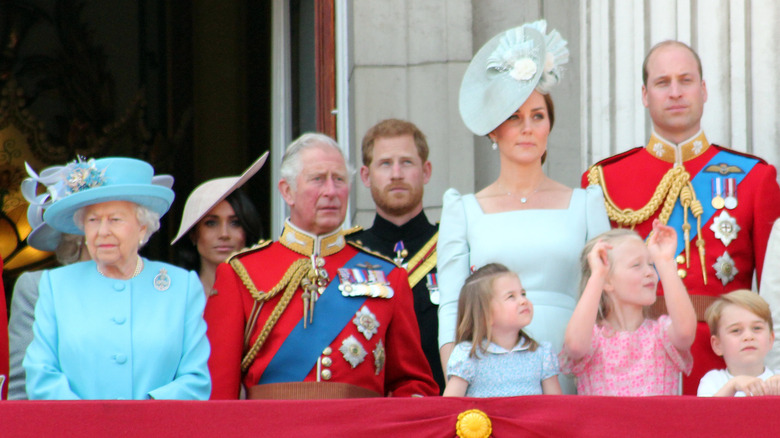 Shutterstock
The British royal family, to no one's surprise, has a massive real estate portfolio. According to the Independent, their property investments are held by the appropriately named Crown Estate. As of 2018, the Crown Estate owns 14 retail centers in England in addition to almost the whole of Regent Street, a famous London shopping hub known for its Christmas Lighting, as well as half of the buildings in the bordering St. James district.
Of course, what would royals be without a few palaces and castles? The British royal family has five in England alone. This is thanks to a combination of the Crown's holdings and the Duchy of Lancaster and the Duchy of Cornwall, which are counties whose land is passed onto the current British monarch. In addition to Buckingham Palace, St James's Palace, Kensington Palace, and Windsor Castle, the Queen also owns Sandringham Estate, which fans of "The Crown" might note is her annual Christmas stomping ground. 
Beyond castles, the Duchy of Lancaster, the Independent reported, covers 18,433 hectares (each of which consists of 2.47 acres) of land in England and Wales as well as the luxury hotel, the Savoy Estate. The Duchy of Cornwall grants Elizabeth 53,000 hectares of land, most of which is in South West England, which includes Highgrove, the home of Prince Charles and Camilla Bowles. Whew — maybe this is really why Meghan Markle called the royal family "the firm!"