The Real Meaning Behind 'Come Through' By H.E.R. Featuring Chris Brown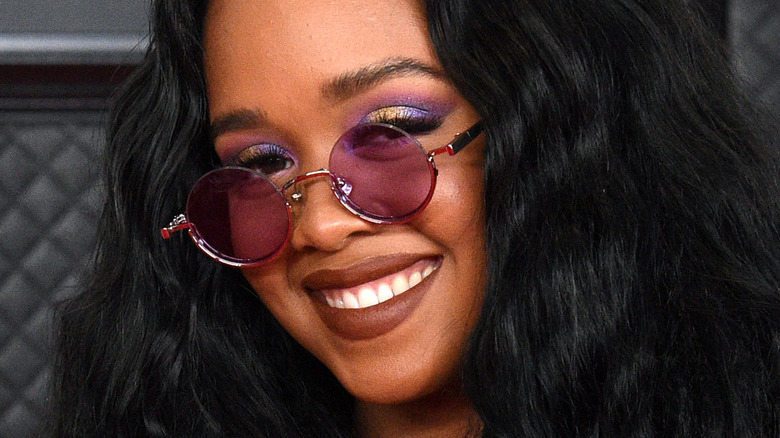 Kevin Mazur/Getty Images
H.E.R. (real name Gabriella Sarmiento Wilson) recently dropped a new single, "Come Through," featuring Chris Brown. Per the week of May 8 report, H.E.R.'s latest track debuted at No. 64 on the Hot 100 Billboard chart.
"Come Through," is H.E.R.'s first single release of 2021, following her two Grammy wins last month. At the 2021 Grammy Awards, the singer won Best R&B Song thanks to her feature on Robert Glasper's "Better Than I Imagined," and Song of the Year with "I Can't Breathe."
In February, H.E.R. even earned an Academy Award nomination for Best Original Song, thanks to her "Judas and the Black Messiah" soundtrack contribution, "Fight For You." So, all in all, 2021 sounds like "H.E.R." year.
"Come Through" isn't H.E.R.'s first time working with Brown, though. In 2019, the two joined forces on "Come Together," from Brown's album "Indigo." Their latest collaboration, however, seems to have fans pretty excited, with the visualizer counting more than 3.5 million views on YouTube. But what's the real meaning behind "Come Through"?
H.E.R. is asking her significant other to 'Come Through'
Shutterstock
As the title may suggest, H.E.R. and Chris Brown's "Come Through" is all about their love interests. In the song, both H.E.R. and Brown are pleading with their boos to come over. "I look good, even though I feel sh**y / I just got back out this way / You already got plans for the city / Call 'em off, could you call 'em off for me?" H.E.R. sings in the first verse (via Genius). 
The two then double-down in the chorus: "But you should come through tonight / I'm chilling on the Westside, boo / Call my homegirl, tell your best friend / You can slide too on the low, a remote location." Later in the song, Brown even complains about not seeing his girl enough: "Fighting it off, you been fighting me off for weeks / Don't leave, 'cause I need ya."
Could "Come Through" be about H.E.R.'s rumored boo, Skip Marley? Maybe. Although the two have never admitted to being an item, the chemistry is undeniable. "It was a natural connection... as we met it was just a natural type of vibe between us," Marley told Angie Martinez about working with H.E.R. "It's like we get each other a little bit."