Prince Charles' Birthday Tribute To Archie Is Catching Heat. Here's Why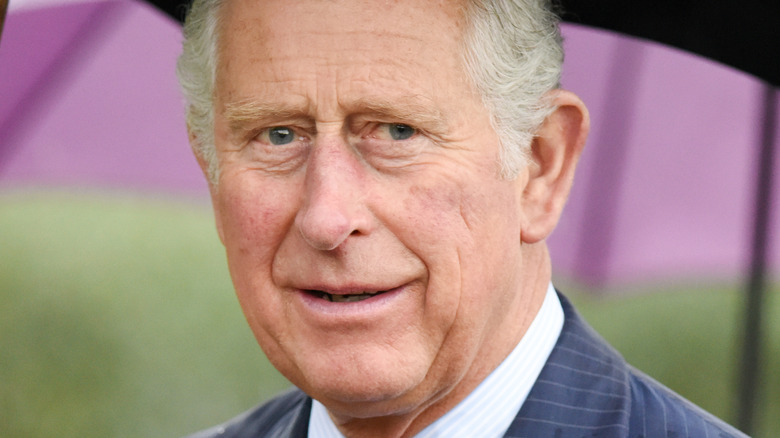 Shutterstock
Prince Charles and his wife, Camilla Parker Bowles, posted a sweet birthday message to Prince Harry and Meghan Markle's son, Archie, who turned 2 on May 6. To mark Archie's special day, the Duke and Duchess of Cornwall took to Instagram to share a photo of Archie that was taken at his christening. "Happy birthday to Archie, who turns two today," read the caption that accompanied the black-and-white shot. Charles and Camilla's caption also included the birthday cake emoji, which was, of course, appropriate. 
The photo depicted three generations of the royal family; Charles, Harry, and Archie. In the snap, which was taken by photographer Chris Allerton, Harry was seen holding Archie, who was dressed in his christening robes. Charles, wearing a suit and tie, looked over at his grandson with a small smile appearing to spread across his face. The photo proved to be popular, receiving more than 200,000 likes in the first two days it was posted. It didn't take long, however, for social media users to find a problem with the birthday tribute, which is causing quite a stir. Read on to find out why some royal watchers are unhappy with the photo that the duke and duchess chose to share in honor of Archie's birthday.
Prince Charles received a good deal of backlash after sharing a photo in honor of Archie's birthday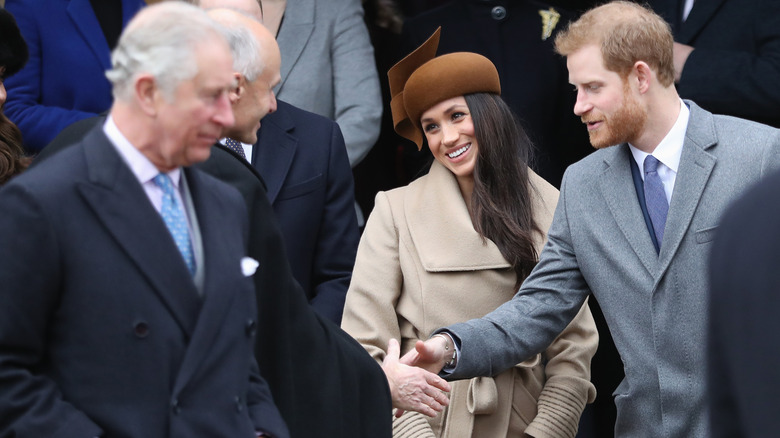 Chris Jackson/Getty Images
Prince Charles' birthday tribute to Archie was noticeably void of one person in particular; Meghan Markle — and several people noticed. According to Page Six, social media users couldn't help but point out the fact that the photo that was shared to Charles and Camilla Parker Bowles' social media accounts was of Charles, Prince Harry, and Archie, which some took as a snub.
"Sad! Very sad state of affairs when the supposed future king cuts the mother of his grandchild out of the photo with which he chooses to share," wrote one Twitter user. "Why would you not call him your grandson and why cut his mother off?" tweeted another. Meanwhile, several Instagram users wondered why the Duke and Duchess of Cornwall didn't post a tribute for Princess Charlotte, who turned 6 on May 2, or Prince Louis, who turned 3 on April 23. "What about Charlotte 4 days ago?" one Instagram user commented. "What about Prince Louis and Princess Charlotte's pictures?" another Instagram comment read. Charles was also called out for not wishing his son Prince William and his daughter-in-law Kate Middleton a happy anniversary.
While many acknowledged that the birthday tribute was a positive thing — given the rift within the royal family that has only gotten deeper over the past couple of months — others couldn't help but find problems with the post.