The Real Meaning Behind 'Paid The Fine' By Young Thug & Gunna Featuring Lil Baby & YTB Trench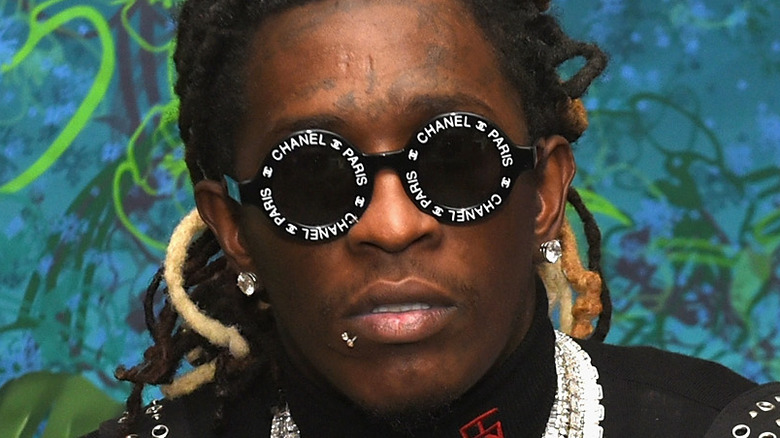 Andrew Toth/Getty Images
Released on April 16, Young Thug and Gunna's compilation album "Slime Language 2" debuted at the top of Billboard's 200 Albums chart the following week. It's easy to see why — the project includes appearances from Drake, Future, and Lil Uzi Vert (among others) on tracks like "Solid," "Superstar," and "Proud of You." Still, there's one song in particular that seems to resonate with fans.
Featuring YTB Trench and Lil Baby, "Paid The Fine" debuted at No. 77 on the Billboard Hot 100 Singles chart on April 26. Just two days later, Young Thug and Gunna also released the official music video for "Paid The Fine," which now counts almost 2.5 million views on YouTube.
And unlike many flashy rap videos today, the visuals for "Paid The Fine" come with a very important message. In the music video shot by DrewFilmedIt, Gunna and Young Thug can be seen using their fame and resources to help several Atlanta families reunite with their loved ones.
Young Thug and Gunna posted bail for low-level offenders in Atlanta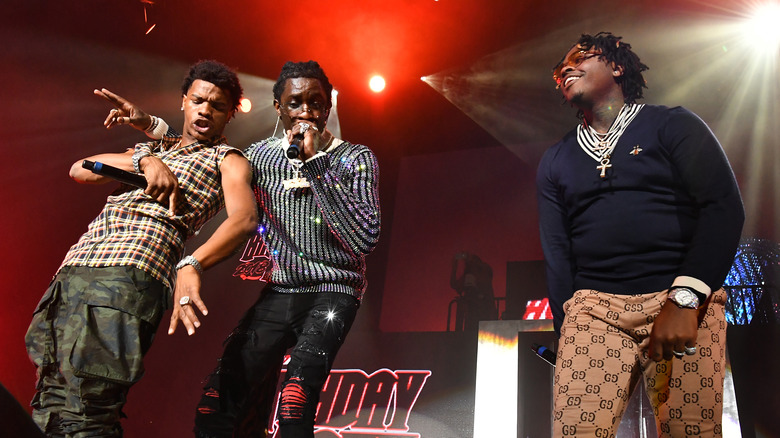 Paras Griffin/Getty Images
On "Paid The Fine," Young Thug, Gunna, and Lil Baby boast about their success. Per Genius, Lil Baby can be heard rapping: "Damn, look how them tables turned / Think I walk on water, but I never let no bridges burn / It's different when it's given to you / All the money, I really earned it." Still, Thug and Gunna have recently vowed to use their money for good, as reported by WSB-TV 2. 
On April 26, both rappers posted bail for several women and men who couldn't afford it and were being held for minor offenses at Fulton County Jail. "This is where we are from," Thug told WSB-TV 2. "We just woke up and went to the jail with the lawyer and, you know, DA's and the prosecutors, you know, the bonding companies and just got as many people as we can out."
"You never know what somebody been through," Gunna added. "There was people sitting out three or four years and couldn't get out on a bond. If they did the crime, then they can do the time, then it's all right. But it's like you're giving them a bond higher than what they stole."
The music video for "Paid The Fine" shows the families' emotional journey — from finding out about Gunna and Thug's surprise and reuniting with their loved ones, to sharing a fancy meal courtesy of the rappers. Well done, Thug and Gunna!