Khloe And Tristan's Body Language Before And After The Cheating Scandals Says A Lot - Exclusive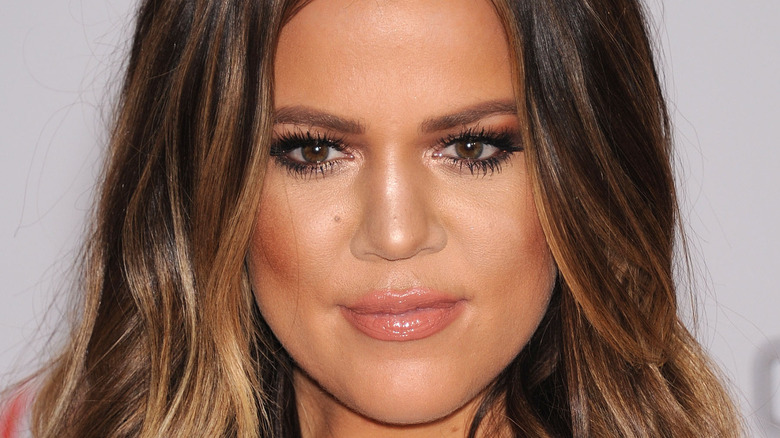 Shutterstock
Khloé Kardashian and Tristan Thompson have had a rocky relationship since welcoming daughter True in April 2018. Thompson allegedly cheated on Khloé multiple times before and after True's birth, which led to Khloé breaking off things with the basketball player in February 2019. Khloé moved out of Cleveland where Tristan was based with True and relocated back to Los Angeles.
At the time, a source told People that Khloé couldn't trust Thompson after he cheated with Jordyn Woods — a longtime family friend of the Kardashians, and Kylie Jenner's BFF — at a party. "Khloé has acted like she's single for a while. She's focused on herself, her daughter and their life in L.A.," the source told the outlet. "She isn't spending time with Tristan... because she can't trust him."
Fast forward to August 2020, Khloé and Thompson were confirmed to have reconciled after Scott Disick commented on the former's Instagram post in a bikini, writing, "[Tristan] is a lucky man!" per Cosmopolitan UK.
Although Khloé and Thompson had flaunted their love on social media since getting back together, their relationship might not be so solid anymore. In addition to more cheating allegations against Thompson (which he denies), body language expert Nicole Moore, who is a life coach and relationship expert at Love Works Method, spoke with Nicki Swift about how Khloé Kardashian and Tristan Thompson's body language has changed since his she found out about his infidelity.
Khloé Kardashian's body language has changed around Tristan Thompson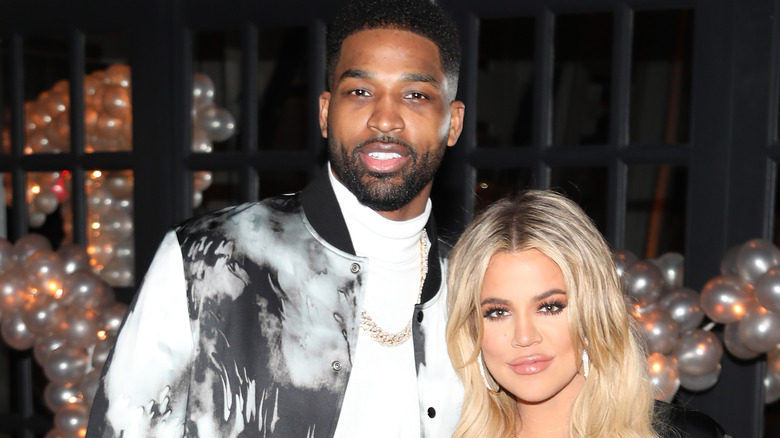 Jerritt Clark/Getty Images
While Khloé Kardashian has paid tribute to her baby daddy Tristan Thompson, she is no longer as affectionate with him in pictures as she used to be because of his cheating scandals, according to body language expert Nicole Moore of Love Works Method. "Before the cheating scandals, Khloé was all over Tristan, leaning into him as close as she could," Moore tells us, adding that Thompson's now "the one who's been leaning more into [Khloé]" in photos.
The change in body language could be seen clearly in the Instagram photos Khloé posted for Thompson's 30th birthday in March. In the photos, Khloé is dressed to the nines alongside Thompson and True, but her body language is stiff. "Tristan's head in all of the pictures is tilted sideways toward Khloe, indicating a desire to be close," Moore explains. "Khloé, in the second picture in particular, is actually leaning her head away from Tristan." Khloé's body language indicated that she was in "self protection mode," according to Moore, which was a contrast to her affectionate self at her 2018 gender reveal party with Thompson, where she leaned into him and let him touch her bump.
Moore concluded that Khloé's change in body language is because she is "more guarded with her emotions and even her happiness towards Tristan," in fear that he might be unfaithful again. It looks like she may have had a reason to.