Donald Trump Reacts To Liz Cheney Being Ousted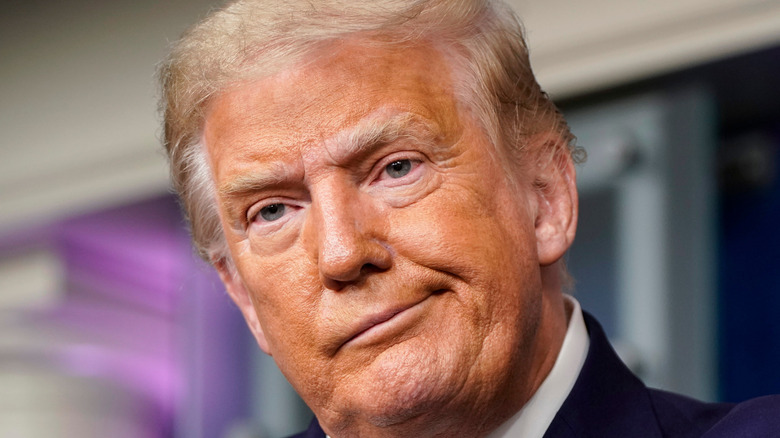 Shutterstock
Donald Trump hasn't been afraid to speak his mind when it comes to Liz Cheney. And now that she's been voted out of her role within Republican leadership, the former president has taken the opportunity to gloat.
Cheney was ousted from the position of House Republican Conference chair following "an overwhelming vote" on May 12, according to The Hill. The Republican party has largely turned against her since February — when she beat a similar vote, per the outlet — due to her criticism of Trump and his claims of election fraud. "You can't have a conference chair who recites Democrat talking points," Jim Jordan, Ohio congressman and Trump ally, said after the vote, per The Washington Post. According to CNN, the decision only took 16 minutes. Cheney has refused to waiver on her opinions about the former president since crossing party lines to vote in favor of his second impeachment.
"Remaining silent and ignoring the lie emboldens the liar. I will not participate in that," the Wyoming Republican representative said in a floor speech the evening before the vote, according to CNN. "Our election was not stolen. And America has not failed." Cheney also told reporters, per The Hill, that she will now do, "everything I can to ensure that the former president never again gets anywhere near the Oval Office." Well, here's what Trump had to say now that she's been ousted from her position. 
Donald Trump called Liz Cheney "bitter"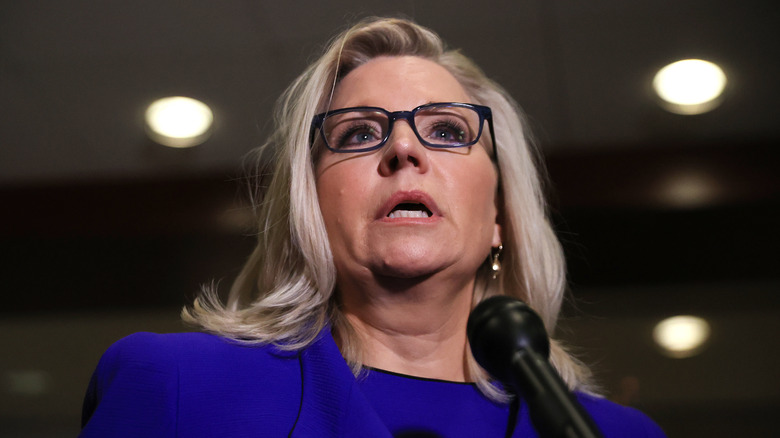 Chip Somodevilla/Getty Images
Donald Trump celebrated Liz Cheney's fall from grace on May 12, releasing a statement attacking her professional and personal credentials shortly after the vote. "Liz Cheney is a bitter, horrible human being," the former president said in his statement, per The Hill. "I watched her yesterday and realized how bad she is for the Republican Party." He went on to call the Wyoming politician a "talking point for Democrats" who was distracting from bigger issues by speaking out against the former president.
"She is a warmonger whose family stupidly pushed us into the never-ending Middle East Disaster, draining our wealth and depleting our Great Military, the worst decision in our Country's history," Trump added, referring to her father Dick Cheney's two terms as vice president. "I look forward to soon watching her as a Paid Contributor on CNN or MSDNC!" Classic Trump.
Before the vote, Trump had addressed the Cheney situation on his website. He referred to her as "a poor leader, a major Democrat talking point, a warmonger, and a person with absolutely no personality or heart." He also claimed that "almost everyone in the Republican Party, including 90% of Wyoming" was looking forward to her being ousted, adding "—and that includes me!" If you thought the former president would stay silent on this one, guess again.