Why Doesn't Seth Rogen Want Kids?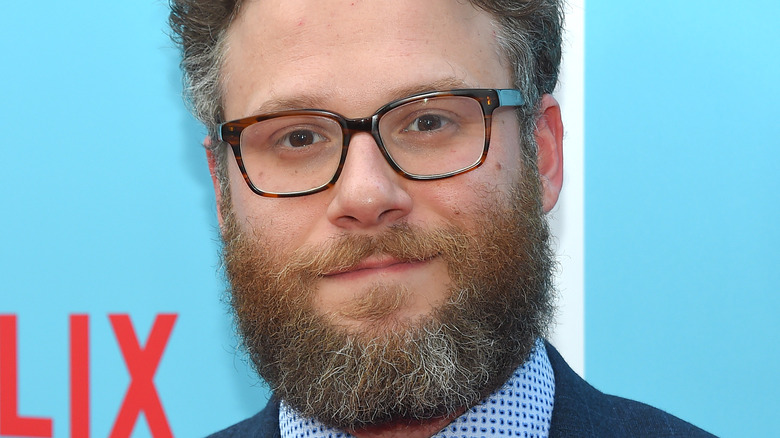 Shutterstock
We saw Seth Rogen portray a stoner-turned-doting father once before in his 2007 breakout "Knocked Up," but don't expect life to imitate art in regards to kids. Seth Rogen and wife Lauren Miller do not want children, he told "The Howard Stern Show" on May 10. The "This Is the End" star married Miller, also an actor, in October 2011 — and in 2019, Us Weekly asked his parents, Sandy and Mark, about the prospects of mini-Seths running around.
"Well, they have a dog," Sandy told the outlet, adding, "We have grandchildren from our daughter, [Danya], so we're okay." Rogen's father was equally as Zen about leaving it the choice to his son, saying, "We try not to pressure them. We think they'll make the right decisions for themselves."
Rogen himself told fellow comedy star Dax Shepard on an August 2018 episode of the latter's "Armchair Expert" podcast that, at the time, he was open to the idea of a family. "It's an active conversation. It's something we talk about," Rogen divulged, even chiming in that he thinks fatherhood would suit him. "I honestly think I would be good at it. I have much stupider friends who are good parents," Rogen said with his iconic chuckle. So why doesn't the funnyman want kids anymore?
Seth Rogen is 'psyched' about his non-kids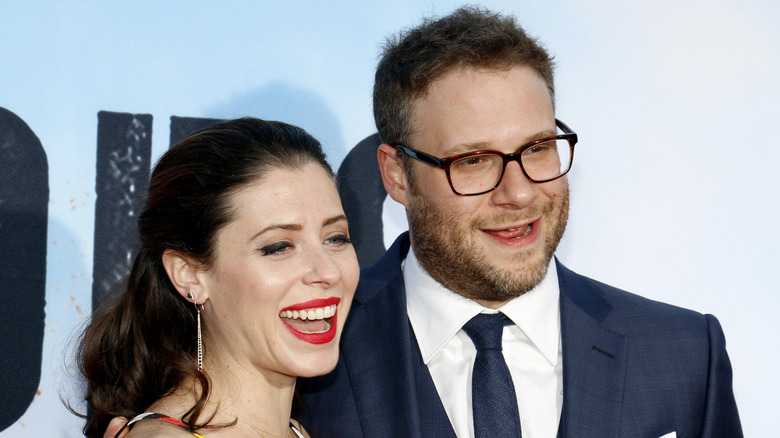 Shutterstock
Revealing wife Lauren Miller "wants kids less than I do" on "The Howard Stern Show" on May 10, Seth Rogen revealed he and Miller "have too much fun" to add diapers and playdates to the equation. "I don't know anyone who gets as much happiness out of their kids as we get out of our non-kids," the comedian humorously stated. "We're f***ing psyched. All the time. We're lying in bed Saturday morning, smoking weed, watching movies naked," Rogen explained of his childless wedded bliss. "If we had kids, we could not be f***ing doing this."
In 2020, not even COVID-19 and quarantining could stop Rogen from putting out two TV shows he executive-produced, the Don Cheadle-starring "Black Monday" and Amazon Prime's superhero hit "The Boys." This is in addition to starring in HBO Max's comedy release, "An American Pickle," creating pottery, and announcing his own weed company. As Rogen told Howard Stern, his prolific work pace would slow down with kids in the mix.
As Us Weekly reported in 2019, his "Good Boys" co-stars would probably be saddened to hear this, having enthused that Rogen would make a good dad. "He's always chill and I think we all know why," actor Sam Richardson joked about Rogen's weed habit as being a fatherhood bonus. "My dad smoked weed all the time. I didn't realize it until one day... 'Oh, that's why my dad was so chill.' So it worked out for me."