Who Is Armie Hammer's New Rumored Girlfriend?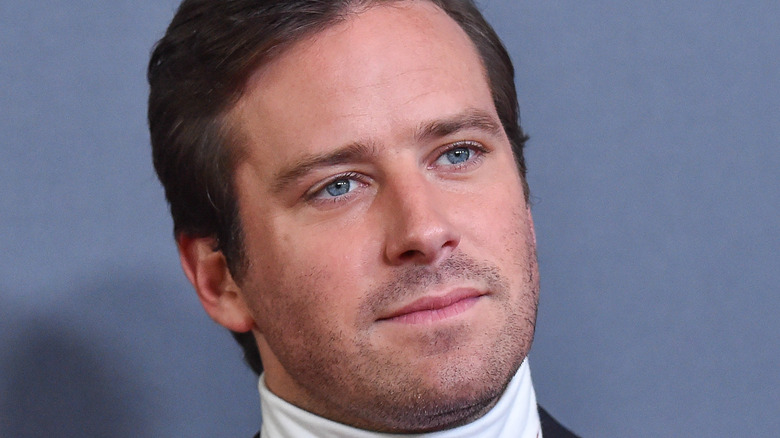 Shutterstock
The following article includes allegations of domestic abuse and sexual assault.
Amid all of the drama and negative press surrounding Armie Hammer as of late, there's reportedly a new leading lady in his life. As fans will recall, Hammer's name first entered headlines in January 2021 for all the wrong reasons. That month, some of the actor's alleged messages leaked on the internet, with many containing cannibalistic references and explicit messages that Hammer wrote over direct message on Instagram to his accuser. Once Hammer's first accuser came forward, it caused a domino-effect with several others coming forward to accuse the star of abusive behavior, turning his career into a bonafide PR nightmare. 
The accusations against the once well-respected Hollywood star have also caused his career to come spiraling down, and he's lost one gig after the other. Hammer even stepped back from his stint on Broadway, where he was set to star in Tracy Letts' "The Minutes" (which was initially postponed due to the pandemic). It was Hammer's choice to remove himself, and he released a statement to the press. "I have loved every single second of working on 'The Minutes' with the family I made from Steppenwolf," he shared (via Variety). "But right now I need to focus on myself and my health for the sake of my family. Consequently, I will not be returning to Broadway with the production." Keep scrolling for more deets on what appears to be the one bright spot in the actor's life. 
Inside Armie Hammer's new relationship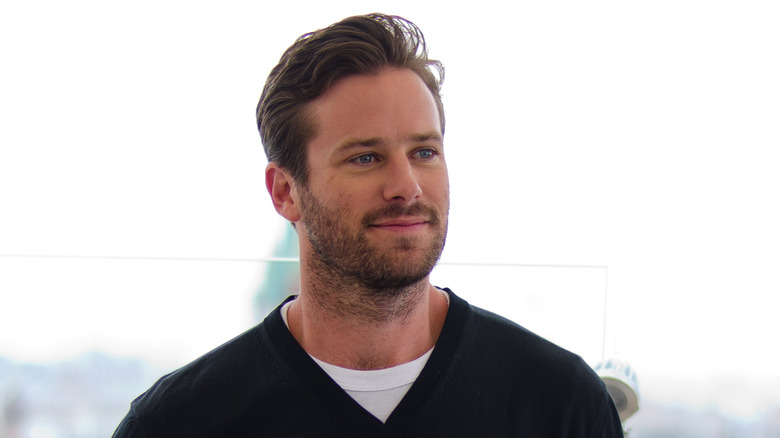 Shutterstock
Armie Hammer seems to be trying to keep his new relationship out of the press, but he can only do so much to hide it. The actor is reportedly seeing a dental hygienist (instead of a Hollywood star like his ex-wife Elizabeth Chambers). According to People, a source close to the situation shares that Hammer and his mystery woman have been quietly dating while the actor spends time in the Cayman Islands amid the rape allegations against him. "He is dating a dental hygienist on the island," the insider shared. "They were recently on a 'staycation' out East, the other side of the island from where they live." The source also added that the two seem to be "happy and comfortable" with one another.
In addition, the two have been rather social on the island. "They seem to have lots of friends, and she introduces him to any friends who haven't met him before when they are out," the same source shared. Another insider told Page Six that Hammer is a very "co-dependent" person and doesn't enjoy being alone. It's also reported that Chambers has been spending time on the tropical island amid the COVID-19 pandemic. She's there with the couple's daughter, Harper, and their son, Ford. 
If you or someone you know is dealing with domestic abuse, you can call the National Domestic Violence Hotline at 1−800−799−7233 or TTY 1−800−787−3224. You can also find more information, resources, and support at www.thehotline.org.