The Truth About Why Armie Hammer Is Turning Heads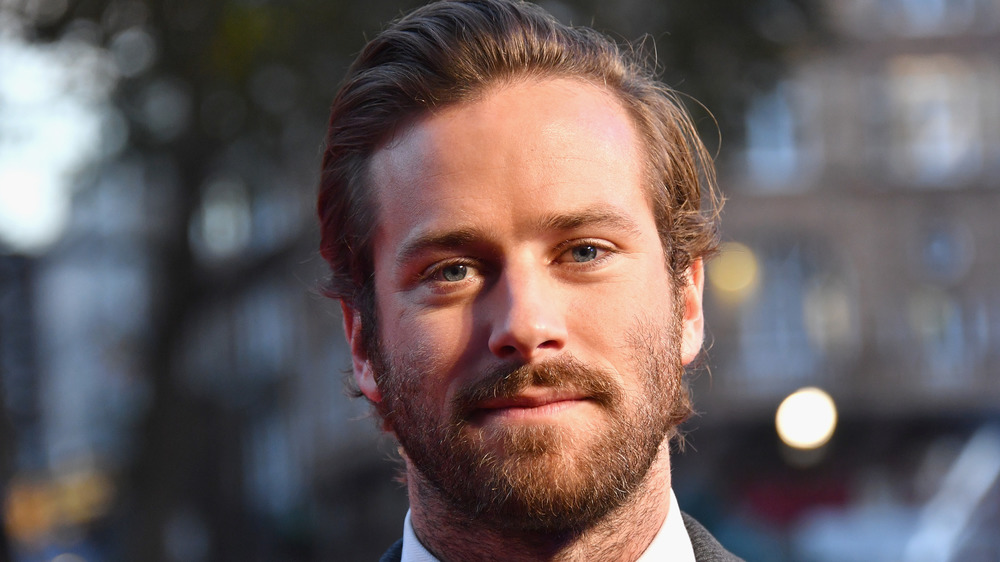 Gareth Cattermole/Getty Images
The internet is shocked over Armie Hammer's alleged leaked private messages, which contain some truly disturbing content. On Jan. 10, 2021, screenshots of cannibalistic and graphic DMs (via The Sun) leaked on social media from a woman who claims that Armie Hammer sent them to her now-private Instagram account, House of Effie, per the Daily Mail. 
In the dozens of messages, Hammer allegedly details his apparent sexual fantasies, writing, "I am 100 per cent a cannibal. I want to eat you... I've cut the heart out of a living animal before and eaten it still warm." Another message says, "I need to drink your blood," and another describes wanting to "cut off one of your toes and keep it with me in my pocket," per The Sun. The messages also refer to the woman as a "slave" who Hammer wants to be his "property till you die." Per the Daily Mail, the unconfirmed DMs range from 2016 to 2020. The anonymous source also shared a photo Hammer allegedly sent her, showing a tattoo he does have on his finger. 
Ex-girlfriend Jessica Ciencin Henriquez, who began dating Hammer after his 2020 divorce from his wife of 10 years, Elizabeth Chambers, tweeted she believed the nightmarish messages. "If you are still questioning whether or not those Armie Hammer DMs are real (and they are) maybe you should start questioning why we live in a culture willing to give abusers the benefit of the doubt instead of victims," she wrote, per OK Magazine. Here's how the internet is reacting.
The internet is freaking out over Armie Hammer's texts
Phillip Faraone/Getty Images
How is the internet reacting to Armie Hammer's wild text messages? Between those and purported leaked audio of Hammer describing a recent "kink-based relationship" (per Daily Mail), people are seeing red. "When i log off of Facebook for a day, all I miss are photos of my cousin's kid and a guy from high school's new tattoo. When I log out of Twitter for a day, Armie Hammer's now a cannibal," one Twitter user quipped.  
One Twitter skeptic pointed out "how easy it can be for someone to fake DMs etc. Took me 2 minutes using a free app I downloaded. Imagine if someone had 20 minutes to make it even more realistic?" they wrote. 
But other commenters were quick to defend potential recipients and note details that do connect, including Hammer's history with extreme BDSM. In addition to ex Jessica Ciencin Henriquez co-signing the legitimacy of the screenshots, other women have come forward with claims that they too have received "uncomfortable" messages from Hammer, per Paper magazine. And per Daily Mail, Paige Lorenzo, another woman rumored to have been involved with Hammer, tweeted, "Anyone got a good therapist?"
While 2020 was dreadful, 2021 feels like its even worse, more bizarre sibling. Armie Hammer, whose 2020 split from Elizabeth Chambers resulted in strange behavior including drinking a beer while driving, has yet to release a statement on the distressing matter as of this writing. 
If you or someone you know is suffering from abuse, you can call 1-800-799-7233 and go to the @ndvhofficial #NationalDomesticHotline https://www.thehotline.org