Kourtney Kardashian Just Proclaimed Her Love For Travis Barker In A Major Way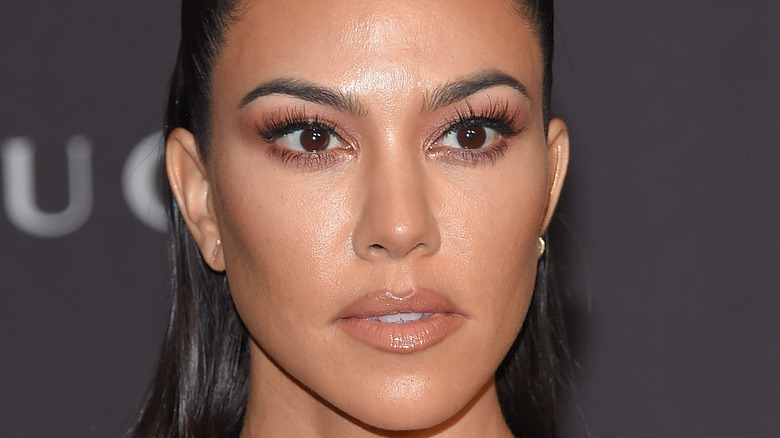 Shutterstock
So, as everyone knows now, Kourtney Kardashian and Travis Barker are an item. For a brief timeline, the pair have known each other for years, as Cosmopolitan points out, but became an item in late 2020. Things became more official in February 2021, when they were spotted out and about.
It'll come as no surprise that since this beginning, Kourtney and Barker have used Instagram as a way to share their love and, hey, we're here for it. In late April 2021, Kourtney shared a racy photo on Instagram of Barker carrying her. He then shared a series of photos from the same location and added the caption: "Anywhere with you."
With so much hype around the relationship, it's no surprise that everyone's talking. In fact, experts have weighed in on what Kourtney and Barker's body language means. (We'll give you a hint: they share something really special.) And speaking of special, Kourtney just used Instagram to proclaim her love for Barker in a major way.
Kourtney Kardashian shows off her tattoo skills
With a history of sharing sweet messages on Instagram, it's no surprise that Kourtney Kardashian dropped a new series of photos declaring her love for Travis Barker on Instagram. On May 12, Kourtney shared photos and a video of herself tattooing Barker and in the final photo, Kourtney shared what she wrote on his arm: "I love you." Kourtney appropriately captioned the series with: "I tattoo."
Barker obviously loved it and responded in the comments: "Woman of many talents" with a black heart emoji. He also shared the experience in his Instagram Stories and added: "best tattoo ever." One fan jokingly asked, "Where can I book my appointment??" That's what we're all asking!
This isn't the first time Kourtney has influenced Barker's tattoo decisions. In April, Travis got "Kourtney" tattooed on the left side of his chest. So if we had any doubts about their relationship before, it looks like things are becoming more and more permanent. Good for them!