Meghan Told Prince Harry This About Royal Life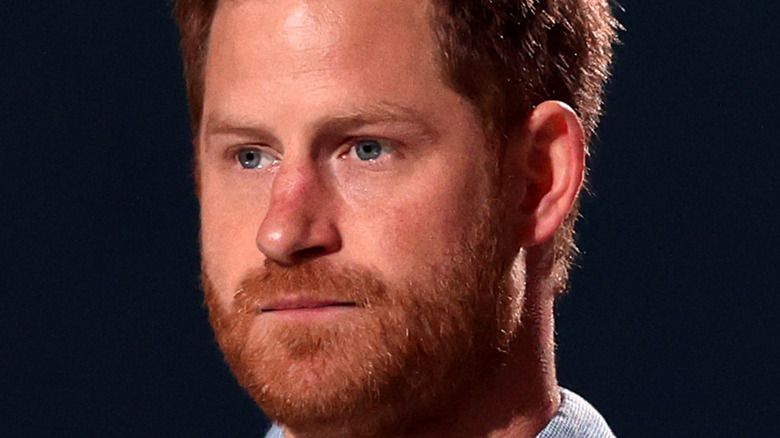 Kevin Winter/Getty Images
Prince Harry and Meghan Markle's lives as royals have been anything but traditional. In fact, some might say the couple has changed the way people perceive the British royal family — especially after their bombshell interview with Oprah Winfrey in March 2021.
During the candid sit-down, the Duke and Duchess of Sussex not only alleged members of the family were concerned about the color of Archie's skin before his birth, but claimed "The Firm" did not help Meghan when she asked for help regarding her mental health. Prince Harry also opened up about his strained relationships with his brother Prince William and father Prince Charles, as well as described what it was like to be "trapped" in the system. Overall, the interview did not paint the royal family in the best light.
Now, months later, Prince Harry discussed his life as a royal once again during a conversation with Dax Shepard on his podcast, "Armchair Expert." Keep scrolling to find out why he compared his life to the "Truman Show" film starring Jim Carrey and what his wife told him about life as a royal.
Meghan wanted to create a 'better life' with Harry
Chris Jackson/Getty Images
Prince Harry told actor Dax Shepard that his life as a royal was a mix "between 'The Truman Show' and living in a zoo," before admitting there was a point in time that he thought about stepping down from his role because of what it did to his mother, Princess Diana, who died in 1997. He explained, "It's the job right? Grin and bear it. Get on with it. I was in my early twenties and I was thinking I don't want this job, I don't want to be here. I don't want to be doing this. Look what it did to my mum, how am I ever going to settle down and have a wife and family when I know it's going to happen again."
He also said he sought therapy after meeting Meghan Markle, revealing it changed his whole perspective and "burst" a bubble for him. The prince also recalled something his wife told him about being a royal and what she wanted from life. She said, "You don't need to be a princess, you can create the life that will be better than any princess." He added, "We got together and she was like 'wow, this is very different to what my friends at the beginning said it would be.'"
It seems the couple did find a "better" life for themselves, as Prince Harry explained that living in Los Angeles, he feels "a little bit more free."