Ellen Star Rosie McClelland Speaks Out About Her Life Today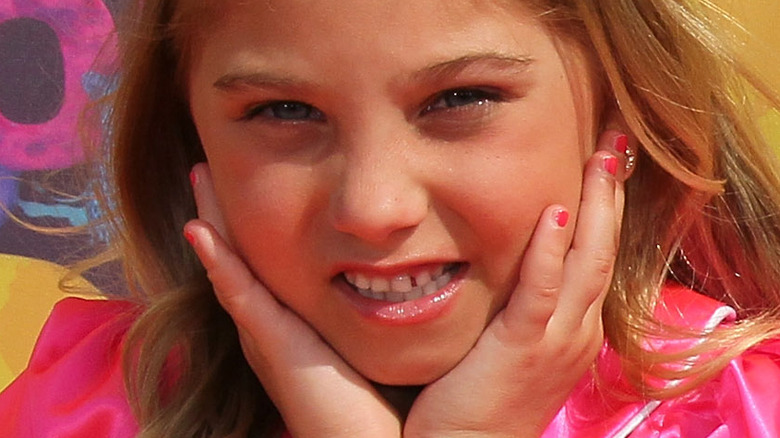 David Livingston/Getty Images
If you watched "The Ellen DeGeneres Show," chances are you remember Sophia Grace and Rosie, the British child stars who captivated the audience with their performance of Nicki Minaj's "Super Bass" in October 2011. Sophia Grace Brownlee's rapping (and Rosie McClelland's adorable dance moves) racked up an impressive 38 million views, so it's safe to say they made an impression.
They went on to develop quite the fanbase and even performed the song with Nicki Minaj that same year. The cousins made regular appearances on the show, even landing their own segment called "Tea Time with Sophia Grace & Rosie," according to TODAY.
It's obvious Rosie was grateful for her time on the show, but even more so for the friendship with Ellen. "The whole crew of 'The Ellen Show'... They always keep in touch with us," she said on "Today Extra" (via Celebrity.Nine.com). "We always go back to LA so whenever we visit LA, we always go back to the studio and visit all the producers and we also visit Ellen. So it would always be like our second home."
So what has Rosie been up to since she appeared on "Ellen?" Keep reading for more details.
Rosie McClelland is focused on her music career
Rosie McClelland has grown up a bit since her appearance on "The Ellen DeGeneres Show," but she still has her trademark blond hair. The high school student released five singles and has plans to go to Los Angeles to pursue a music career. Sounds like Rosie still has her heart set on being a star!
"At the moment, I'm at the signing stage and I'm only 14. As I grow up, I'm pretty sure I want to be a full-time singer," she said on "Today Extra" (via Daily Mail). She reflected on her time on "Ellen," saying it was only until recently that she realized how much of a "big deal" it was to appear on the show. "I wasn't that nervous as I was five years old, but now I realize how much of a big deal it was," she reflected. "My favorite parts were when we were running around backstage. It was so much fun."
She also dished about her cousin Sophia Grace, revealing the two are just as close as when they were little girls. "I always see Sophia because she's my cousin, and I absolutely love her and always see her at special events, family events," Rosie gushed. "And she just turned 18 as it's a massive birthday... I always see her," she said.
When Rosie isn't working on her music, she seems like a typical teenager documenting her adventures on Instagram. We can't wait to hear her new tunes!