What Is Bill Maher's Net Worth?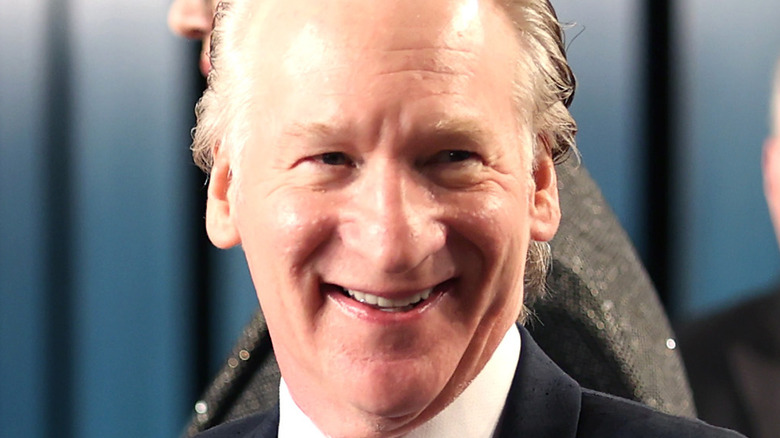 Rich Fury/vf20/Getty Images
After comedian and political commentator Bill Maher confirmed via Twitter on May 13 that he had recently tested positive for COVID-19 during a routine, mandatory check-in before taping his long-running HBO show "Real Time with Bill Maher," the "Religulous" star confirmed that his diagnosis, while asymptomatic, would result in a first for the series' 19-season run. 
The gist? That for the first time since "Real Time" premiered in 2003 on the network – and for the first time in Maher's TV-hosting career, which began in 1993 with the premiere of his previous show "Politically Incorrect" – Maher would be forced to cancel an episode taping. 
While Maher's COVID-19 diagnosis might be a career upset for the hardworking media personality, it seems that overall, the unexpected break for the comedian and pundit won't put a dent in his finances. If anything, his long-time recording streak might point to the reason why Maher has amassed a sizable fortune over the course of his decades-long career. So what exactly is Bill Maher's net worth? 
Bill Maher's net worth is more than you think
Mireya Acierto/Getty Images
According to the website Celebrity Net Worth, the famously controversial comedian Bill Maher has used his incisive, fire-stoking nature to his advantage, amassing a fortune worth approximately $140 million. As the site noted, part of this is due to Maher's salary, which as of the time of this writing stands at roughly $10 million per year. 
The well-known satirist also doesn't make coin through his comedy alone. As Celebrity Net Worth pointed out, the comedian is an industry polymath, donning hats like that of producer, screenwriter, and author of books like his fiction novel "True Story" and political nonfiction like "The New Rules," many of which ended up on the New York Times bestseller list. 
It also seems that some of Maher's wealth might be the product of some savvy investments. Per Celebrity Net Worth, Maher purchased a minority stake in the MLB's New York Mets for $20 million in 2012, which increased by at least 4% in the interceding years. As the website surmised, his investment has seemingly paid off, with its current worth totaling at around $80 million at the time of this writing.