The Truth About Bill Maher's COVID-19 Diagnosis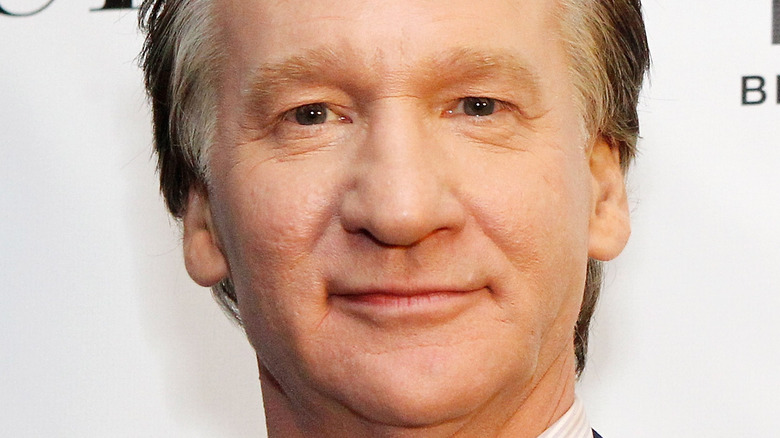 Astrid Stawiarz/Getty Images
Comedian, political commentator, and (divisive) media personality Bill Maher has become the latest in a long line of celebrities to receive a positive diagnosis for COVID-19. But he seems to also be a member of another, increasingly growing list as well; those who have gotten the virus after being vaccinated. 
As Deadline reported on May 13, the host of his eponymous show, "Real Time with Bill Maher," broke the news to fans through his personal Twitter account. Though Maher did not mention this in his tweet, HBO clarified (via NBC News) that Maher had already been fully vaccinated at the time, and his positive result occurred during a "weekly staff PCR testing for COVID" implemented by the company. "Bill tested positive during weekly staff PCR testing for COVID. He is fully vaccinated and as a result is asymptomatic and feels fine," HBO said. They added, "No other staff or crew members have tested positive at this time. The show will be rescheduled at a later date."
While both Maher and HBO verified Maher is currently asymptomatic — to the relief of viewers and his production staff alike — his COVID diagnosis has caused a major disruption for the show, the first in its history. As Vanity Fair wrote, it's Maher's first missed episode "in nearly 30 years." The news certainly points to America not being out of the woods in terms of simply contracting COVID-19, and the evidence for that is also mounting. Keep on scrolling to find out more. 
Bill Maher's COVID-19 diagnosis is a 'breakthrough case'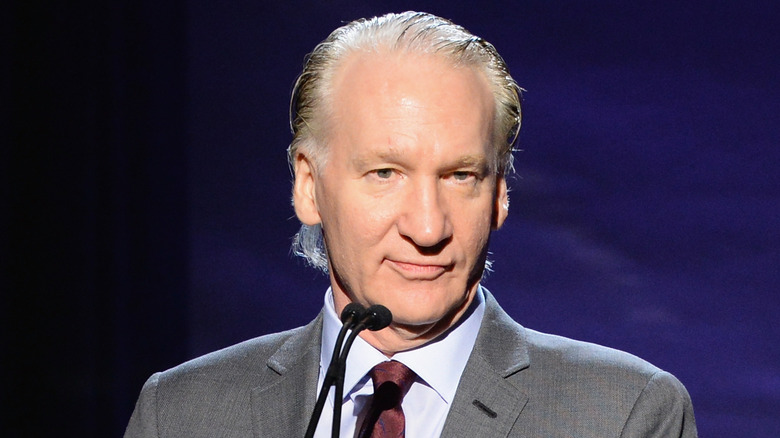 Michael Kovac/Getty Images
As Bill Maher shared a candid message with fans after his positive diagnosis. "Thanks to all wishing me get well – hard to do since I feel perfectly fine, but I appreciate it!" Maher tweeted. The comedian added he was "most upset about ending my streak going back to 1993 of never missing a Politically Incorrect or Real Time episode." While Maher's disappointment over the blip was palpable, he managed to end on a humorous note. "Oh well, even [Orioles baseball player] Cal Ripken had to sit one out at some point," he joked, referring to Ripken's MLB record for playing the longest stretch of consecutive games in the history of the league. The guests of the shelved episode were Neil deGrasse Tyson, "World War Z" author Max Brooks, and "Hardcore History" podcast host Dan Carlin, per Vanity Fair.
Even though the canceled taping for "Real Time with Bill Maher" will mark the first for Maher in nearly two decades, his COVID-19 diagnosis is remarkable for another reason: Maher can count himself as what The Centers for Disease Control call a "breakthrough case." The CDC has stated there is currently "some evidence that vaccination may make illness less severe," but might not completely shield vaccine recipients from contracting COVID-19. Though there are few cases in which post-vaccine contraction have occurred to date, they maintain that "vaccines are ... a critical tool," though they might not be "100% effective at preventing illness."
Quite a few Yankees also tested positive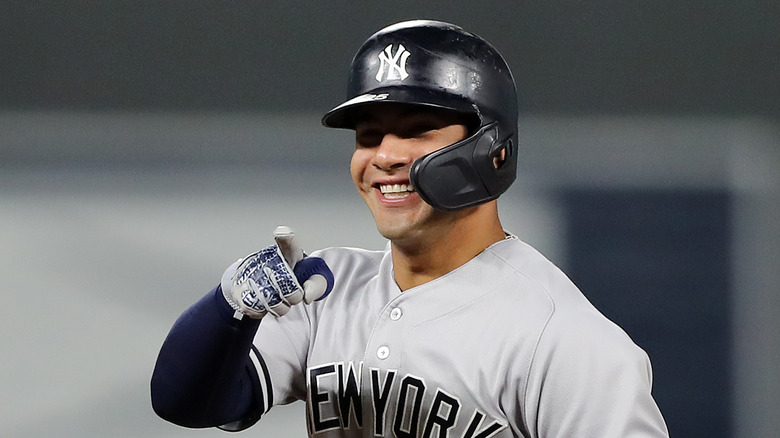 Elsa/Getty Images
Unfortunately, it looks like Bill Maher isn't the only celebrity or well-known figure to have contracted COVID-19 even after two full rounds of the coronavirus vaccine. As NBC News reported one day after Maher went public with his diagnosis, New York Yankees shortstop Gleyber Torres (pictured above) became the latest member of the New York baseball team to test positive for COVID-19. Yes, that's right, the latest team member. 
Per NBC News, Torres is now the eighth Yankee to test positive for the virus, despite the fact that all of them had been fully vaccinated. Speaking to NBC News, Yankees manager Aaron Boone called the spat of positive results "certainly unexpected," adding that "obviously everyone, Major League Baseball, that's in charge of testing is looking into that." Boone then pointed to "variants" of the virus as a possible contributing factor.
According to NBC News, the COVID spike among members of the Yankees is not only a concern to the MLB, but to the Centers for Disease Control as well. In a statement to the network, CDC Director Dr. Rochelle Walensky stated, "With regard to the Yankees, we obviously need to learn more about that situation." As Walensky reiterated, "six of the seven infections [at the time] ...were indeed asymptomatic infections." She added they "will look to more data" to "understand what happened." Being vaccinated has clearly lessened or erased symptoms for these cases, but it's quite an interesting developing story.