The Real Meaning Behind 'Came And Saw' By Young Thug Featuring Rowdy Rebel
Paras Griffin/Getty Images
When New York rappers Bobby Shmurda and Rowdy Rebel came home from prison in late 2020 and early 2021, celebrities and fans alike rejoiced in the idea that the two were ready to take over the music scene. Most importantly, the two GS9 artists have earned the respect of several after Bobby took a bid to lessen the sentence of Rowdy.
Celebrities such as Quavo and Young Thug are keeping their words of spoiling the two rappers with extravagant welcome home gifts. In Thugger's case, he bought Rowdy a diamond chain before they even met in person, per HotNewHipHop. As a gift to Rowdy's fans, the two artists linked up in the studio to give us the fiery banger, "Came and Saw," off of YSL's "Slime Language 2" tape. Landing a spot on the Billboard Hot 100 chart within its first week, the song reminds us just why we were waiting on Rowdy and Bobby's release. Here's the real meaning behind "Came and Saw."
Rowdy Rebel is ready to conquer the music scene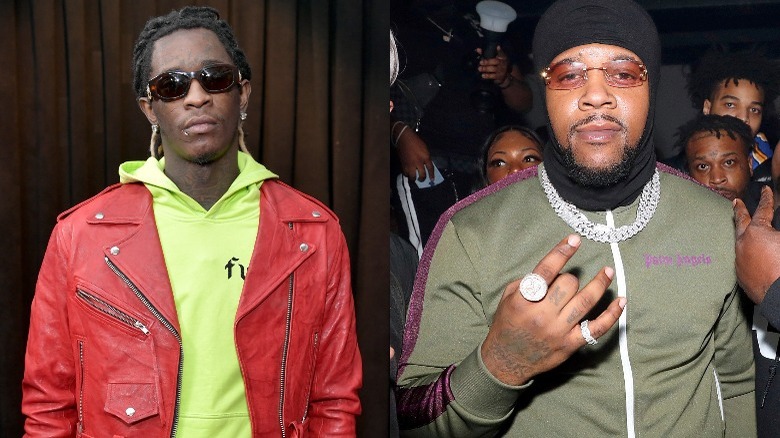 Neilson Barnard & Johnny Nunez/Getty
Young Thug's "Came and Saw" is a song for champions, and there's no one else fit to feature on the track than Rowdy Rebel himself. Clearly, the Brooklyn MC has seen it all in a few years — reaching fame, losing it, staying down for a few years, and returning back to the music scene ready to conquer. Over a trumpet-heavy beat, Rowdy raps on the hook: "I do this s**t with no pressure (No pressure)/ Run up the back ends and put up the extra/ You cannot step with the steppers (Steppers)/ You can't put dirt on a n***a that's clean."
Rowdy affirms that everything he does is effortless, and that nothing and no one can bring him down anymore. Additionally, the rapper speaks on him and Bobby's return to the music industry after prison, and how they've made an impact in the first verse: "In three weeks we took back the streets (Ha)/ F**k all the opps and police."
Like any other Young Thug verse, the rapper speaks of his designer assets as well as threats to anyone who comes in his way of his riches. Additionally he shouts out the GS9/Shmoney team, which one can assume is a co-sign from Thugger. The dominant rappers of the industry might want to step aside — Rowdy Rebel and Bobby Shmurda are back, and they're ready to conquer once and for all.