RHOBH: Who Is Kyle Richards' Husband And What Is His Net Worth?
Shutterstock
"The Real Housewives of Beverly Hills Star" Kyle Richards has been married to Mauricio Umansky since 1996 and has maintained a strong relationship with her husband all these years. "We're a really good match," she told People in December 2015. "We get along really well, actually better than you see on television!" Mauricio echoed those sentiments and said he opts for nights with his wife over nights out with the guys. "We're best friends," he told the outlet. "Kyle is the person I want to spend most of my time with." 
Kyle and Mauricio often gush over each other on social media. To celebrate a quarter century together, both of them commemorated their 25th wedding anniversary with heartfelt Instagram posts in January 2021. "I still get happy when I hear your car pull in the driveway and still get sad if we have to spend a night apart," Kyle included in the caption of a post that featured adorable throwback photos from their wedding. Mauricio chose a more recent photo of the two while he reflected on how fortunate he was to marry Kyle. "They say you need a little luck in life. Well the day I met my wife was the luckiest day of my life," he wrote in the post.
The couple have three daughters together: Portia, Alexia, and Sophia Umansky (plus Farrah Aldjufrie from Kyle's previous marriage), and the family is very tight knit. So who exactly is Kyle's husband?
Kyle Richards' husband is worth a fortune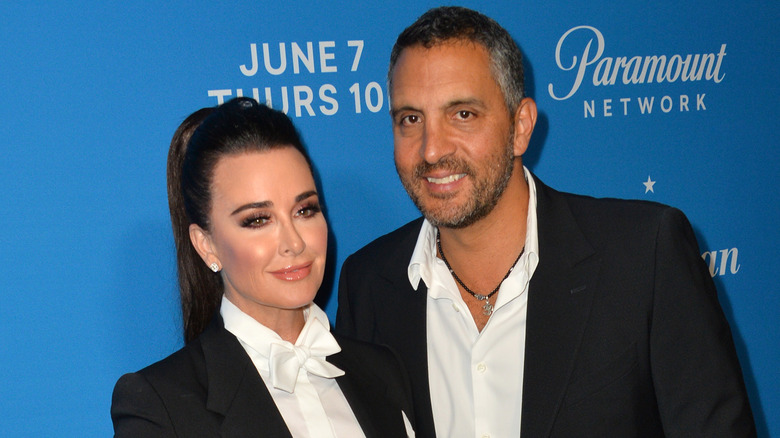 Shutterstock
Mauricio Umansky is a real estate developer who is at the top of his field. According to Celebrity Net Worth, he is worth a staggering $100 million. He is a major player in the Los Angeles real estate market, and after closing over $550 million worth of deals in 2019, the Los Angeles Business Journal ranked him third among residential real estate agents (per Showbiz Cheatsheet).
In 2011, Mauricio opened a luxury real estate firm called The Agency, which has opened multiple international locations over the years. The real estate tycoon credits his fearless approach to business — and life — as keys to his success. "I am not afraid of taking risks and I have always been very competitive in nature, not only in business, but in sports, and everything I do in life," he told Dreams Luxury Lifestyles. Mauricio told the outlet that along with competition, taking care of those closest to him is a major motivating factor in his life. "I am a father to everyone, at the office and at home," he said.
The Agency CEO incorporated his home life into his business life by bringing family members into the fold. His step-daughter, Farrah Aldjufrie, and his daughter Alexia Umansky joined the firm, plus the elder Mauricio brought his dad on board, as per The Hollywood Reporter. As Mauricio told Give Back Homes, he invites a fun atmosphere in the office, but has a strict "No a**holes" rule.