Shannen Doherty's Net Worth: How Much Is The Actor Really Worth?
Shutterstock
Actor Shannen Doherty has played some of the most iconic film and TV roles in the late '80s and '90s. Doherty will forever be known as Brenda Walsh on "Beverly Hills, 90210." Her role as Heather Duke in the cult-classic movie "Heathers" is still fun to watch, and Doherty has tons of fans who adore her in "Charmed" as Prue Halliwell.
The cast of "Beverly Hills, 90210," was known for the drama behind the scenes, and Doherty apparently stirred the pot. She left the series in 1994 under a cloud of controversy. Doherty departed the cast of "Charmed" under less-than-stellar circumstances as well, with gossip swirling that the show's Halliwell sisters were at war.
It appears that time has mellowed Doherty, and she told People in 2019 that some of the "Beverly Hills, 90210" feuds were a "misunderstanding." Misunderstandings usually don't involve fistfights, but it's good that Doherty is moving on! She and "Charmed" co-star Alyssa Milano ended their long feud in 2017.
Doherty seemed to be at the center of several controversies, but her net worth will surprise you!
Former teen drama queen Shannen Doherty is wealthy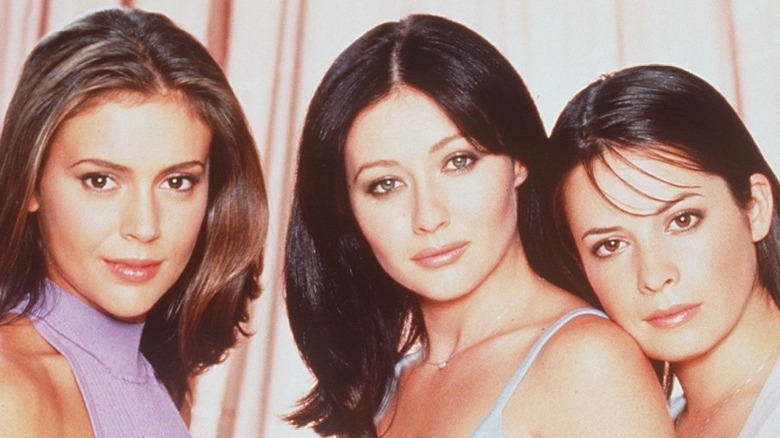 Getty Images/Getty Images
"Beverly Hills, 90210" star Shannen Doherty made headlines for her on-set feuds with co-stars and rowdy behavior off-set. But despite her many controversies, Doherty is one of the richest cast members of the iconic series. Celebrity Net Worth estimates Doherty is worth $5 million, but Money magazine puts Doherty's net worth at around $10 million.
Doherty started acting when she was a child. Michael Landon cast Doherty in the TV series "Little House on the Prairie," when she was 11, playing the role of Jenny Wilder (via Little House on the Prairie). Doherty hit it big when she starred in the 1989 movie "Heathers," then starred in the iconic TV shows that made her famous. After leaving "Charmed," she took the reality TV road, starring in multiple reality shows.
According to Celebrity Net Worth, Doherty was the host of the reality show "Scare Tactics" in 2003. The former teen drama queen starred on "North Shore" from 2004 to 2005. The celebrity outlet reported that in 2006, she starred in the reality series "Breaking Up with Shannen Doherty." The Oxygen network reality show followed Doherty as she helped people dump their significant other.
All of Doherty's years of hard work (even with some real-life drama) have made the actor a wealthy woman.