Inside Jimmy Carter And Walter Mondale's Relationship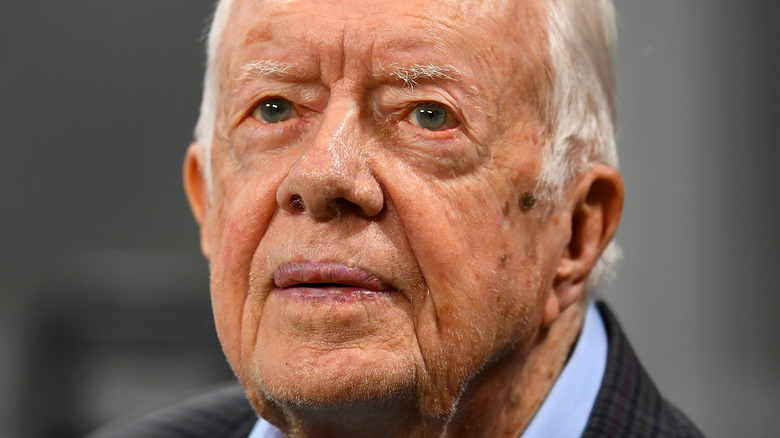 Scott Cunningham/Getty Images
As The New York Times wrote in a tribute to Democratic career politician and past Vice President Walter Mondale while reporting his death on April 19, 2021, the one-time second-in-command to former President Jimmy Carter was a "champion of liberal politics, activist government and civil rights." He was also the first "to serve as a genuine partner of the president." 
Mondale — whose legacy included pushing forward the landmark 1968 Fair Housing Act and being the first presidential candidate to run alongside a majority-backed female VP pick, Geraldine Ferraro, in 1984 — certainly made a lasting impression on U.S. history. And as any American history buff would note, part of that legacy was due, in part, to his relationship with the president he most closely served under.
So, what was Mondale's relationship with Carter like before, during, and after Carter's White House administration? And how did it affect the rest of Mondale's career, which he had yet to officially retire from up until his death at the age of 93? Keep on reading to find out more.
Jimmy Carter and Walter Mondale respected each other
George Rose/Getty Images
In an article published by the Washington Post in 2019, the newspaper remarked upon how former President Jimmy Carter and his one-time secondhand man, Vice President Walter Mondale, seemingly managed to not only preserve and maintain a sense of closeness as political allies, but as friends. Mondale and Carter, who at the time appeared on stage at a human rights panel event in Virginia, spoke candidly about their (negative) views about what at the time was the White House administration under Donald Trump.
The pair also reminisced about the trials and tribulations they both faced during their tenure in the same hallowed office, which lasted from 1977 to 1981. Per the newspaper, it seemingly kept in step with the ways in which both Carter and Mondale had always operated: in ideological tandem. Before his death in April 2021, Mondale was the first to agree with this sentiment.
According to Mondale's official U.S. Senate page, a paragraph from Mondale's first-person perspective waxed nostalgic about his professional relationship with (and personal admiration for) Carter. "We understood each other's needs," Mondale once recalled. "We respected each other's opinions. We kept each other's confidence. Our relationship in the White House held up under the searing pressure of that place because we entered our offices understanding ... that each of us could do a better job if we maintained the trust of the other."