Why Anna Delvey Is Actually Much Closer To Deportation Than You Think - Exclusive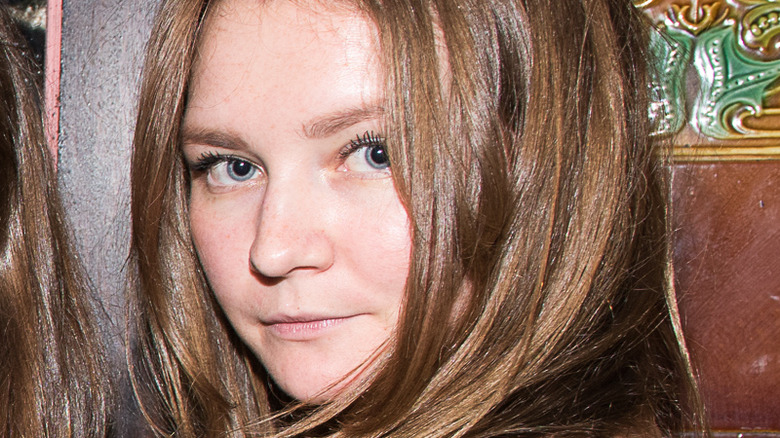 Dave Kotinsky/Getty Images
In late March, Anna Delvey, the Russian-born grifter who conned members of the New York art scene's noblesse under the guise of being a German heiress — and who tricked some of the city's biggest institutions into funding her lifestyle — was taken into custody by ICE officers, per Page Six. Delvey, whose real name is Anna Sorokin, had only been free for six weeks following a three-year prison sentence for fraud ("including second-degree grand larceny and theft of services," per BuzzFeed News) before she was detained by immigration. This detainment has a different set of ramifications than her prison stint: an end result of deportation from the U.S., perhaps permanently. 
So why, exactly, is the media-dubbed "fake heiress" under threat of being kicked out of the country for an indeterminate amount of time? What are the chances that this will ultimately be Delvey's fate? In order to answer these questions, Nicki Swift reached out to immigration attorney Kate Lincoln-Goldfinch, from the firm Lincoln-Goldfinch Law, who was able to give us a full breakdown as to the "what, how, and why" about Anna Delvey's possible deportation. Keep on reading to find out more. 
An immigration expert thinks Anna Delvey's deportation is likely
Taking into account the life and crimes of Anna Delvey, in which the faux-socialite managed to accrue over $200,000 from institutions ranging from international banks to five-star hotels, per the BBC, it seems that the case for delaying or defending a possible deportation from the U.S. is hardly in her favor, according to immigration lawyer Kate Lincoln-Goldfinch. "Someone with a grand larceny conviction who has overstayed their visa [like Delvey] is deportable and has extremely limited options for defending against that deportation," Lincoln-Goldfinch explained in an exclusive with Nicki Swift.
Speaking of people like Delvey, Lincoln-Goldfinch stated that "with a serious criminal history, a person facing deportation would be denied bond and remain in immigration custody as her case makes its way through the immigration court system." And while Delvey's attorney Todd Spodek previously told Insider that he had already fully intended to fight charges of deportation against Delvey even before she was taken into custody by ICE, the brutality of incarceration itself might ultimately prevail in the end. "Immigration detention is not fun, and many people give up fighting so they don't have to stay in detention," Lincoln-Goldfinch further elaborated. 
But unlike most potential deportees, Delvey might have a card up her sleeve that most others rarely do: her infamy. In the end, could her fame play in her favor?
Will Anna Delvey's celebrity status keep her from being deported?
Thanks to coverage of her cons, coverage that started during the 2018 "Summer of Scam" and continued with her high-profile deal with Netflix and documentaries like the April 2021 HBO Max limited series "Generation Hustle," con artist Anna Delvey has become a household name. Delvey herself has also seemingly gone in on the joke, with her still-active Instagram profile listing her as a "professional defendant" under her bio headline. And while her sardonic take on her crimes might place her in the minds of the public as unlikeable, could her fame sway the decision for or against deportation for an immigration judge? According to attorney Kate Lincoln-Goldfinch, the answer is a resounding "no."
"Most immigration judges would be unpersuaded by a person's notoriety or celebrity status in their decision to deport or not, except as it would apply to someone's potential risk of persecution in their home country," Lincoln-Goldfinch told Nicki Swift. And unfortunately for Delvey, who retained German citizenship after her family moved from Russia to the municipality of Eschweiler when she was a teenager, persecution "is not likely to be an issue for a German citizen."