Who Is Will Zalatoris' Fiance, Caitlin Sellers?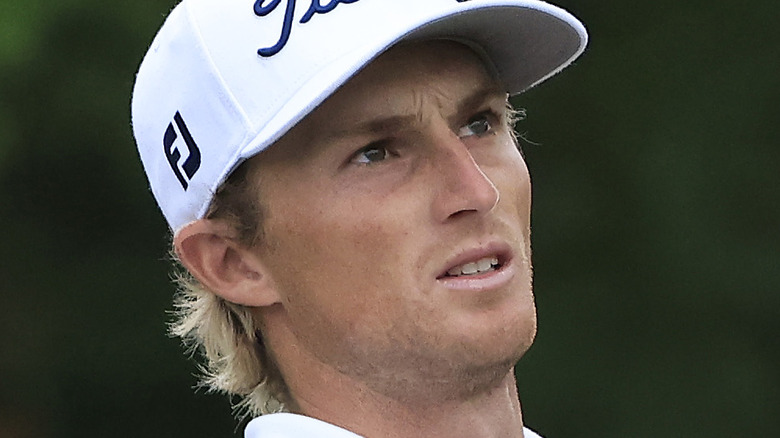 Sam Greenwood/Getty Images
If you love golf, chances are you are quite familiar with talented putter Will Zalatoris. He made a splash on the green with a second place finish at the 2021 Masters and also had impressive performances at The Players Championship and RBC Heritage, per ESPN.
Zalatoris might be known for his golf swing, but he's received even more acclaim for his pop culture references, according to People. During his run at the Masters, Adam Sandler noted that he looked like Jared Van Snellenberg, his "Happy Gilmore" caddie from the 1996 movie. Sandler took to Instagram and wrote, "Have fun today young man. Mr. Gilmore is watching you and very proud." Zalatoris replied, "If you're ever in need of a caddie again let me know. I'll be better this time. I'm always available for you, Mr. Gilmore."
Zalatoris is all about the comparison and even engraved one of the movie's quotes on one of his golf clubs. His lob wedge reads, "Mr. Gilmore, I'm your caddy," per Golf.com. "Happy Gilmore" fans will remember Snellenberg said that when "Gilmore accuses him of stealing his golf clubs during one of his first tournaments," per People.
Zalatoris might be getting all the attention, but fans might be wondering who his fiancee Caitlin Sellers really is. Keep reading for more details
Caitlin Sellers holds two degrees
Caitlin Sellers might be the fiancee of a successful golfer, but she's more than just a sideline supporter. In 2019, Sellers earned a master's degree in marketing from the University of Texas and also has a psychology degree from Wake Forest University, according to The Sun. Sellers is reportedly a marketing analyst in Texas and met Zalatoris at Wake Forest University.
It seems the couple prefers to keep their relationship out of the spotlight, but Zalatoris sometimes gushes over his love on Instagram. When she graduated with her master's degree, he wrote, "Now I can say between the two of us we have two degrees. Promise I'll be the one to get the third. Way to go on getting your Masters from UT today. So proud of you. I know how hard you've worked. Love you, way to go!!!" Sellers replied, "Thank you for keeping me sane this year." It's obvious these two are in love!
Zalatoris put his love on full display when he proposed to Sellers in April 2021. He wrote on Instagram, "Best day of my life. I love you." Sellers' Instagram account is private, but her profile picture seems to be one from their engagement shoot. We're sure she responded to Zalatoris' post with a smattering of heart emojis.