Prince Harry And Oprah Winfrey Get Emotional In The New Trailer For Their Show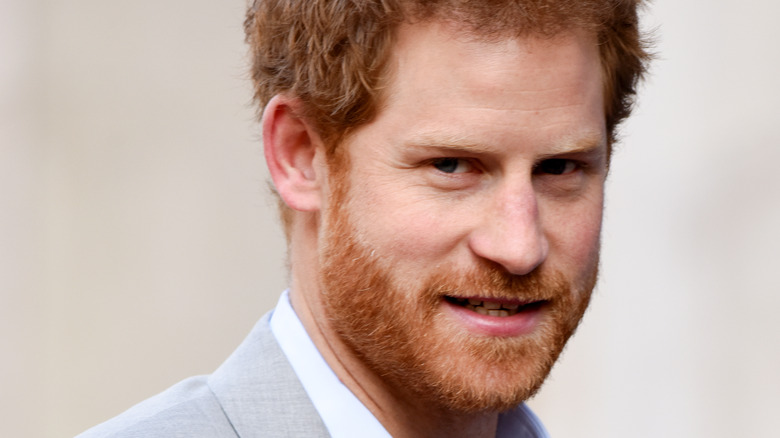 Shutterstock
Prince Harry and Oprah Winfrey seem to have developed quite a bond. Harry and Meghan Markle sent shockwaves across the world in early March when they sat down with Winfrey for their tell-all interview, in which they criticized the royal family and its impact on the couple's mental health. More than 17 million viewers in the U.S. tuned in on CBS, while another 11 million watched the interview in the U.K., about one-fifth of the country's population, according to CNN. "I had no idea that it would have the reverberating impact that it has had and continues to have," Winfrey told ET Canada.
But even before the bombshell interview, Harry and Winfrey were already buddy-buddy. In 2019, before the Duke of Sussex stepped down from his senior role as a working royal, the pair announced they were collaborating on a documentary series, "The Me You Can't See," on Apple TV+, per CNN. Set to be released on May 21, "Oprah Winfrey and Prince Harry guide honest discussions about mental health and emotional well-being while opening up about their mental health journeys and struggles," according to a press release, as CNN later detailed.
The series will feature guests from different parts of the world in an effort to "transcends culture, age, gender, and socioeconomic status," in destigmatizing mental health, per the statement. Read on to see their friendship come to fruition in its new trailer. 
Prince Harry and Oprah Winfrey get real about mental health
On May 17, Prince Harry and Oprah Winfrey released the trailer for their upcoming Apple TV+'s multi-part docu-series, "The Me You Can't See," and it's a real tear-jerker. Lasting two minutes and 36 seconds, the trailer begins with the pair talking about the importance of lifting the stigma around mental health. "All over the world people are in some kind of mental, psychological, emotional pain," Winfrey says. Sitting opposite the TV show host, Harry asks her, "What words have you heard around mental health? Crazy?" She replies with, "Lost it. Can't keep it together."
The trailer shows vignettes of different people addressing their own struggles, including household names like Glenn Close and Lady Gaga — in addition to Winfrey and Harry themselves. The video includes footage of a 12-year-old Harry at Princess Diana's funeral in 1997. "To make that decision to receive help is not a sign of weakness," Harry says. "In today's world, more than ever, it is a sign of strength." 
Harry's wife, Meghan Markle, appears in the trailer twice — once wearing a "Raising the Future" T-shirt and looking over Harry's shoulder as he works on a laptop, and then again sitting with their son, Archie, in her lap. "The results of this year will be felt for decades. By kids, families, husbands, wives — everybody," Harry says toward the end of the trailer.