How Colin Jost Ruined Scarlett Johansson's Big Award Show Moment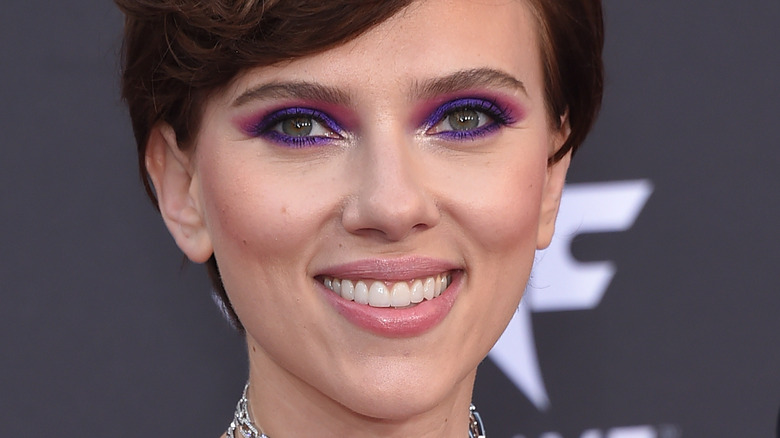 Shutterstock
Although 2020 paused Scarlett Johansson's red-hot career's momentum (as it did for many in the entertainment biz), with the coronavirus pandemic delaying her much-anticipated tentpole, "Black Widow," from May 2020 to July 2021 (per India TV). Also coming off a double-Oscar nominated year in 2020 for "Marriage Story," per IMDb, Johansson's first solo vehicle in the Marvel Cinematic Universe has been delayed three times since the pandemic began. By contrast, Gal Gadot's "Wonder Woman: 1984," which was also delayed from its original June 2020 release date numerous times, per Variety, saw a generous simultaneous release on both HBO Max and in theaters that Christmas. 
While "Black Widow" and Johansson fans were not so lucky, 2021 is looking bright again for the versatile star. (In addition to the pandemic delaying her much-hyped film, Johansson was forced to plan her wedding to husband Colin Jost amidst the lockdowns.) Marvel Studios' Kevin Feige told Comicbook.com in January that he has "great confidence in... the greatest marketing department in the history of Hollywood" to get "Black Widow" back on track. Johansson, in the meantime, was honored on May 16 with the MTV Movie and TV Awards' Generation Award — their equivalent of the Oscars' Lifetime Achievement Award. So what did Jost do to interrupt her big acceptance speech at the ceremony? Read on!
Scarlett Johansson got slimed by husband Colin Jost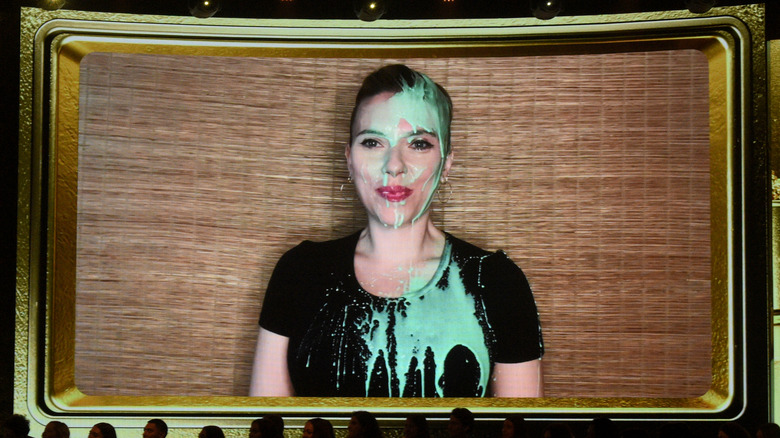 Kevin Mazur/2021 Mtv Movie And Tv Awards/Getty Images
She may be Forbes' Highest Paid Actress of 2019, but Scarlett Johansson was not above getting "slimed" by her husband at an award ceremony. Accepting the iconic MTV Generation Award for her "diverse contributions to both film and television" (per MTV), Johansson appeared virtually to fans at the Los Angeles-held 2021 MTV Movie and TV Awards. "Thank you so much to my fans for riding the way with me... so I can continue... to pursue the job that is my passion," Johansson gushed on a pre-recorded video, semi-dressed up in red lipstick and eyeliner (but seemingly no eveningwear). The star expressed gratitude for both her collaborators over her more than two-decade career and the fans she gained along the way, saying, "I realize what an absolute gift it is to have the opportunity to do what I love." 
As Johansson ended her speech by introducing an exclusive clip from her July release, "Black Widow," husband Colin Jost walked up casually carrying a red bowl and proceeded to dump its contents — gooey green slime — on her head. "What the f**k," Johansson exclaimed in shock. "MTV, you got slimed," Jost replied. As Johansson retorted, "That's Nickelodeon!" Perhaps, it was just a case of quarantine madness — or, more likely, a well-rehearsed comedy sketch produced by MTV. Congratulations on the honor, Scarlett! As MTV noted, with her Popcorn in hand, Johansson now joins the likes of fellow Generation Award recipients, like Tom Cruise, Reese Witherspoon, and Robert Downey Jr. Sounds like great company!