Collin Morikawa's Net Worth: How Much Is The Pro Golfer Really Worth?
Patrick Smith/Getty Images
It's no secret that being a professional golfer offers some amazing perks. Obviously, being any professional athlete comes with a lot of hard work and discipline, but golfers on the PGA tour get to enjoy beautiful courses, travel, and ... potentially earn a lot of prize money. Golfers like Jordan Spieth have around $40 million to date on tour, and Collin Morikawa is one figure in the sport who is quickly becoming popular (and wealthy) in his own right. He may only be just 24 years old, but according to his PGA bio, he boasts four career wins, nabbing two of those in 2020 alone.
In an interview with Golfweek, Morikawa shared that the secret to his success is his "competitive fire." "I hate losing. I will compete against anybody at anything," he said. "From a very young age, I've always had the belief that I could overcome any obstacle, and I never thought about quitting. I felt like if I gave myself enough time and effort to give myself a shot, I could do it and go out and beat the best." Morikawa also noted that he is fortunate to have a supportive family and circle, and he "never" took anything for granted. 
Because of all those things, the athlete has achieved a ton of success, and a large bank account. Keep scrolling for more on Morikawa's impressive net worth.
Collin Morikawa's impressive fortune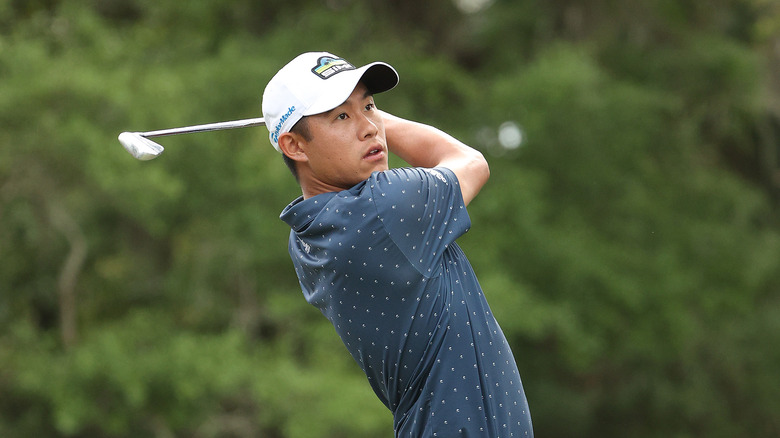 Patrick Smith/Getty Images
Collin Morikawa has amassed an impressive net worth during his short playing career. According to Exact Net Worth, the golfer is worth over $7 million, and at just 24 years of age to date, he has the potential to earn a lot more. During the first five months of 2021, Morikawa earned nearly $3 million in prize money alone, per PGA. Golf Magic reports that he's in fact made more than $9 million during his playing career in prize money (before taxes, mind you). For his win at the PGA Tour at TPC Harding Park in San Francisco, Calif., he took home $1.98 million, per Fox Business. Not bad for a weekend of work!
In 2019, Adidas signed the golfer to a multi-year contract, though it's unclear how much it is for. "It's a dream come true to partner with Adidas as I embark on my career as a professional," Morikawa said. The same year, he also signed a contract with TaylorMade (via Joe's Daily). On his Instagram page, Morikawa lists Omega, Therabody, and U.S. Bank as his other partnerships. Morikawa is originally from Los Angeles, Calif., but according to the Las Vegas Review-Journal, he now calls Nevada home.
"There was a lot of alone time on the course; I played a lot on the course and that was just how I crafted my game," Morikawa told Golf Magazine on his course-based training. "Even now, I rarely just go beat balls on the range."