What Is Pink's Real Name?
Jeff Spicer/bfc/Getty Images
Pink is one of music's biggest stars, and it comes as no surprise as she is one powerhouse performer. Just like Fergie, Lil Nas X, and Bruno Mars, she goes by a stage name rather than the one she was given at birth.
The story behind her moniker name has been quite the discussion throughout the years. As previously reported by Hollywood, the "Don't Let Me Get Me" hitmaker told CNN it was a nickname that had been "following" her since she was young. "It was a mean thing at first; some kids at camp pulled my pants down and I blushed so much, and they were like, 'Ha ha! Look at her! She's pink!'" the Grammy Award winner explained, adding, "And then the movie 'Reservoir Dogs' came out-and Mr. Pink was the one with the smart mouth, so it just happened all over again."
According to IOL, Pink has admitted she received backlash over her name being a reference to Quentin Tarantino's violent film. "I've been receiving complaints for a very long time. I'm OK with it and for the other reason my name is Pink. That's inappropriate too," she said.
With Pink being one of the most famous people in the world, many must wonder what her real name is. Keep reading to find out.
Pink doesn't like being referred to as her birth name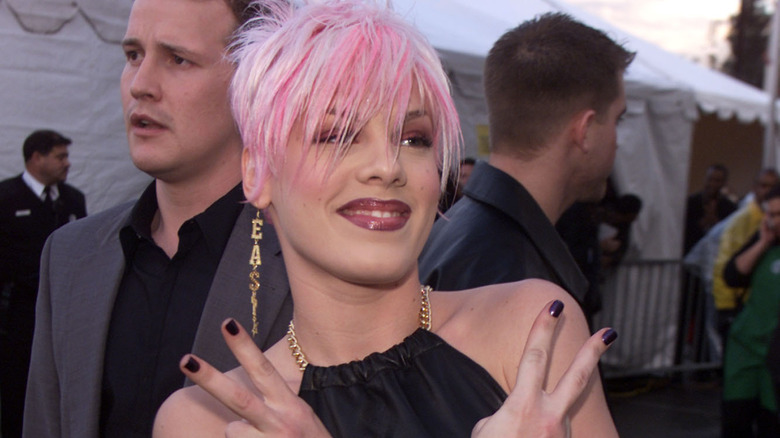 Kevin Winter/Getty Images
Yes, it's true. Despite the pink hair during the earlier days of her career, Pink's real name is not in fact Pink. Born on September 8, 1979, her mother Judy Moore and father Jim Moore named her Alecia Beth Moore, per Planet Radio. Since rising to fame, though, most people refer to her by her stage name, something she seems to prefer.
According to Contact Music, Pink previously expressed that being called her birth name makes her feel "uncomfortable" and she doesn't seem to be a fan of it. "All my friends have pretty much reverted back to Alecia because the world has claimed Pink. It was my nickname but now it's not ours anymore, it's just how everyone knows me. Now Alecia is more like my nickname, my pet name," the "There You Go" chart-topper said, adding, "I'm still getting used to it. It's very strange. Carey uses Alecia when he's mad at me. When anybody is mad at me they call me Alecia. That's why it makes me uncomfortable."