The Truth About Pink's Kids
Pink has found much love in her long and glamorous career. The singer, whose real name is Alecia Beth Moore, has sold millions of records worldwide and has won three Grammys and a BRIT Award. Her personal life has been a joyride as well. She married former freestyle motocross competitor and racer Carey Hart in 2006. They have two kids together — Willow Sage Hart, 9, and Jameson Moon Hart, 4.
Pink has also been vocal about her experience of raising kids as a touring musician. Her new Amazon Prime documentary "All I Know So Far," explores just that. "For a lot of moms, when they become moms, they stop touring — because you can't imagine being able to do both," Pink said of her career intersecting with motherhood (per Vulture). "The only way I can justify dragging my family all over the world is that we're making memories together. I want it to be worth it."
So how has Pink's perspective on parenthood affected the upbringing of her two kids, and how do the children feel about touring the world with their rockstar mother? Well, it's clear from her numerous Instagram posts that she absolutely loves spending time with them and she's not shy of showing them to the world. Let's dive into the parenting style of Pink and also look into how the little ones impact her life along with her husband's.
Pink's kids face truth bombs from their mother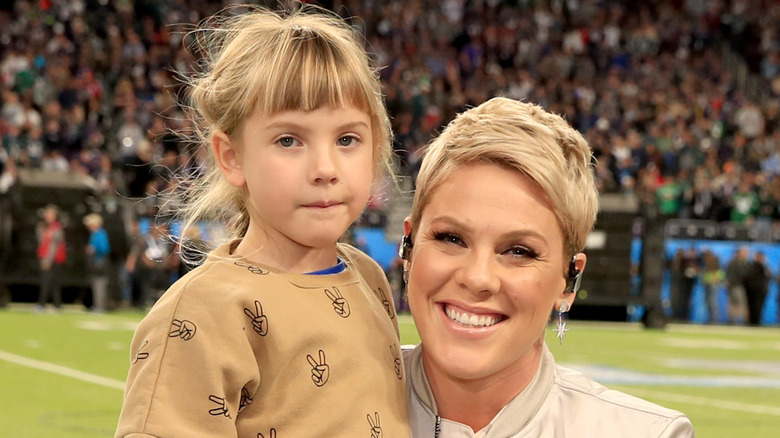 Christopher Polk/Getty Images
In 2018, Pink told People that she grew up in a "really strict" household. Her father was in the military and infused a lot of discipline into her when she was young. She has drawn a lot from her childhood experiences and brought that into her own parenting, which has made her "a tough mama." The Grammy winner also ensures that she doesn't morph facts for her kids, especially her daughter Willow Sage Heart.
"I'm a truth-teller," said Pink. "I tell my daughter the truth. I let her be 6, but I want her to know about fairness and kindness, and that you have to fight for your rights, and that sometimes girls aren't paid as much as boys for the same job, and girls aren't treated the same and that they have to work harder for everything."
While Willow's getting better acquainted with the harsh realities of the world, her brother Jameson Moon Hart is learning to be sensitive; Pink believes that asking a boy to "be a man" does them no good. "I'm all about crying. I think everybody should cry more," Pink told the publication. Even her daughter seems to be quite in touch with her emotions. She's promised her mother to tell her feelings — but there's a catch! She's willing to do so only if her mother does the same.
Pink's upbringing had a significant role in developing the personality of her kids, and the singer is well aware of that.
Pink's kids are friendly, funny, and 'scientific'
Talking about her kids' personalities, Pink said that her daughter Willow is "very literal." "She's got a scientific brain. She's really funny, really sassy, a little too smart," she told People.
As far as her son Jameson is concerned, Pink thinks that the little one is a "hambone." "He's the most social baby I've ever met in my life. I'm trying to say, 'Stranger danger!' And he's like, 'What?! Strangers are only strangers 'til they're your friends.' He's a hilarious baby. With a temper," she explained.
Pink also ensures that she never talks down with her kids while trying to explain things to them. As someone who has a "high bar" for herself, Pink believes that it's not easy for anyone to be on the receiving end of her love as she expects a lot. However, things are different with her kids as they are "smart and thoughtful."
Considering the way Pink's kids are growing, and the fact that they are already accompanying her on her tours, it will be interesting to see how their personalities bloom as they grow older.