2017 Grammys: The Moments You Didn't See On TV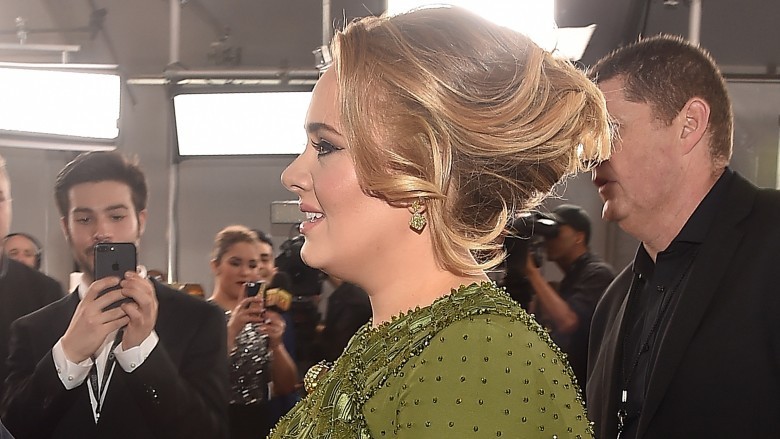 Getty Images
The 2017 Grammy Awards were filled with memorable moments, from Beyoncé Knowles' buzzy performance to Adele's pair of heart-wrenching stage ballads and the bandmates from Twenty One Pilots accepting their prize with no pants on. But there were still some moments you didn't get to see during the live feed, from jaw-dropping red carpet revelations to scathing commentary from a high-profile artist who took issue with the entire event, here's what you may have missed from this year's Grammy Awards.
Katy Perry shaded Britney Spears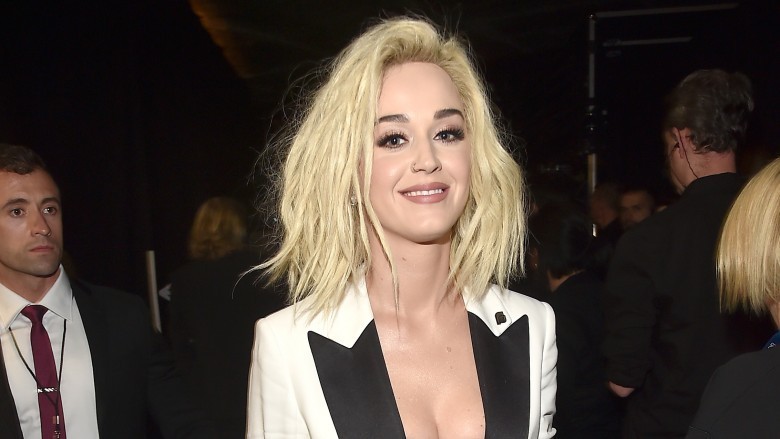 Getty Images
When it comes to pop royalty, there's no doubt that Britney Spears is still the princess, while Katy Perry is somewhere among the rest of the high court, but that didn't stop Perry from throwing a little shade the now-fellow blond singer. Perry was on-hand to present—and promote her new single "Chained to the Rhythm"—and discussed her noticeable absence from the spotlight (and music charts) of late.
"That's called taking care of your mental health," she told red carpet correspondent Ryan Seacrest (via Time) of her brief pause in production. When asked how the break went, she said, "Fantastic. I haven't shaved my head yet." Although she never mentioned Spears by name, many took the comment to be a dig the starlet's infamous 2007 meltdown in which she shaved her head at a salon and then hit a paparazzo's car with her umbrella out of frustration.
Lady Gaga showed off a rockin' new tattoo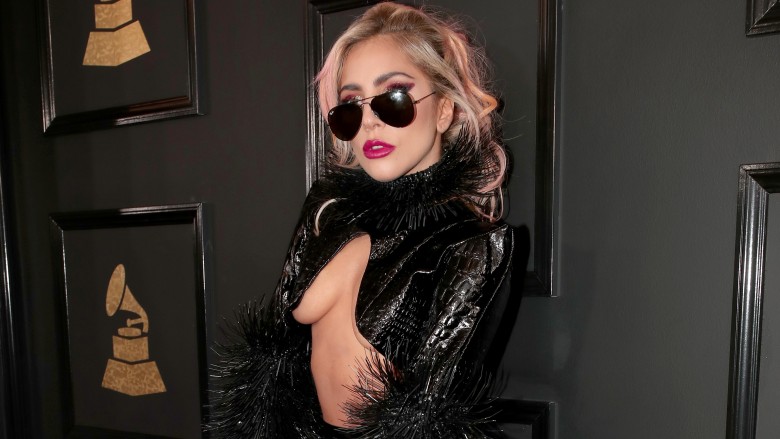 Getty Images
Just before Lady Gaga suited up to hit the red carpet for the Grammys, she showed off some gnarly new inkwork on her Instagram feed of a gothy moth that was inspired by Metallica's 2016 number "Moth Into Flame" from their album Hardwired ... to Self Destruct. Gaga was already scheduled to perform with the band during the show and wrote in another post that she'd planned to spend the whole day preparing for the show by listening to the band and partying with them. From the looks of the new skin art, she did a lot more than just party with the group—although some suspect the tattoo might not be permanent art.
A pro-Trump dress statement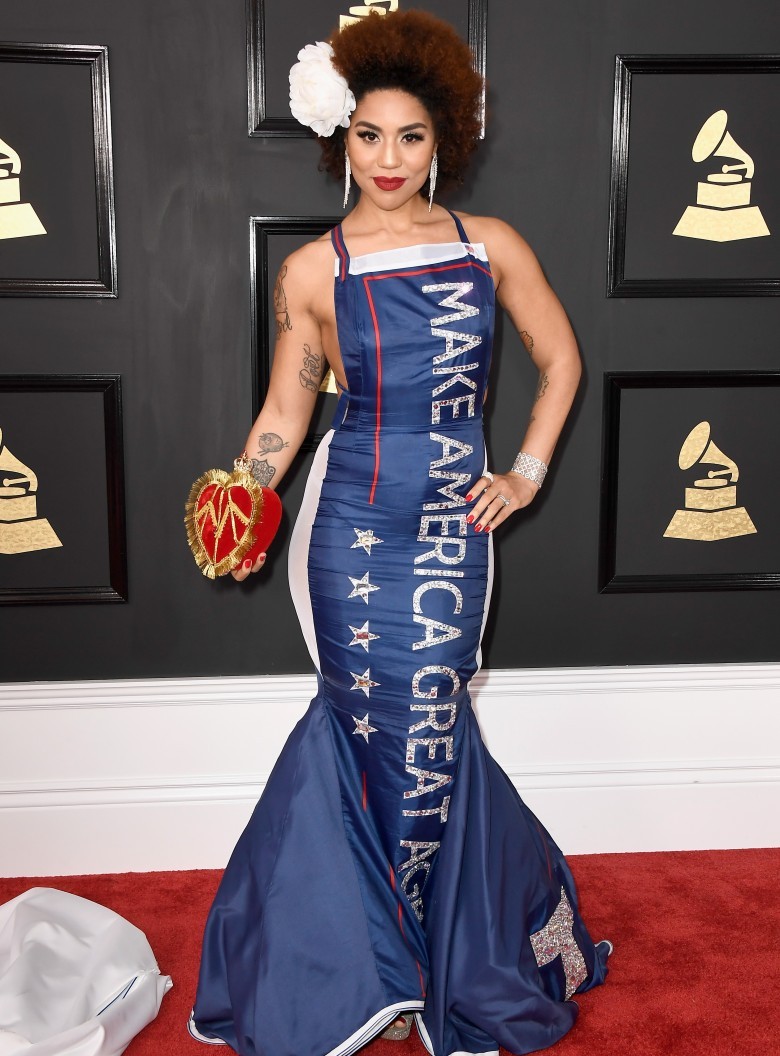 Getty Images
As with most awards season events this year, things got a bit political during the speaking portions of the Grammys—most notably, when host James Cordon said, "with President Trump we don't know what comes next" during his opening bit. And while the left-versus-right representation was hardly an even mix on the red carpet, there was at least one personality who dared to defend the controversial Commander in Chief. Singer Joy Villa wore a full-endorsement dress of the sitting POTUS, which read "Make America Great Again" across the front of her patriotically-colored, figure-hugging gown, and the word "Trump" on the train. On Twitter, she touted the look writing, "Sometimes you just gotta be free to express yourself."
Others had different messages to share with their statement ensembles, like Katy Perry's "resist" armband, Johnny Stevens (from the nominated group Highly Suspect) who wore a jacket with the word "impeach" splattered across the back, and ScHoolboy Q's pink "Girl Power"-embellished hooded sweatshirt.
Blue Ivy dressed up as Prince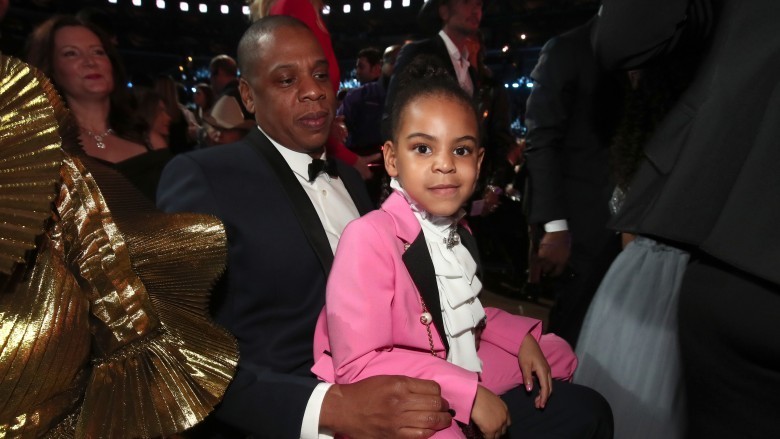 Getty Images
Although the firstborn to Jay-Z and Beyoncé was definitely visible throughout the night—especially when she joined that eclectic ensemble for a cardboard car-centric performance of "Sweet Caroline"—what might've gone unnoticed is the fact that her pink tuxedo-style outfit was a subtle nod to Prince. From the high-neck of her blouse to her statement jewelry to the fact that hue of her name mixed with the fabric color makes Prince's signature purple, the look was certainly an inspired homage to the late, great American icon.
Jennifer Lopez dished on her relationship with Drake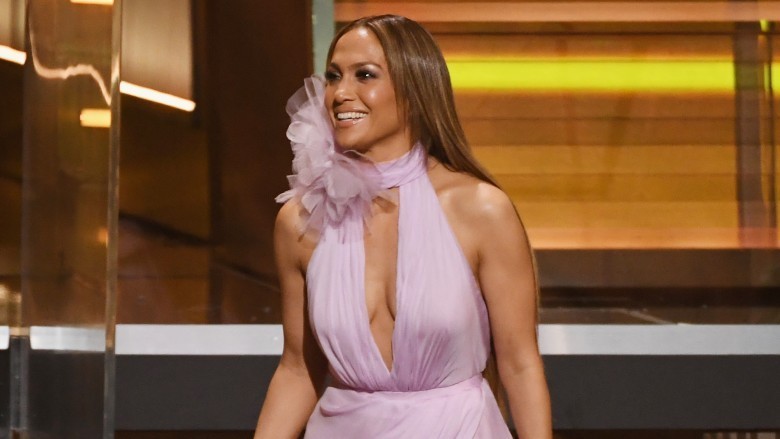 Getty Images
After their suggestive exchange of cuddly Instagram pics and Rihanna's pointed decision to unfollow Jennifer Lopez on the social media site, many were left to wonder whether J.Lo and Drake really were an official item or not. On the red carpet for the event the Shades of Blue star admitted that fans were right to suspect something brewing between them—it just might not have been what they were expecting. She revealed (via Marie Claire), "I love Drake he's so brilliant, talented, amazing. We made a song together, and .... we hung out. We hung out. We had a great time. He's amazing. I have so much love for that boy."
Frank Ocean wanted nothing to do with it thanks to Taylor Swift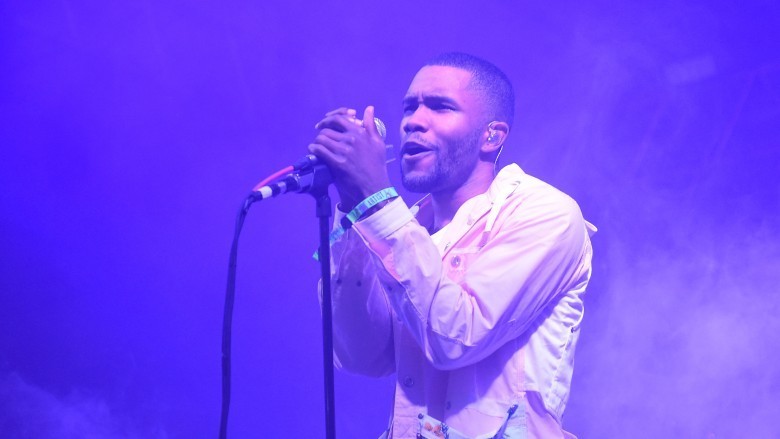 Getty Images
Not that he was nominated, even despite dropping a well-liked album called Blonde in 2016, but Frank Ocean made a point of being a no-show for the 2017 Grammy Awards, citing his 2013 performance-gone-wrong at the Grammys in a lengthy blog post that explained his decision to abstain from the show. "You think that [2013 performance] was why I kept my work out of the Grammy process this year? Don't you think I would've wanted to play the show to 'redeem' myself if I felt that way?" he wrote. "In reality, I actually wanted to participate in honoring Prince on the show but then I figured my best tribute to that man's legacy would be to continue to be myself out here and to be successful. Winning a TV award doesn't christen me successful. It took me some time to learn that."
Ocean went on to dismiss last year's Album of the Year winner Taylor Swift, writing, "1989 getting Album of the Year over To Pimp a Butterfly. Hands down one of the most 'faulty' TV moments I've ever seen ... If you're up for a discussion about the cultural bias and general nerve damage the show you produce suffers from then I'm all for it." Ouch.
Adele showed off her Beyhive allegiance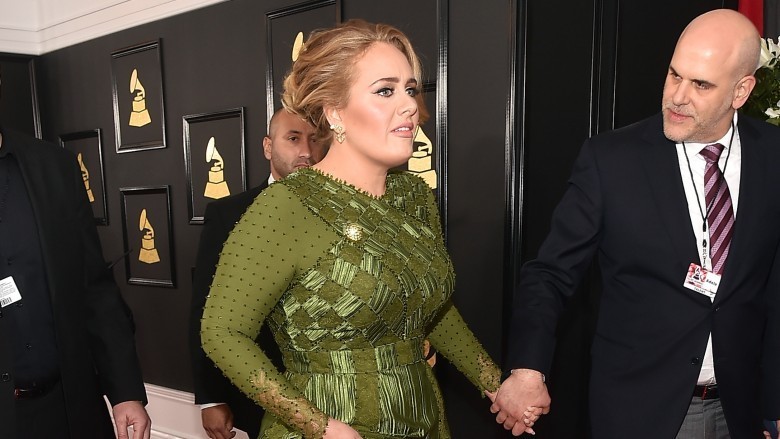 Getty Images
Although Adele and Beyoncé were technically competitors for Album of the Year, Record of the Year, and Song of the Year for their work on 25 and Lemonade respectively, the "Hello" singer still showed her respect for the pregnant superstar. As eagle-eyed fans noticed, Adele wore a lemon-shaped pin on the shoulder of her gown which many interpreted to be a tribute to Beyoncé's album. Adele has previously expressed her adoration of Beyoncé, even during her 25 concert series which took place at the same time as Beyoncé's Formation tour, saying, "How is it even possible that she only ever gets better?"
Everyone was fanning over Celine Dion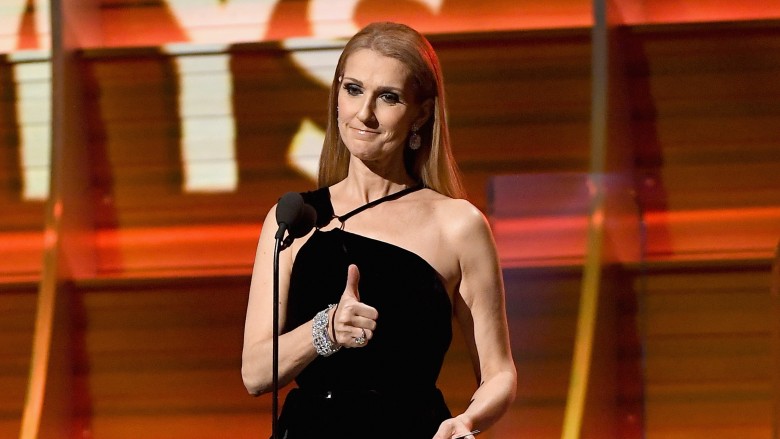 Getty Images
With so many living musical icons in the house, it's hard to land on who was the most thrilling attendant of the night, but it seems that Celine Dion got the load share of colleague attention. Glee singer Lea Michele tweeted of her encounter with the "My Heart Will Go On" singer, "Just met @celinedion I'm DEAD it's going to be a good day." Michele elaborated in a chat with Entertainment Tonight, "I just stood there and she looked at me and she goes, 'You look beautiful.' And then of course I was like, 'I'm the biggest fan,' and we shook hands. She's amazing, so I just take it as a sign from God that it's gonna be a good day."
Meanwhile, Lady Gaga made a detour from her regularly scheduled red carpet walk to show her affection for Dion, offering her an enthusiastic hug and a peace sign, while Dion told her, "Congratulations on the Super Bowl. You're amazing." Dion was on-hand to present the Song of the Year and made headlines by memorializing her late husband Rene Angelil on-stage, saying, " There's days when I feel that it's been three years, and there's days that I feel it's not happening. He's always with me, and I know that he's very proud that we're back in the industry. It's hard for me not to sing. It's been a while; it's exciting to be here."
Rihanna was taking shots with a bedazzled flask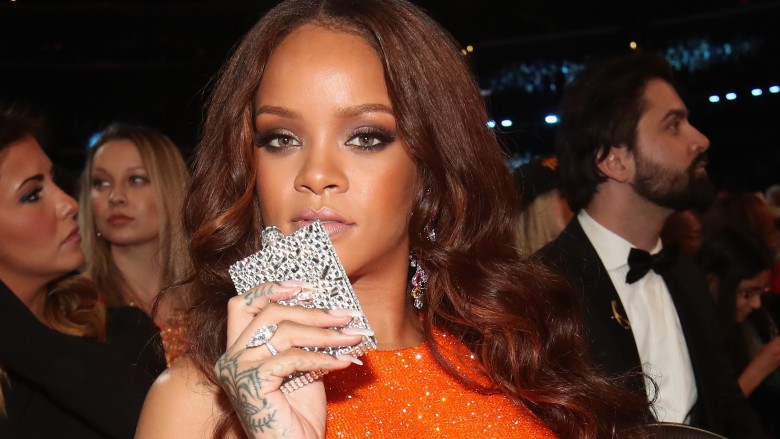 Getty Images
Rihanna may have gone home with zero Grammy trophies after being nominated in half a dozen different categories for her ANTI album and singles like "Work" (feat. Drake) and "Needed Me," but she won plenty of audience adoration for her sly use of a jewel-encrusted flask throughout the night. Though it was subtle, she was spotted making use of her boozy buddy in several cutaway moments featuring the audience, and taking a slug as she sat next to performer Ed Sheeran. Given how many snubs she endured during the show, perhaps she thought ahead and decided to make a drinking game and took a shot after every loss to drown her sorrows? Of course, that's just speculation — hey, it could've been soda water in that container for all we really know.
Adele pulled a Mean Girls prom queen move on her Album of the Year trophy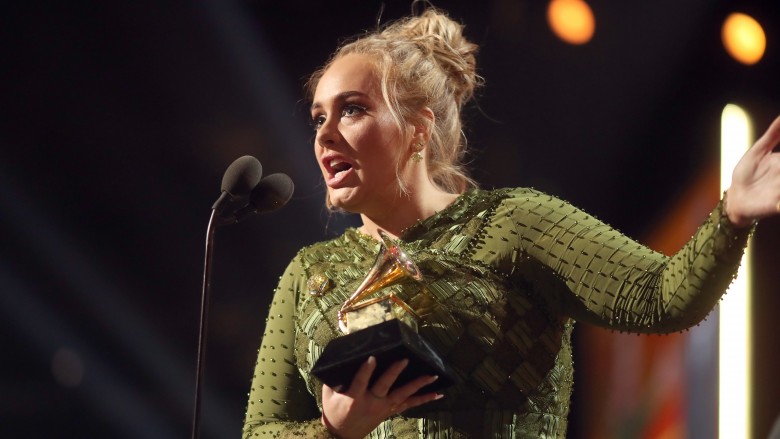 Getty Images
Adele took home a whopping five awards at last night's 2017 Grammys, sweeping the night's most prestigious categories like Song of the Year (for "Hello"), Record of the Year (for "Hello"), and, much to her own surprise, Album of the Year (for 25). But upon collecting that last prize, Adele called bologna on her own win, saying that it was Beyoncé's Lemonade which deserved the night's biggest honor. "I can't possibly accept his award," she said, "My artist of my life is Beyoncé and this album — the Lemonade album was just so monumental, Beyoncé. It was so monumental and well thought-out and beautiful and soul-bearing." The telecast cut out at that point, but soon after, Adele broke the trophy in half, full-on Mean Girls-style, as a gesture of sharing it with Beyoncé.
After the show was done, Adele doubled down on her belief that Beyoncé was robbed of the win, telling press, "For me, my album of the year was Lemonade, so a piece of me sort of died inside as a Beyoncé stan, I'm not going to lie. I was completely rooting for her. I voted for her." Adele went on to reveal that she was inspired by Beyoncé 17 years before when she heard "No, No, No," and that she felt Lemonade was deserving of the prize, adding, "I thought it was her year. What the f— does she have to do to win Album of the Year?"