How Does Jennifer Lopez Really Feel About Things With Ben Affleck?
Shutterstock
It looks like "Bennifer" is back — and it almost feels like the world is too, thanks to this early 2000s relationship reboot. Jennifer Lopez and Ben Affleck have been causing a media frenzy in 2021 with their rumored rekindled romance following the superstar's split to pro baseball player Alex Rodriguez. According to Us Weekly, shortly after ending her two-year-long engagement to A-Rod, Affleck was back in the picture, big time.
The term "Bennifer" was coined back in the early aughts when J.Lo and Affleck were first an item. In 2002, the couple started dating after meeting on the set of the blockbuster-bust film Gigli, via Us Weekly. While their film was a flop, their relationship took the world by storm up until they called off their engagement in 2004. However, despite the pair calling it quits, it appears that the former flames always remained in touch and on good terms. So much so, that Affleck was one of the first to be spotted with the "Get Loud" singer following her split to A. Rod — which, of course, caused romance rumors and tabloids to swirl.
Now, per People, it's been confirmed that the old flames are "still going strong with their reunion." But how strong is the new and improved Bennifer relationship? A source close to Lopez spilled the tea on where she stands in the rekindled romance. Keep reading to find out how she feels about giving Affleck another try. 
An insider says that J.Lo is 'excited about how things are going' with Ben Affleck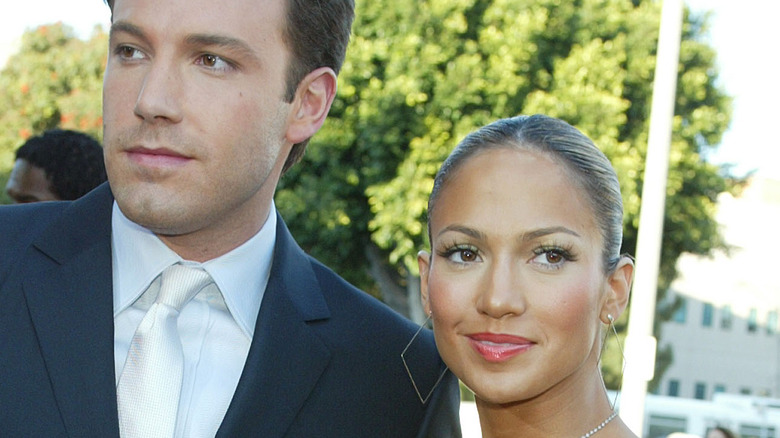 Kevin Winter/Getty Images
According to a May 19 Us Weekly article, Jennifer Lopez and Ben Affleck have "reignit[ed] their flame." A source told the outlet, "Jen got back in touch with Ben after it became apparent to her that things with Alex [Rodriguez] weren't working anymore." Another close insider confirmed that the former-exes-turned-couple are excited about their new relationship.
An insider close to Lopez told People on May 19 that "the duo have kept in touch every day" following their headline-making getaway in Montana earlier this month. As we mentioned above, Lopez and Affleck first sparked romance rumors back in April when they were spotted together at J.Lo's Los Angeles home shortly after she and her ex Alex Rodriguez ended their engagement. They then went on a romantic Montana trip, per Page Six, where the "couple spent much of their time taking walks, swimming in the pools and taking dips in the hot tub." 
It appears that the mountain getaway was good for the now couple. According to People, their source went on to say that Lopez is happy about the rekindled relationship. The insider noted that "Jennifer is still very excited about how things are going." And, if you were a fan of Bennifer back in the early 2000s, we can assume that you're also excited about where things are going for these celebs, too.